This Sunny California Outdoor Living Room Has An Inviting French Provençal Feel
Extend your indoor family hub and entertaining space by bringing the party outdoors
How enticing it is to entertain outdoors! Especially in tropical countries such as ours, where balmy evenings serve as a consolation for the often punishing daytime heat. Here, imagine magical evenings under the starlit sky. Enjoy a cocktail (or two… or more!) In this setting with your nearest and dearest, creating many fabulous memories.
The idea of creatively expanding your indoor entertaining space to the outdoors has been made even more attractive, and almost considered an essential during the pandemic, where access to open air is preferred to being indoors in the age of COVD-19. What's more, this outdoor set-up immediately lends a casual vibe to one's entertaining. Think easy dress codes and tablescapes rather than the stiff formality that come with some indoor living and dining areas. Even without the company, the outdoor living room creates another hub for the family to convene.
This Northern California outdoor living room is an example of how convivial such a space can be. As the interiors by decorator George Garma (whose shops also provided some of the antique finds in this home) followed a French Provençal theme, the outdoor areas were designed and styled by Garma to follow suit. Wicker furniture anchors the accoutrements of the space. Some entertaining essentials include an antique marble top iron bistro table, a concrete balustrade console and an antique faux bois coffee table. These all add character and a rustic warmth to the space. Layered onto these pieces are soft furnishings in vivid shades of red, green, ochre and tan. Pillows in traditional toile de jouy are added to the mix, along with Les Indiennes patterns printed in breezy cottons and linens. La Madeleine Anduze pots and planters hold a plant palette of Mediterranean origins. Antique gardening tools and accessories are employed, evoking the South of France.
"The area was designed to enjoy the sunny and warm days of spring and summer which California is known for. The home is close to a Delta which brings a soft breeze to the back garden, making it an ideal setting for spending time outdoors. Watching early morning sunrise and late afternoon sunset has become routine for the family. Dining al fresco morning to night in the shade provided by flowering vines or market umbrellas is a daily activity during these seasons," the owner, Armando Bautista, a retired Filipino executive who now has the luxury of pursuing his passions as a seasoned world traveler, says.
See the how much potential a backyard holds especially when decorated with an exuberant touch: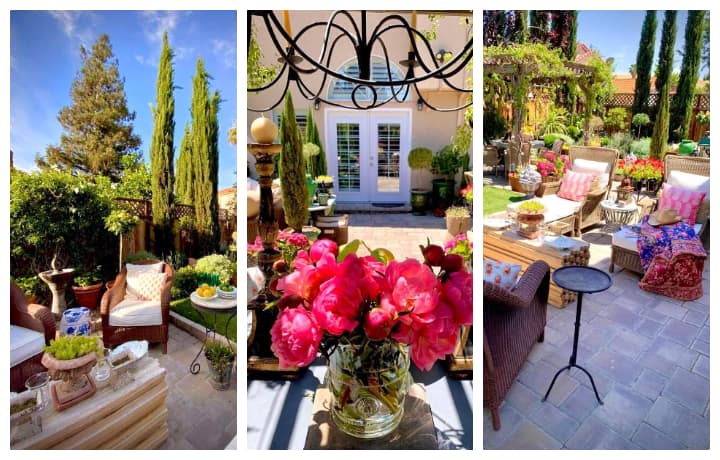 Photo Gallery
Photo Gallery
Inspired to embark on your outdoor living room planning and decorating adventure? Take your cue from Bautista's tips:
- On choosing outdoor fabrics:
"Technology has come a long way with regards to outdoor furniture against the elements. Today, there's a variety of fabrics to choose from for upholstery and fabric accessories for outdoor use. When choosing your outdoor furniture and accessories like pillows and throws, choose fabrics that are water resistant or water repellent. For added protection, you may also choose to apply upholstery fabric sprays that can prevent staining and makes dusting easy. Some manufacturers even claim that the sprays make fabric dirt proof."
- On zoning and layout:
"Decide what you'll use the outdoor space for and commit to it. Choose outdoor furniture that will meet your needs and stand the test of time and elements. Define the space using furniture, an outdoor area rug or patio trees and plants."
- On colors:

"Choose colors that appeal to you and are in harmony. Get inspired by the colors of nature. It is an outdoor space after all and will most likely be surrounded by nature itself."
- On styling:
"Create vignettes that are garden related using decorative pots, hurricane candle holders or lanterns, old garden tools and even bird cages. Mix in your favorite plants. Make the space inviting by using accent pillows, throws and even blankets."
"Use your outdoor living space to express your personality. The rule is there are no rules. You'll be the person living in the space so express yourself in it and enjoy," Bautista concludes.
Photographs Courtesy of Armando Bautista