A Peek At Heart Evangelista's Modern-Minimalist City Space
The artist gave a tour of her latest project with RLC Residences, where she offered a glimpse of her new gallery-inspired condo
Sophisticated and extravagant—that's how Heart Evangelista stands out from the crowd. As an artist and a fashion icon, she shines as an inspiration in whatever she does, making her a lovable and idol-worthy name to follow.
We're in awe with how she presents herself, but we're more impressed with her most recent endeavor: designing her newest condo unit. In collaboration with RLC Residences, Heart brought her interior designer friends Geewel Cabungcal-Fuster and Astrid Bello with Arch. Chris Bello for this joint effort to create this lavish modern-minimalist gallery-themed space.
In her latest vlog, she shared how she worked with the designers and offered a glimpse of the finished space she can now call home located in Sapphire Bloc in Ortigas. "You know, adulting is definitely happening these days," the actress begins on her video. "I have been investing my hard-earned money. I'm so excited because we're going to make this space really beautiful and we're very hands on."
And after a few months of planning and renovating, Heart's unit has been transformed into a place that's calm and classy yet curated for her design sense and lifestyle. While she describes herself as a maximalist, the minimalist approach is intended as her blank canvas so she can play around with her creativity depending on her whims.
First and foremost, she loves that the unit is at the heart of the city. She mentions how it's one of her biggest considerations when investing in a property. "It always has to be near everything," she reveals, emphasizing on how convenience is king—or rather, queen—for her.
Moving on to her new home, the 43-sq.m. one bedroom space has been maximized to provide her with everything she needs and more. Tailor-fit to her needs, it also included artistic spaces as well as her non-negotiables that perfectly blended in one without sacrificing on anything.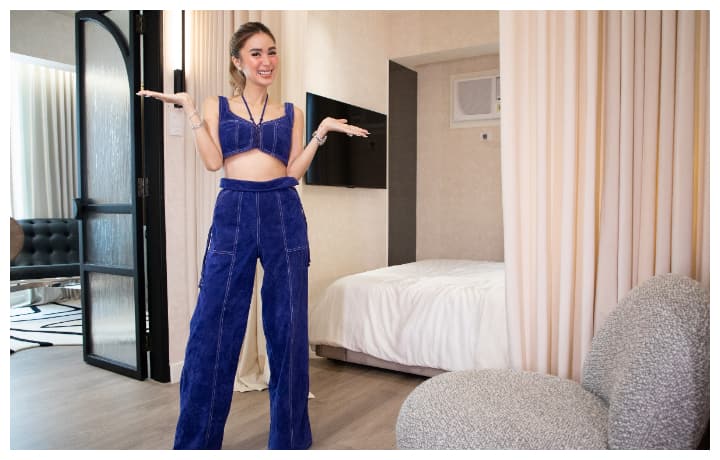 Photo Gallery
Photo Gallery
The unit is mostly in white—however, with the use of different textures, from marble details to statement elements and ornaments, the space is the opposite of flat. Instead, it's a playful mix of tasteful styling with character, yet boasting of an edge with a softness that's subtle yet luxe. \
Instead of utilizing the bedroom as an actual bedroom, they converted it into her office while her sleeping quarters was taken out to the living space. To achieve this, they used draped curtains as partition of the bed to the rest of the living areas. It also accentuated the high ceiling of the unit and gave a rich and warm feel.
The team also took advantage of the windows of the unit, which offered lots of natural light into the space. The mounted double swing doors to let sunshine from the office area in the main area for ventilation and extra coziness.
As with every small space, Heart's team added lots of mirrors to make the unit look bigger. To avoid it from being repetitive and boring, the mirrors came in different colors, too.
Her office, on the other hand, boasts of several highlights. First, the gallery wall, where she can display things that inspire her. The paneled wall beside her desk is her statement piece, inspired by the staircase at the Chanel showroom at Rue Cambon. Also, the open closest allows Heart to display her clothes, which she considers as works of art.
Finally, another request from the designers had the mantlepiece installed in the space. While she initially wanted a fireplace, the Philippines' tropical climate won't allow for it, thus going for a different approach with this beautiful corner.
Lastly, the bathroom is a noteworthy space in itself—with a wall mural inspired by the actress' personal doodles.