Inside Caterpillar House, the Setting for 'Malcolm & Marie'
The film, starring Zendaya and John David Washington, was shot during lockdown in June last year
Malcolm & Marie, which premiered on Netflix Friday last week, was one of the few films shot last year during lockdown. Starring Zendaya and John David Washington, the film follows a filmmaker and his girlfriend as they arrive back home after the premiere of his newest movie.
Because the film was shot during lockdown, very limited crew could be on the set itself, and so much of the movie's design—from costume to the set—had to be meticulously and carefully planned even before filming could begin. Costume designer and image architect Law Roach, for example, had to style the stars remotely, as revealed in a piece by the Cut.
The film also takes place in one night, which means it's set completely in one location all throughout: Feldman Architecture's LEED Platinum-certified Caterpillar House in Carmel, California.
In a piece by Dwell, writer Susan Morris notes how the house's design helped filmmakers shoot more efficiently, especially under strict lockdown protocols: "The home's remote location helped, as did the natural ventilation. Passive heating and cooling, plus the residence's intrinsic circulation meant that the air was continually refreshed, and no noisy heating or cooling was required."
The home won several citations for its architects, including the AIA Citation:Energy and Sustainability, 2011; AIA Monterey Bay: Citation for Excellence in Design, 2011 and the California Home + Design: Best Residential Architecture under 3000sf, 2012.
Caterpillar House is a shining beacon of "warm California modernism": an emphasis on natural light, warm colors, and vast views of the surrounding landscape. But in Malcolm & Marie, it's shown completely differently—at night, and in black-and-white film. Still, it remains an integral part of the film, and will, without a doubt, one day be considered to be a classic set in films.
We take a close look at this home as it was meant to be admired, in daylight and in color: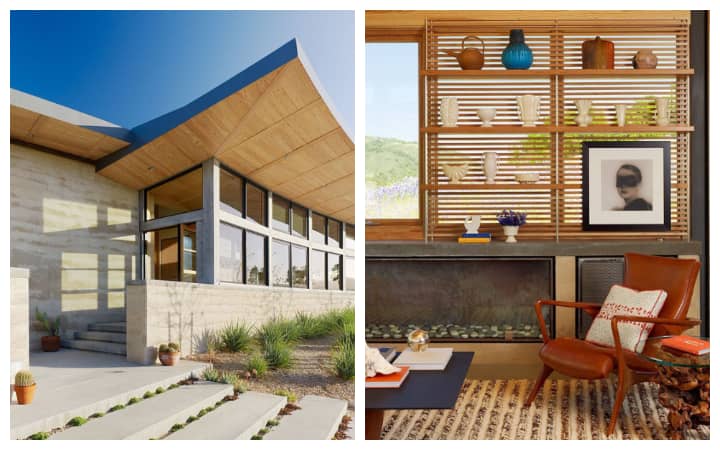 Photo Gallery
Photo Gallery