Laidback Charm Laced With Nonchalance Makes This Modern Tropical Getaway A Relaxing Escape
Step inside any of ten transportive villas in Zambales' Sundowners, and you'll feel like you're in Marrakech or Mexico
Attracting a new surf crowd looking for a destination closer to Manila, Zambales provides an easy choice for those who want to ride the waves or simply to bask in nature. Sundowners Zambales is a stylish 2 hectare property in Botolan sitting between a 100 meter stretch of beach and the Zambales mountains.
The villas at Sundowners Zambales are white washed with soft forms similar to Cycladic architecture in Santorini or Pueblo Revival in New Mexico with a tropical interpretation. Co-founder, Karla Zulueta's design influence is attributed to her trips to Bali, "I traveled to Bali 3 times a year to get inspiration. Actually a lot of trinkets and design elements were from Bali. I kept doing my research - how the pool will look like, the restaurant, the curves of the space. It's more young, it's more minimalist compared to our first branch of Sundowners in Bolinao, Pangasinan."
After the success of the first Sundowners in Pangasinan, which rehabilitated an old property and had it be the #1 most Googled local destination in the Philippines in its first year of opening, Zulueta couldn't think of anything else but building another. They looked for angel investors to get the funding so that they can start building immediately.
She and her 4 partners took on the impressive task of designing and building the beach villas in Zambales about 3 years ago. "We actually didn't work with an architect or interior designer. But luckily my partners have a background in engineering and were familiar with plumbing and electrical systems. I came into the balance to put in the design and brand feel."
Opening at the cusp of the pandemic at the end of 2019, Zulueta recalls the stress of launching at Christmastime, "We were fully booked way before we launched, and I remember we were not done yet with construction. This is the #1 lesson for me: Do not launch on Christmas Day! Don't try to open something near the holidays because half your carpenters won't show up. We were only 80% done with construction and we had to make ends meet. Half the pool wasn't filled yet, part of the grass wasn't there. It was really quite a struggle and it was a stressful that time. We managed to pull it off."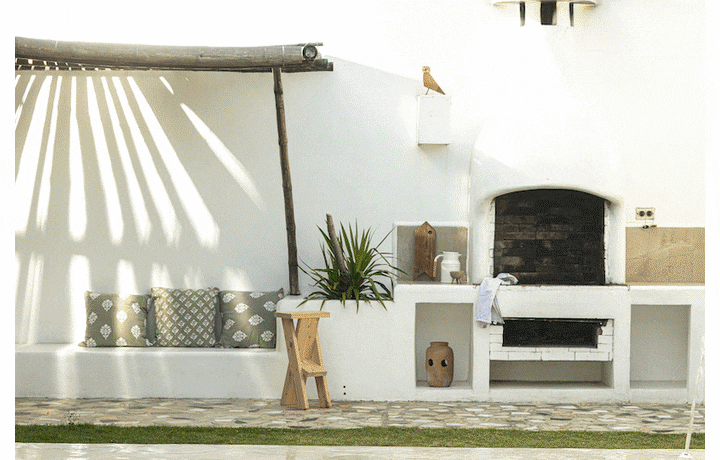 Step Inside Sundowners Zambales
Step Inside Sundowners Zambales
Sundowners Zambales started with 6 villas and now have a total of 10 villas. The interiors of the villas imbue the space with a certain nonchalance and laidback charm. Wooden furniture painted in white, large woven pendant lights, and nautical decor characterize the villas. Built in shelving and seating areas with rounded off corners can be found in every villa. The bathrooms forego shower curtains and opt for a rounded off wall partition instead.
"I love the fact that the villas are huge and super spacious. The kitchen is even bigger than many of the condo kitchens in Manila," Zulueta gushes. "The kitchen is also very iconic especially because of the curves of the chimney or range hood. It's not tropical but it gives you that Mexican, Marrakech kind of feel. It transports you to a different world when you go inside your villas." The kitchens are also equipped with the main appliances you'll need if you'd like to cook your own meals. There is also an onsite restaurant you can order from.
"I love our pools," says Zulueta. "I've never seen pools that are this nice in villas here in the Philippines. They're very iconic. At the same time they're so clean. They're all crystal clear. I boast about how we maintain pools and the way our pools are designed. The 30 meter infinity pool in the front really gives you such an amazing vibe. That was carefully studied so that when you sit down in the pool and sunbathe, it will give you that illusion of the pool extending infinitely into the horizon."
Sundowners Zambales takes advantage of the beautiful natural landscape that surrounds it. Zulueta says, "Zambales is still so pristine unlike Siargao or La Union, which are getting overly developed. For me, Zambales is still very much untouched. There's so much to see. You have modern amenities as you would in the city, you have a nice pool and villa, you're surrounded by nature and you're by the beach. So you really get the best of both worlds.
Photographs by Jar Concengco