IN PHOTOS: Janine Gutierrez's Emily In Paris-Inspired Tree Styled By One Of Manila's Best Event Designers, Jo Claravall
It is full of black, blush and white ornaments, sprinkled with a dose of gingham and blush fur
"I've styled some of the biggest events in the country and abroad, transforming venues for a lot of different personalities in politics, entertainment and high society," Jo Claravall says, opening her vlog, The Jo Life's debut, which happens to be on the Christmas tree that she styled for actress and model, Janine Gutierrez.
"Gusto ko yung maaliwalas, but also at the same time, feels like a celebration," Janine says, as she ponders on the look that she wanted to be executed for her tree.
The duo sits on the sofa, to catch up with a little chat.
"We were just texting, and I feel like I know you already," Jo tells Janine. "We'll make it look like you," she continues, as she brings her brand of "tasteful and polished" to Janine's home.
Jo's penchant for decorating is not lost on the hostesses who have hired her to style their events. "I want it to feel authentic. I want it to feel like you rather than me," she reveals, underscoring the importance of understanding her clients' personality and tastes as a foundation for her work.
We took notes on the nifty tricks Jo shared with Janine:
1. In case you can't find Christmas balls or decor that matches your theme, you can always wrap any Christmas ball in a fabric of your choice, and voila! It is dressed for the occasion!
2. The importance of scale- put the largest ornaments near the bottom of the tree.
3. Consider the proportions of the home. You want to choose a tree that is proportionate to the size of the home and the height of the area in which it will be situated.
4. Let your personality shine through when decorating your tree. As with the rest of your home, your style, budget and personality should inform the tree you are decorating.
"This collab is a match made in heaven," Jo writes in her Instagram post (@joclaravall). "When we came in to her house, I was pleasantly surprised with how her interiors matched the tree we were making. The Smeg fridge, vintage photographs on the walls, and blush elements all over giving the space that nice 60s diner vibe but with a modern touch. Janine said she secretly wanted a pink tree and that's exactly how I envisioned it!"
View the tree's details in this gallery: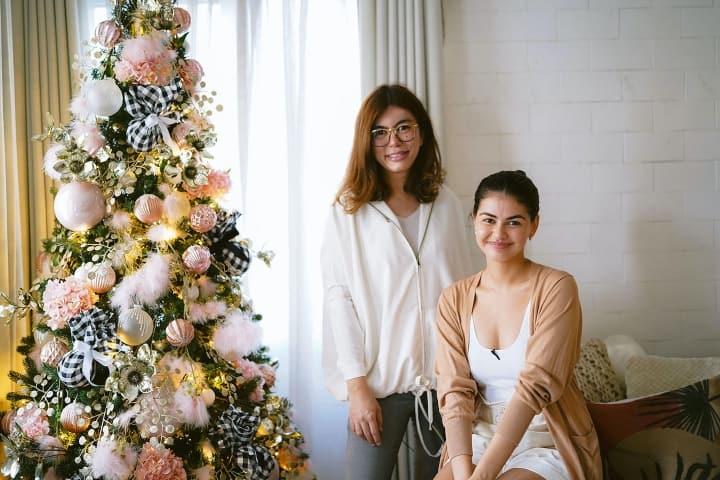 Photo Gallery
Photo Gallery
Photographs by Jayjay Lucas (@jayjaylucas)
Vlog by Nation In Motion (@nationinmotion)