The Patina House Was Designed To Show Off The Beauty Of Natural Materials
With the responsibility and commitment in maintaining this home, its luster can only get better through time
"In most natural materials, there is a kind of patina that covers it. And if you appreciate the naturality of these materials, then you would know that the more patina that covers a natural material, the more beautiful it becomes. In other words, it ages more gracefully over time," Jason Buensalido of Buensalido Architects shares about the concept of their project called the Patina House.
The property, which is owned by a general contractor whom the design firm has worked with in several past projects, is a two-phase renovation and expansion project with this idea in mind. "He sought us out knowing well the kind of output that we do, which is really something contemporary, something progressive, even to a point [of being] experimental, but always contextual and trying to search for ways to express our culture as Filipinos in a contemporary way," he says.
The completed phase one is an adjacent lot of the existing house, which is the phase two of the project to be completed once lockdown restrictions in the country ease up. They built a bungalow—a living-slash-lounge area, with its own bar, a toilet and bath, a bedroom, a powder room, and a covered garage. The whole architectural language speaks of naturality, as inspired by the concept of patina. "Majority of the materials we selected are natural," Jason describes. "If they're not natural or man-made, we tried to make them as honest as possible, showing off the 'make' of the actual material."
He further explains their execution in the space. "For example, steel is showcased as steel. We didn't hide it as anything else. Concrete, which is typically gray," he points towards the lounge area's wall, "is expressed in its natural state. In the same way that the other natural materials we used like the wood on the ceiling and the flooring made of stone is expressed in its natural state as much as possible."

"To enhance that idea of naturality, we made sure that in every opportunity possible, we made the interior of the house as transparent as possible, so that your experience of the interior space doesn't stop in the interior space but actually extends into the outdoors—which is then surrounded with softscaping," Jason adds.
All fixtures are sourced locally and inspired by nature and being raw and organic, like the lamps from Schema, furniture from Kenneth Cobonpue, and art pieces from the likes of Ombok Villamor, Lamallari, and Daniel dela Cruz. Even the architect has his own piece of work from the owner's displayed art collection! "I had a one-man show with Vinyl on Vinyl three years ago, and this contractor actually bought one sculpture of mine. So he displayed it in the bar area," Jason shares.
Other standout pieces are the bar table, which is a natural piece of wood with imperfect edges kept intact, the al fresco porch area, and the Corten steel facade and its line supports.
If you find the patina look beautiful and want to incorporate it into your own space, Jason advises one thing. "You have to understand the responsibility, the commitment, and the complexity that comes with a natural look. Natural materials are harder to maintain—they are much more beautiful, but they take a little more work in terms of maintaining it."
Take a tour of the Patina House through the gallery below: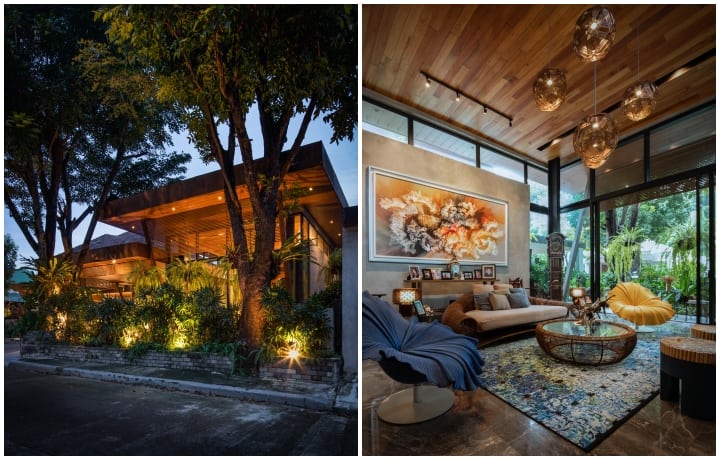 Patina House
Patina House