IN PHOTOS: Jeff Bezos, The World's Richest Man, Splurges On A Fifth Avenue Apartment With Views of Madison Square Park
This may be the last piece of the puzzle that will eventually complete his New York City dream home
A peek into celebrity homes provides an undeniable vicarious thrill for many. And when it comes to properties owned by the world's richest man, everyone is just curious. Jeff Bezos, Amazon's CEO, has a reported net worth of 125 Billion US dollars. Included in his home portfolio is the largest home in Washington, DC, a property he purchased for a cool 23 Million US dollars in 2017.
NoMad Living
Most recently, Bezos dropped another 16 Million US dollars for a three-bedroom unit in 212 Fifth Avenue, a luxury apartment building by Robert Gladstone's Madison Equities. Aside from its amenities which include high ceilings, gracious entry foyers, dedicated en suite baths, loft-like living rooms, smart technology and lots of light, this property boasts of views of Madison Square Park. A New York Post article reports that a year ago, the Amazon CEO had already purchased a three-story penthouse and a couple of apartments below it. With his latest real estate splurge, Bezos now owns a total of 80 Million USD in condos situated within this building alone.
https://www.pinterest.co.uk/pin/520939881897092922/
Because building permits were filed for these properties in the autumn of 2019, it is speculated that the richest man in the world is set to convert all these condos into one dream home.
See the gallery below for a glimpse of this fabulous promises: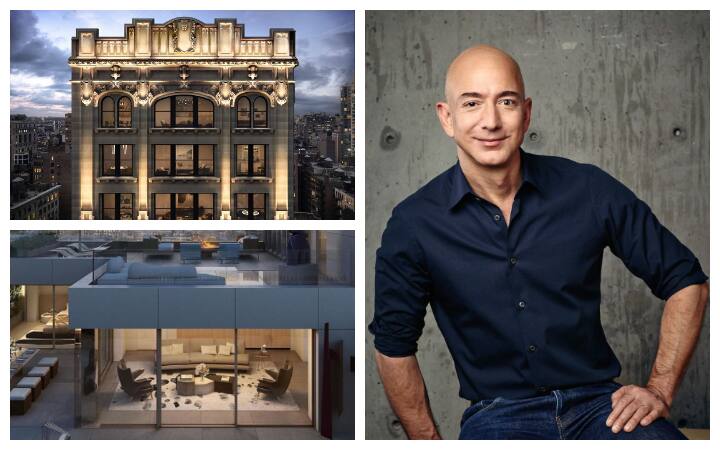 Photo Gallery
SWIPE LEFT OR RIGHT
TO NAVIGATE BETWEEN PAGES
212 Fifth Avenue
Photo Credit: @212fifthavenue
212 Fifth Avenue
Photo Credit: @212fifthavenue
212 Fifth Avenue
Photo Credit: @housesofcelebs
212 Fifth Avenue
Photo Credit: @housesofcelebs
212 Fifth Avenue
Photo Credit: @housesofcelebs
212 Fifth Avenue
Photo Credit: @housesofcelebs
212 Fifth Avenue
Photo Credit: @housesofcelebs
212 Fifth Avenue
Photo Credit: @housesofcelebs
212 Fifth Avenue
Photo Credit: @housesofcelebs
212 Fifth Avenue
Photo Credit: @housesofcelebs
212 Fifth Avenue
Photo Credit: @housesofcelebs