EXCLUSIVE: Inside Fashion Designer Jerome Salaya Ang's Neo-Brutalist Lair of Exotic Curiosities
In the mountains of San Mateo, Rizal, this home is filled with an intoxicating mix of wooden Catholic relics, chinoiserie and tribal artifacts
With over a decade under his belt in the Philippine Fashion scene, fashion designer Jerome Salaya Ang is revealing yet another design that is as fresh as the silhouettes he serves on the runway.
What many do not know about the celebrated fashion designer is that he studied interior design in UST back in 1996. He approached architect James Hernandez with drawings and floor plans that he drew up. As Jerome was on the cusp of finishing and moving in the home that he designed, the community quarantine hit back in March. Even if he is now fully moved in, he still feels like the house is a work in progress.
Dressed casually in shorts and a shirt, Jerome tours me around his home. "I am inspired by industrial and brutalist architecture. At first, I wanted the front of the house to be just a plain block of concrete," he explains. Due to the strict requirements of his village, he needed to incorporate windows somehow on the facade of the house.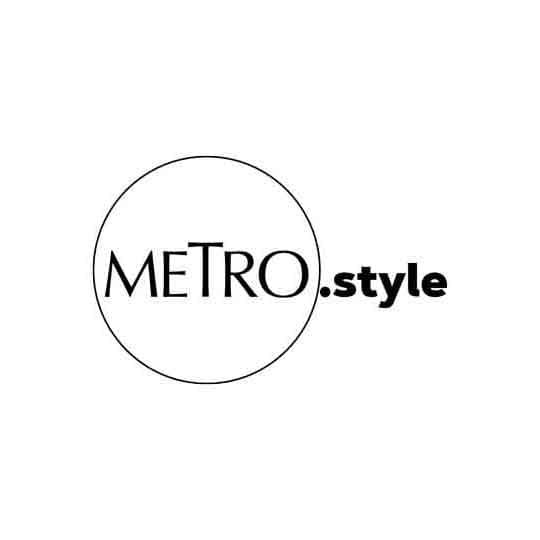 Fashion designer Jerome Salaya Ang is at home in Casa Gris. | Jar Concengco
Aptly named as Casa Gris (meaning "gray house" in Spanish), the neo-brutalist structure proudly stands in raw concrete leaving the eyes to either not see the structure at all or yearn to see more of what's inside. It was Jerome's intent to make the house disappear into its surroundings, "When I visited this lot and saw the cliff full of trees and plants, I fell in love with it. I knew it was the spot where I would build this house. I hope to grow ivy all over the walls in the front so that it looks like it is disappearing into the wild."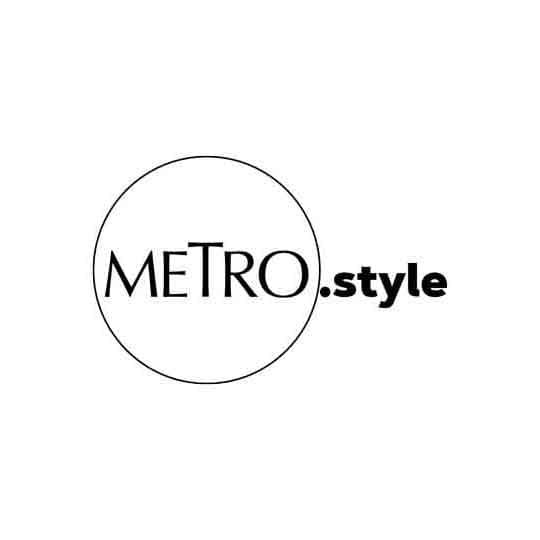 Neo-brutalist facade of Casa Gris. | Jar Concengco
Located in the mountains of San Mateo, Rizal, Casa Gris enjoys a cooler climate. Jerome took advantage of this and opened up his house to the outdoors to allow natural ventilation. The whole first floor and communal areas of the 2nd floor all stay cool naturally - not an electric fan in sight.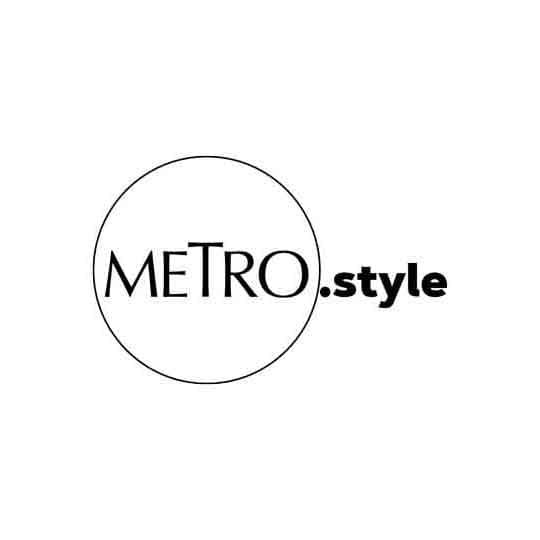 Casa Gris is blessed with natural light and ventilation. | Jar Concengco
Jerome filled his home with ethnic and tribal artifacts, many from his travels. There is also a mix of wooden Catholic relics and chinoiserie that he likes to attribute to his Filipino/Chinese heritage. His prized piece is the wooden crocodile made out of a single log from Sagada that symbolizes fertility. It is the focal point of the dining and living area. If one were to stop and look at the pieces displayed on the walls and the tables, you'll see an eccentric mix of taxidermy, masks, dried flowers, art and oriental sculptures. Some items he designed himself such as a horse saddle that he turned into a lamp. "Not everything beautiful has to be expensive. I spend a lot of time looking through thrift shops and places like Dapitan Arcade."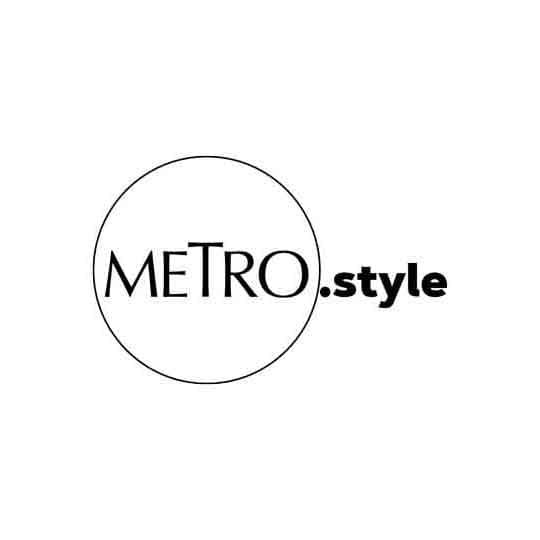 Focal point of the living space is a crocodile carved from a single log, a rare find from Sagada. | Jar Concengco
The terrace in the back (which is Jerome's favorite spot) offers a wide view of Metro Manila from afar. It overlooks a protected, lush forest area full of bamboo and trees. There is also a small corner dipping pool which he fills during the summer days and a long communal table made of narra that would be perfect for an al fresco dinner with friends. His outdoor furniture made of rattan he sourced from a maker in Zambales called Leoncia Rosa's.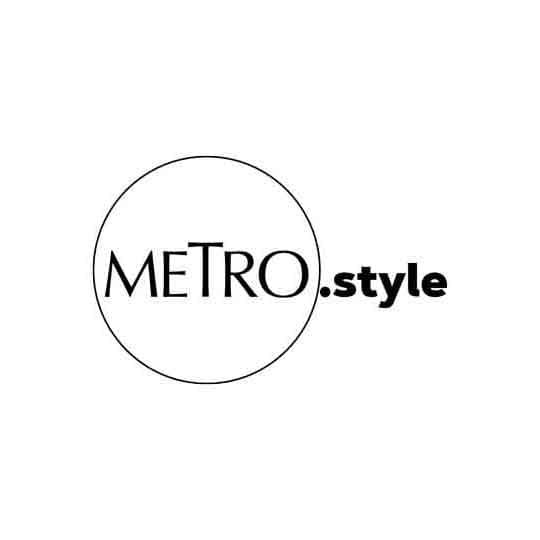 Outdoor entertaining area in Casa Gris | Jar Concengco
The stairs to the second floor are floating concrete slabs. In lieu of a handrail, a riveted concrete wall serves as a rugged guide through the stairs. There are also built-in concrete shelves to showcase more of his Bulol sculptures.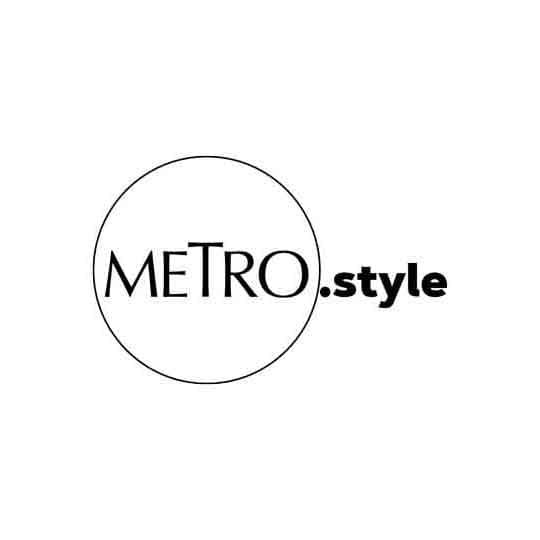 Floating concrete slabs take one from the first to the second floor. | Jar Concengco
The master's bedroom is a loft that contains a small office that features a digital wall paper made in Guangzhou and an ornate, wooden screen. The bedroom contains a bright teal oriental dresser and a bright orange hanging cleaning set by E.Murio. The master's bathroom has a bathtub against gray marble and faces a window that shows you that you really are on top of the world.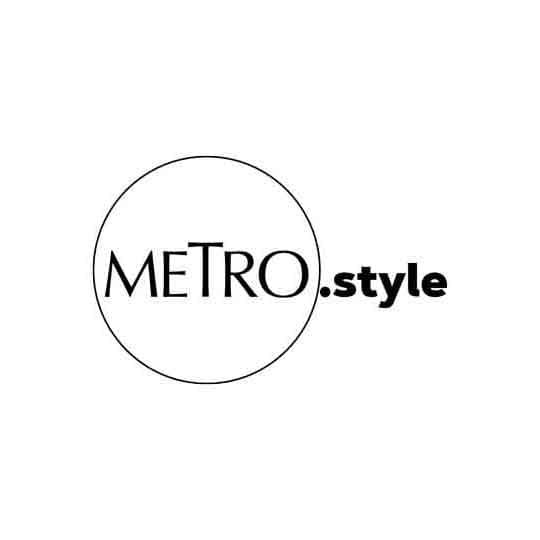 The second floor loft is utilized as the master bedroom. | Jar Concengco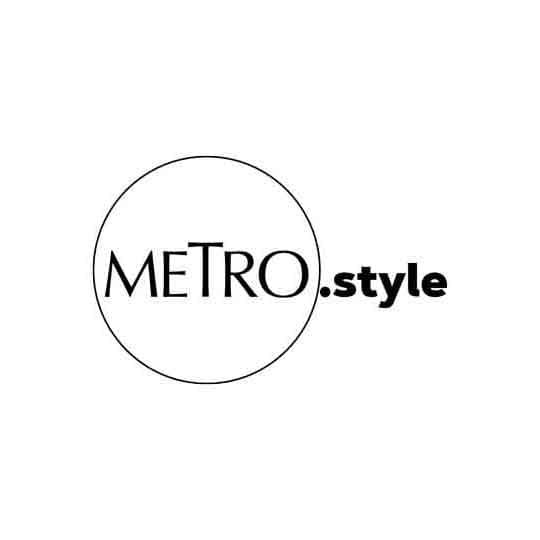 Wallpaper made in Guangzhou, China serves as a dramatic backdrop for this fashion designer's home office. | Jar Concengco
The guest house is a separate structure in the back which can only be accessed by a caged bridge on the second floor. It has an en suite bathroom and a personal balcony.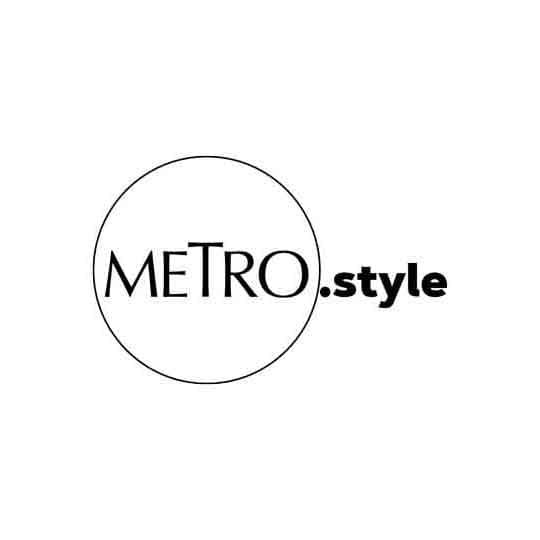 The guest bedroom is located across a bridge from the main house. | Jar Concengco
Although he questioned his timing in building a house when the whole of Luzon was placed under community quarantine, he decided to finish what he started. "It's a different type of fulfillment to have built your own house. I grew up moving around a lot. My parents were very driven by their businesses and our home usually was also where business was. So to finally have my own place that I designed and built was a goal for myself," he reveals.
Take the full tour of Casa Gris through this gallery: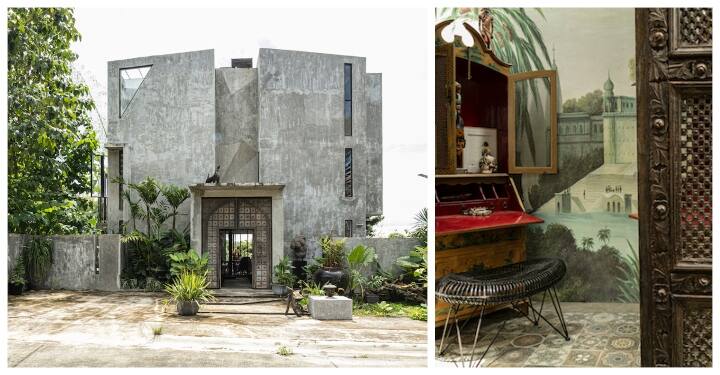 Photo Gallery
Photo Gallery
Casa Gris is also rented out to those interested. For more information, you can leave Jerome a message on his FB or IG @jeromesalayaang.