A Fresh And Modern Take On The Bahay Na Bato
Architect JJ Acuña interprets the Philippine vernacular style from the Spanish colonial archetype in this contemporary family home
JJ Acuña, interior designer and creative director of Hong Kong-based JJA Bespoke, has been spending more time in the Philippines as of late. His studio has been the most prolific during the past several years, opening several design projects in HK in the past year including formal Italian restaurant Castellana. The completion of his family home has given him a more steady base when in town.
"We actually had a house here on this plot that was built in the 70s or 80s. It was like a Spanish revival style. Around 2010-2011 the house burnt down and we had to demolish everything here to the ground," Acuña recounts. "That gave me an opportunity to work with the family and my eldest sister [Geraldine Acuña-Sunshine] to think of something new - some way to rebuild the house and have it work for all our family that lives around the world. We were just trying to think about when we intersect as a family. We needed a nice, comfortable house here where we can all hang out and celebrate together."
The house opens into a quiet and minimally decorated foyer. There's a floor to ceiling mirror with gold border on one side and a built-in banquet seating on the other. Felix Hidalgo's painting of a draped nude reclining in a forest hangs right before you enter what Acuña references to as a courtyard. A towering wall adorned with a massive paper artwork by Wataru Sakuma of Masaeco breaks the linear space, creating a regal sitting area with a pair of Ito Kish's Gregoria Chairs in black.
"When we were planning the house, we looked into what was in the Philippine vernacular architecturally and I guess you had to pick from one of three things: you have the bahay kubo, the American Commonwealth style and the Spanish colonial bahay na bato. The bahay na bato is what I ended up going for in terms of a concept for the house. From a planning perspective, bahay na bato has a more public programming on the ground floor which is what we have here. And a more private piano nobile style on the upper floor where the family really lives," Acuña shares.
Enveloped in natural light with a soaring double-height ceiling, the dining area becomes a favorite space to congregate. Pendant lighting from Schema hangs from the ceiling over a 10-seater solid wood acacia table by A. Garcia Crafts. The dining chairs with solihiya backing and bamboo frame are by E.Murio. A Triboa Bay console table grounds the space while the kitchen island is lined with custom high chairs by Lamana. If there was a common denominator among all these products it would be that they are all locally crafted. This was an important and deliberate choice by Acuña and his sister.
"The whole pro-Pinoy idea came in because at that time back in 2012 - when I just started designing the house - there were a lot of players growing in the Philippine design industry. We found it really refreshing. We felt it had a very vibrant and good energy. So we wanted to incorporate as many of those Philippine design talents in this project as much as possible. So we discussed about using this house as a way to showcase Filipino design," Acuña says.
This support for local craftsmanship continues on in the living area and other parts of the house. "The living room is a very weird, square living room so we had to fit in two sitting areas. We found a set from Philux that was able to have a U-shaped sofa that fit in really quite nicely. We really felt that it was made for that room.
Behind the couch is a hand-painted three panel custom wall covering by Degournay from Paris. "We collaborated with them to create a bahay na bato print from their Filipinana collection. We collaborated with Patricia Liang of Elements and Degournay to create that piece.
Acuña is proud of being from Capiz and he feels like the landscaping helps transports him there. "I love the landscaping of the house because it allows us to feel like we're in our hometown. Our family is from Capiz, in a very quiet seaside town called Roxas City where my great granduncle Manuel Acuña Roxas is from. I think if Capiznons designed a Manila house, it would look just like this - very quiet, very relaxed and feels almost like a beach house."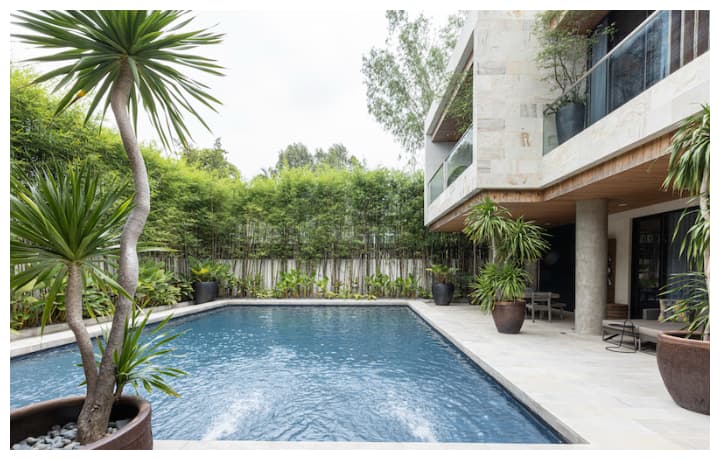 Photo Gallery
Photo Gallery
Optimal natural ventilation is a must in a tropical home. Heat rises up the double heigh ceiling of the dining area and gets funneled out by a vent. On the second floor, to get to the private bedrooms, one must pass through a lanai or what Acuña calls a breezeway. "Before you go into your private space, you always have a bit of outdoor air. So you kind of have to go outside to get into a private room. Even downstairs, to get to the room you have to go outside by the pool. There's always a relationship with the outdoor before you get into the bedroom."
A meditation/yoga room with a circular mirror on one wall is where Acuña spends his first moments of a day. It has a view of the green roof and makes you feel as if you were on the ground floor. "I feel nothing but good things for the Philippines in the future. There are a lot of great talents here and I can't wait to collaborate with all of them."