This "Extraordinary Attorney Woo" Star Lives In A House That Looks Like An Art Gallery
Fans get glimpses of Kang Ki-Young's spacious home through his pet poodle's social media
Viewers of Extraordinary Attorney Woo on Netflix have been experiencing a memorable ride with the series that tells the story of an attorney, Woo Young-Woo (played by Park Eun-bin) living with autism, her struggles and her wins, both in her personal life and in court. One of the most delightful things about the series is the cast. Park Eun-bin is supported by a great ensemble that contributes to the heartwarming series.
One of the more noteworthy characters is played by Kang Ki-Young as her senior attorney, Jung Myung-seok.
K-Drama fans will recognize the actor from his funny antics in What's Wrong With Secretary Kim, as support to Park Seo-Joon's Lee Young-Joon character:
Lately, Kang Ki-Young has gained attention not only for his acting, but for his fine taste in interiors and architecture as well. You see, the actor's poodle, Poo-poo, has been giving netizens a glimpse of his home through its very own Instagram account, @envy_poopoo with more than eleven thousand followers. The "spoiled but adorable" pupper also has a YouTube channel that Kang's non-celebrity wife maintains.
The video below shows off both the actor's house and his pet:
The home's sleek, modern lines are akin to an art gallery, with its exterior rendered in concrete, bricks and glass. Its interiors are very clean and minimal, with white, beige, and neutrals as its dominant color scheme. The furniture follows in the actor's tendency towards the minimalist, a safe choice of style for a family man starting his family with a young child and his wife.
In the gallery below, see photos of Kang Ki-Young's personal space: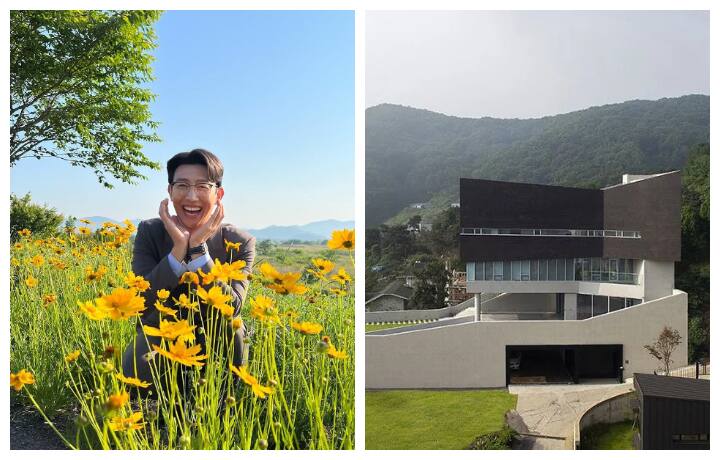 Photo Gallery
Photo Gallery