This Modern Tropical Home Is A Beautiful Merge Of The Upcycled And The New
The thematic space is airy, bright, and gives off an all-year summer vibe
Going for a modern tropical look for a space embraces all the fun and vibrance a homeowner hopes to have in their space. Such a cheery, energizing design isn't just airy and bright—it's also like taking a vacation within the comforts of your home.
And for designer Karisa Yee's latest project, she incorporated reuse and up-cycling techniques and merged it with new pieces to achieve a tasteful vintage spin without losing the all-important contemporary touches.
The project is actually just a minor renovation, occupying 80 sq.m. of the total lot. Her team stuck to the modern tropical theme because of the existing oriental-inspired furniture that can be transitioned to tropical. Turning their creative flair to work with what they have, these "old" items were mixed with new things like the sofa and the dining chairs.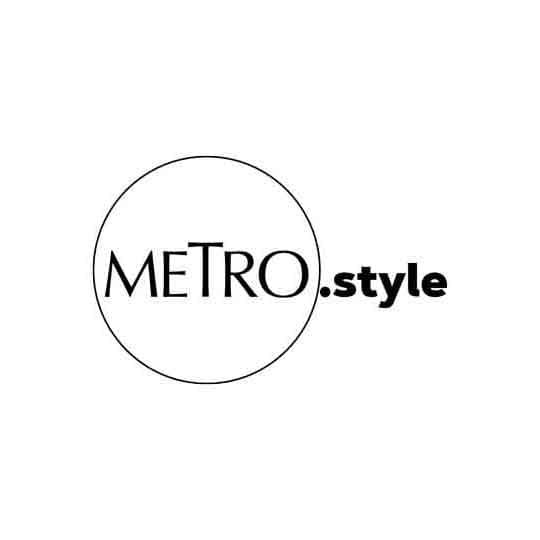 Bright and airy dining room in tropical modern home by Karissa Yee | Courtesy of Karisa Yee
"Upon entry, a small nook will be on your left where there is a seating area and a storage below to hold outside shoes. This area has a double height ceiling with a new modern light. Same color of veneer was used throughout the space," Karisa says of the space. "After the foyer, you have the living room where you can see the plants. They bring in some color and light to the space. Off the living room is the dining room with new capiz drop lights. And to the right is the kitchen area."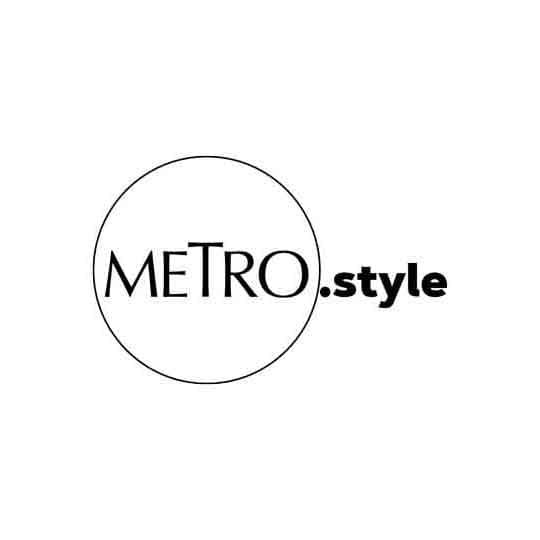 Seating area where a combination of textures, prints and colors against white give the space a fresh look. | Courtesy of Karisa Yee
In true tropical fashion, keeping the areas bright is on the agenda. Sticking to light colors, raising the ceiling, bringing light through glass windows and doors, and a display of indoor plants breathe life inside the space. One more notable thing is the view of the garden behind the glass window in the living area—imagine a sight like that that you can look at every single day!
This renovation project worked around a lot of reuse and up-cycling, so some things like the existing floor and kitchen cabinets remained as is. Some of the new changes included the white quartz island and the modern pivot door, which the designer says is the house's key statement piece. Notable pieces that are true conversation starters are the drop lights, the dining chairs with solihiya backing, and the art pieces scattered throughout the dwelling.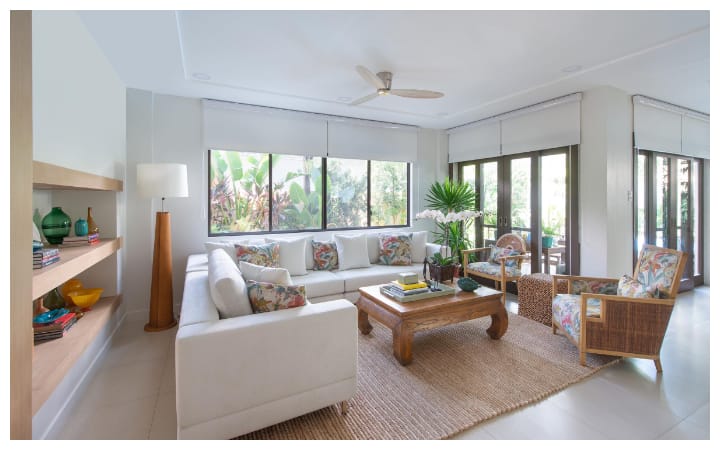 Inside A Tropical Modern Home Renovation By Karisa Yee
Inside A Tropical Modern Home Renovation By Karisa Yee
If you want to change your home up a bit, you can try adding modern tropical details to a nook, if you aren't ready to go all out for this style. "Try to mix and match the furniture because this will make the area more interesting," the designer advises. "And try to find ways to bring light into the space."