Learn from Jinkee: Best Tips From Jinkee Pacquiao's Gen San Home Tour
Mrs. Manny Pacquiao opened her Gen San home to her vlog viewers. We culled tips for every woman to note
Having a glimpse of how celebrities live is a treat. There is a certain voyeuristic indulgence that is satisfied as we see into the corners of their homes. More than just their private spaces, these home tours reveal that celebrities are no different from everyone else: they value the gift of family; they have specific preferences and they aspire to make a comfortable home.
In Jinkee Pacquiao's house tour, she shares secrets to maintaining a happy home .
Every woman should take note of the top six tips we picked up from her vlog:
1. Pepper your walls with cherished moments and memories in picture frames.
2. You may turn your photos into a work of art, as Jinkee has done with the collage of her children's photos.
3. Convert a lanai or an indoor-outdoor area into a functional space that the whole family will use. In Jinkee's case, she converted her indoor-outdoor living room into a dining room to accommodate the whole family for meals.
4. If your space permits, add on to the home so that your family's exercise and sporting activities can easily be addressed within the home's premises. Jinkee and Manny added landscaped areas, a covered patio, a basketball court and a guest house to their property. The variety of spaces allow them to do most activities at home.
5. Have fun at home. Have a dedicated space for the family's shared hobby. Jinkee reveals that she has a room for videoke which the whole family enjoys.
6. Their home is built on a foundation of patience and understanding. They started as a couple at 20 years old, and have weathered their fair share of trials together. Having a spiritual foundation as God in the center of their relationship has helped them get through some major snags.
Have a look at the Pacquiao's Gen San mansion here: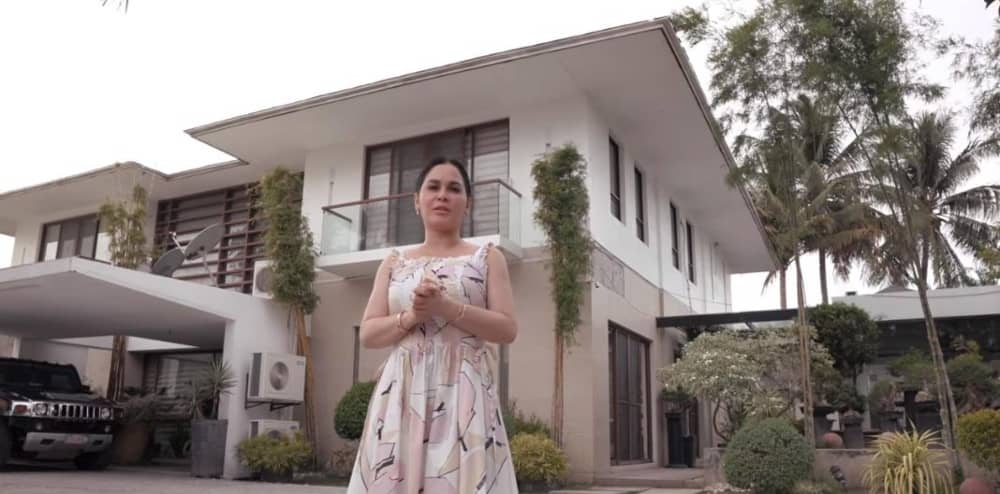 Watch Jinkee's Gen San House Tour Here: