This Renovated Space Inspires A Subtle Transition To The New Trend In Minimalism
If you want to try out a more dressed up minimalism, take cues from this home
The years have been especially encouraging when it comes to decluttering. As "less is more" became prevalent and a lot of urban dwellers have decided that going minimalist is the way, we realize how the design isn't just a trend but more of a functional and practical choice.
However, much like everything else in the modern era, the design style has also evolved. Minimalism, for all its sleek and pure glory, isn't simply boxed in one ideal form. Sure, it maintains its reputation as simple and monochrome, only sticking to neat color tones and clean lines. But it eventually branched into other, more fluid forms, including this latest minimalism look that brings in the "homey" to a home.
Modern styles are great, but adding warmth and coziness in a space is the charm of warm minimalism. The trend, which grows ever more popular, sticks to the same principles of its ancestors—with some touches of passion and comfort that steer clear of the conventional immaculate look. For instance, the use of texture, a neutral palette, natural materials (and plants!), and squeezing comfort are ways to incorporate the trend into your den.
If you're looking for a peg, this renovated project by designer Karisa Yee subtly inserts warm minimalism into her client's Alabang home. Before it came into Karisa Yee and her team's creative hands, the space was designed with a country theme in mind, reusing some old furniture as well as the marble floor of the original space, adding personality with wooden cabinets and flowered wallpaper.
Karisa walks us through the renovation, a space that's just right below the stairs. "Going down, we designed under lighted stairs facing the sink area and to the right is the toilet. We placed a depressed niche in front of the toilet to house an artwork," she shares. "Decided by practicality, we tiled about half the wall by the sink and placed a wallpaper above with a certain sheen to reflect light. It was also a clean transition from the two materials by using a brass trim."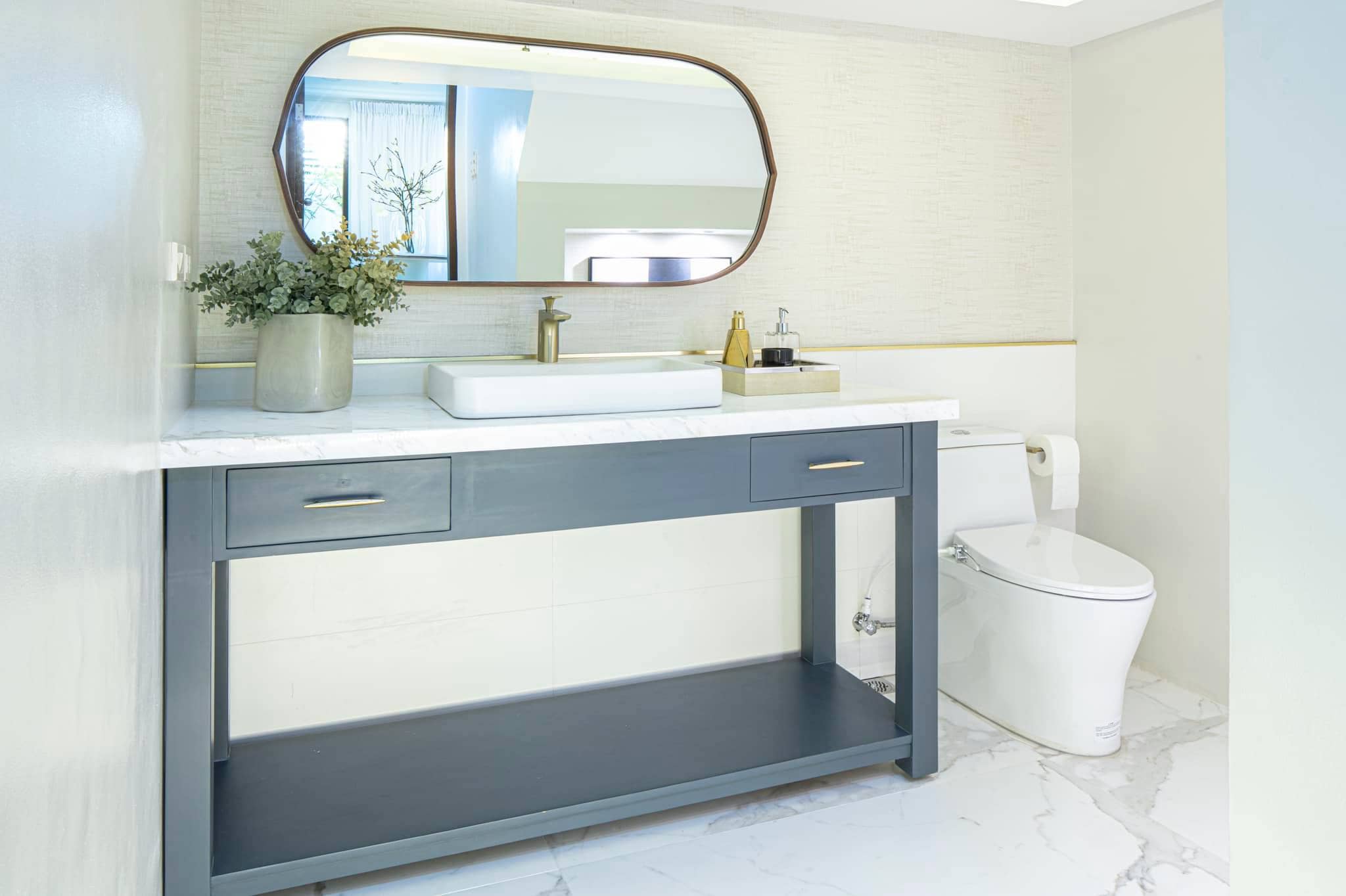 Powder bath in a minimalist family home designed by Karisa Yee | Courtesy of Karisa Yee Design Studio
With the home's pristine view, hints of relaxed and warm details subtly blended into the space, introducing the trend without compromise to the original intention. The glass and wooden table, the fluffy character of the dining chairs, the living room's center table, and the presence of greens all seamlessly went in harmony with the rest of the design.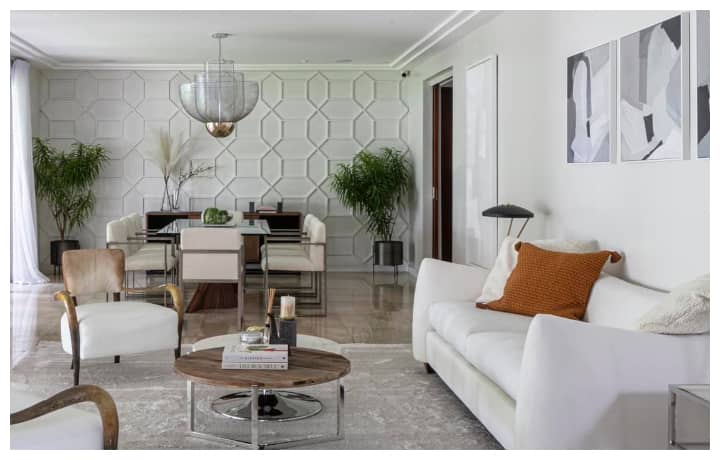 Warm Minimalism By Karisa Yee Design Studio
Warm Minimalism By Karisa Yee Design Studio