Metro Home's Latest Episode Takes Us Inside A Moroccan-Inspired Beach Home
We break down some of the authentic Moroccan elements and details used in this vacation home—from the walls, color schemes, and finishing details
A vacation home is something that whisks you into a different place and gives you that relaxed, detached-from-the-world feeling.
And in this vacation home by the beach that Metro Home visited, the owners created a home that presents a visual feast: bold colors, amazing views of the sea, beautiful textures, and authentic details all the way from Morocco.
Morocco is one of the three countries situated along the coastline of the Atlantic and Mediterranean Seas. It is a dream destination for many with its romantic vibe and rich culture. Moroccan interior design seeks to recreate these feelings and experiences.
Metro Home hosts Stephanie Kienle-Gonzalez and Anton Barretto walk us through this Moroccan-inspired vacation home in a must-see episode.
Moorish Architecture
Moorish architecture is one of the roots of Moroccan design, hailing back from the time the Moors dominated North Africa and parts of Spain and Portugal. The Islamization of Moroccan architecture was heavily carried out during the time that Moorish exiles from Portugal sought refuge in the country.
These Moorish roots manifest in the arches utilized in the big windows of this home. The huge windows also serve as a good source of daylight and fresh air since the home is close to the sea.
Intricate Woodwork
Woodwork serves as the main finishing of many urbanized and traditional architecture in Morocco. Intricate woodwork is used on various surfaces of a building such as the wall, window, doors, and balcony. And unlike in usual modern design, the woodwork is not painted over.
To recreate the authentic woodwork associated with Morocco, the owners and their interior designer Marissa Lopa brought home details from Morocco and had them fabricated here in the Philippines. These details are then used to frame the windows and mirrors in the home.
Berber Culture
The nomadic Berbers are one of the original tribes that inhabit Morocco. To date, they keep their unique language and culture, making their people one of the last bastions of tradition in the fast-modernizing world.
In Morocco, the patterns on the wooden doors will tell you which tribe it belongs to. And in this Moroccan-inspired home, it's nice to see antique Berber doors like this one being so majestically showcased on the wall.
Other antique and authentic woodwork were also used as headboard for the beds in the bedrooms.
Tadelakt
Tadelakt is a popular waterproof plaster used in Moroccan architecture. It is quite intensive to install, but it's worth the effort because the end product is durable and waterproof. Traditionally, tadelakt plasters are dyed in reddish paint. Long-term maintenance of a taledakt surface requires regular re-sealing with an olive soap solution.
This unique Moroccan technique was also used in the dining room of this home. You can see the unique texture of the plaster up-close because it is set and polished with a small stone, using a circular motion.
Silverware and tea
Moroccans have a very unique teapot, unlike the ceramic and clay teapots that we're used to in Chinese and British cultures. In Morocco, it is customary to welcome people in the house with tea, served in silver teapots and heavily decorated glasses. The Moroccan teapot is also unique because it is heat resistant and can be put directly on the stove.
Incorporating these little details and traditions from the Moroccan culture gives this house an even more authentic vibe. This Moroccan tea set is set up in the living room, true to the tradition of receiving guests with Moroccan mint tea.
Bold color palette
Vivid and rich color palettes are staples in Moroccan design. And in their culture, each color corresponds to a specific connotation or symbolism. The color red, for example, is traditionally used on roof tiles, walls, and carpets. This red was utilized in this home's majestic ceiling, which was painstakingly painted and finished with a rosette.
You'd also find lots of gold and yellow in Moroccan design, just like the gold motif used in this home's dining and living room areas. In their culture, gold represents wealth and the sun, and the Moroccans believed that these colors would protect them from evil.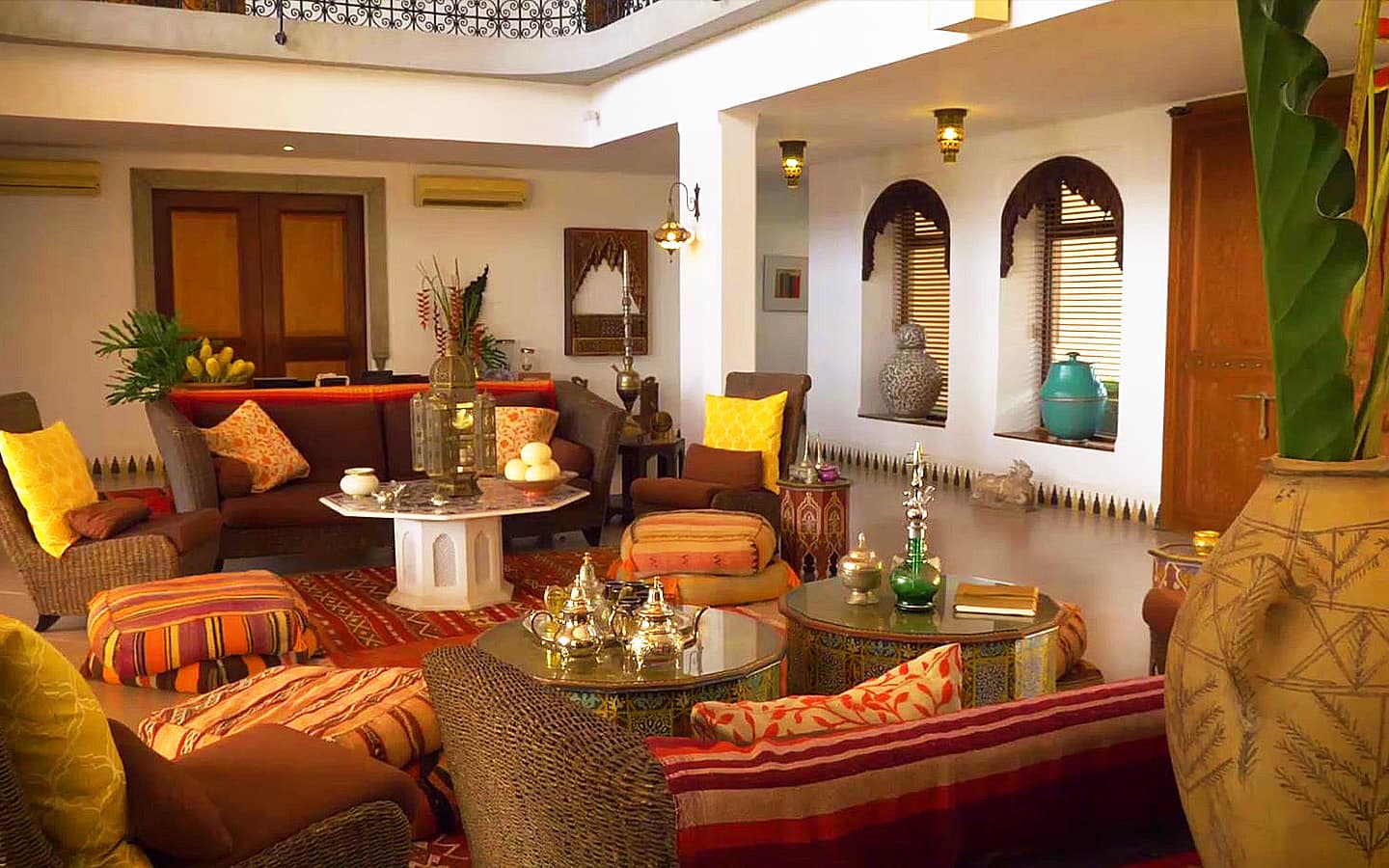 See more of this house and other vacation homes on Metro Home, premiere episodes every Wednesday, 9 p.m. Catch replays throughout the week on Metro Channel, channel 52 on Sky Cable and channel 174 on HD.