More Is Merrier
Artist Cheryl Hironaka gives a personal take on decorating her home for the holidays. Memories, mementoes and art work are essentials to her holiday decorating.
Artist and furniture designer, Cheryl Hironaka paints whimsical scenes that are fantastical. Her body of work is made of furniture and paintings that seem to have come from a dream… off-beat, surreal, but completely delightful. Some would say that it is child-like, with a twist of surrealism. In Manila, her work was last seen in La Maison de Coquette at the Artist Space, Ayala Museum in 2017.
Surrounded by the forests of Parc de St. Cloud and Fausses-Repose, this Filipina artist lives with her family of two boys and a husband in Marnes la Coquette, a suburb outside of Paris, near Versailles. Those interested in trivia would love to know that Marnes la Coquette is a heavily wooded town that was established around Villeneuve-l'Étang, which was owned by Napoleon III.
"My tree topper or finial that I made from clay. My kids also made their own ornaments when I was making this. Koji made a heart and Seiji made some sort of spider or crab looking ornament. I love anything that my kids make. My clock ornaments, I made. My miniature painting ornaments," the artist lists, when asked what her favorite ornaments are.
"My favorite photo ornament is of Seiji, my youngest carrying Brady my Swiss shepherd when we first got him at 3 months old back in 2012," she continues.
The artist usually comes home to Manila for Christmas, where she celebrates with her family in the usual Filipino style, with Noche Buena, games and opening of gifts on Christmas morning, but she counts Christmas 1999 as her most memorable, the year she had her first baby.
"[It was] the year we moved into our first home that we bought in Paris as a married couple. My whole family and my husband's family flew to Paris to spend the holidays with us because I didn't want to travel with a newborn baby. My son, Koji, was 2 months old. We had bought a live Christmas tree and went all out decorating for him. That Christmas the tree had a theme that was geared for babies, stuffed animals of bears, dogs, toys, etc. On Christmas day, we had lunch at L'Espadon at the Ritz. Woody Allen was at the table next to ours with his family and he greeted us a Merry Christmas. I am a huge fan. I've watched his films multiple times growing up and the reason I fell in love with New York where I met my husband. During that holiday, we also went to the French Alps at La Clusaz where my two brothers and I had ski lessons where we failed miserably and almost died laughing. We also went to Champagne to visit Reims and Epernay and stayed a few nights in a couple of chateaux. Definitely my fondest Christmas memory," Cheryl fondly recalls.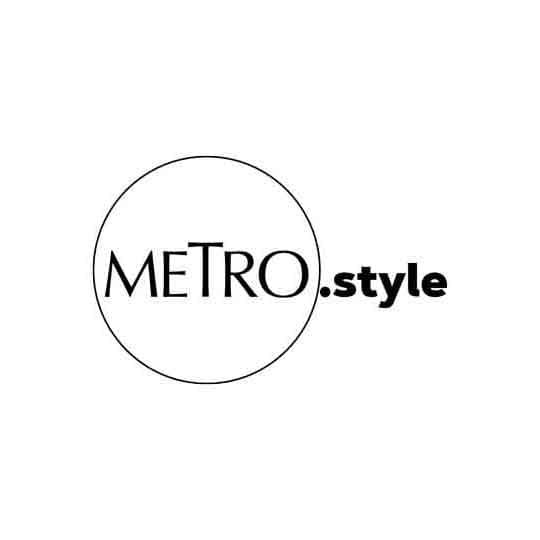 Artist Cheryl Hironaka's mantel is decked out in the foliage of the season. Above it is her own painting, crowning the scene. Of the Christmas stockings, she says, "The white socks with black letters K and S, my son's initials are handmade by me using different materials I can find around the house, I added some vintage brooches to add a bit of glam. I don't have a sewing machine nor wouldn't know how to use one that's why they look a bit shabby." | Courtesy of Cheryl Hironaka
Decorating with the Christmas spirit at its core, etched with the love for family and the child-like wonder of an artist, Cheryl imparts these holiday decorating tips:
- Holiday decorating should be about glitter and glam. Anything that sparkles is good.
- It should be timeless, what you find beautiful now should still be beautiful in 20 years.
- It's okay to mix colors, themes, metals, old and new, cheap and expensive. Anything goes really. The only time when you can go all out and not worry if it's too much.
- More really is merrier when decorating for Christmas.
- Everyone should incorporate family photos and meaningful ornaments in their trees.
- Don't limit yourself, you can use anything or re-purpose objects as ornaments, tassels, jewelry, ribbons. Your garden, the forest, nature is a good resource for decorations, branches, twigs, pine cones, seashells from the beach, river rocks.
This abundance in personality and character is picked up in her Christmas table. "When I do entertain, if I am ever in places where I've lived, [be it] Paris, New York or Hanoi for Christmas, I always like to have lots of candle light and nice music. I always find time to create a playlist every year. Vin chaud (mulled wine) or eggnog is always nice and festive especially in winter weather. [There is] champagne and lots of wine of course! I also love fruit cake and having lots of bowls of nuts, walnuts, pistachios, almonds. [I serve] Foie gras with ginger bread toasts or some nice fruity and nutty bread. Stuffed turkey, pintade farcie ( my favorite stuffed guinea fowl that's already prepared by the butcher and just need to stick it in the oven) or beef bourguignon would be on the menu," the artist shares.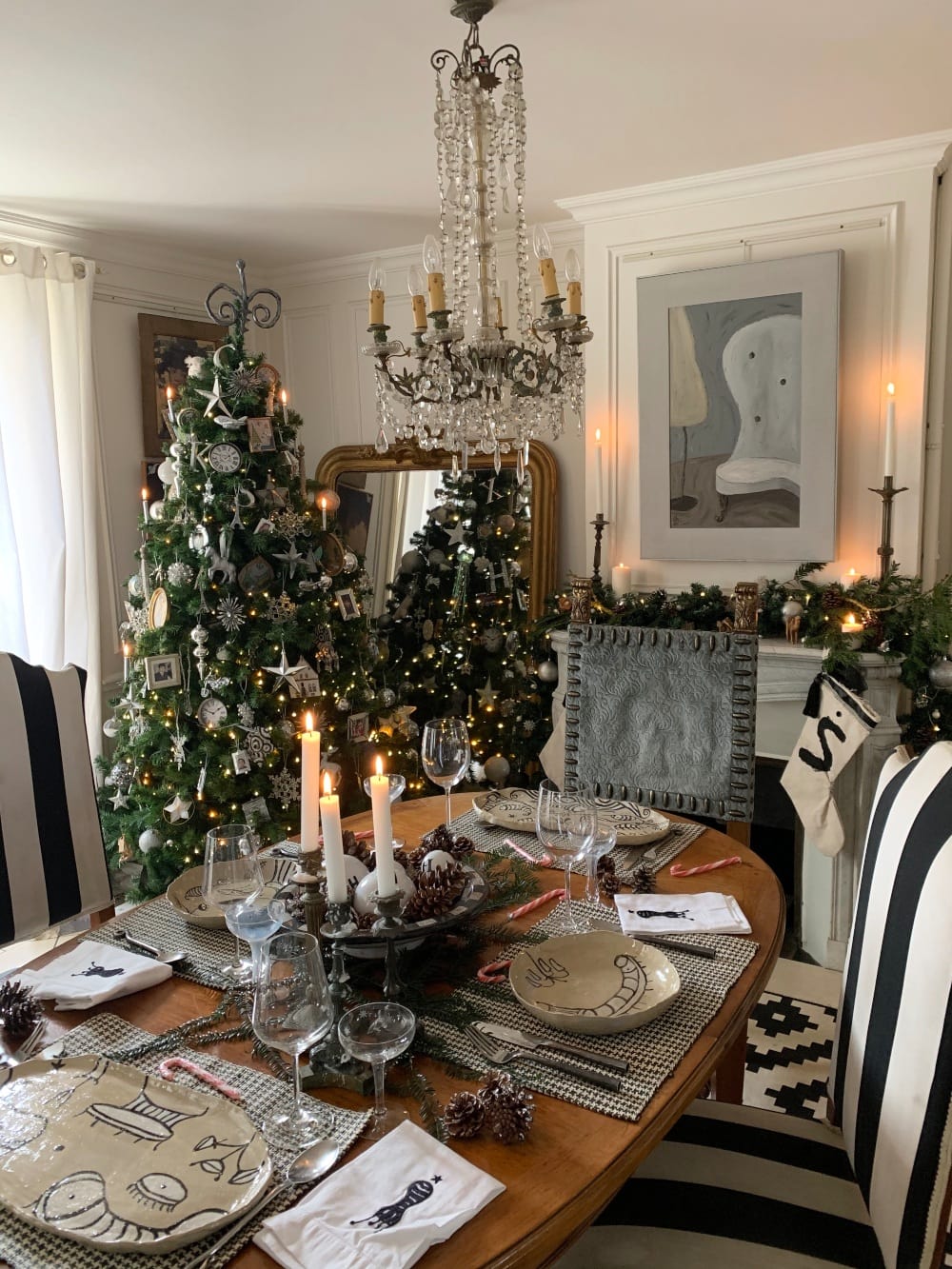 All photos courtesy of Cheryl Hironaka.