IN PHOTOS: Inside A Modern Scandinavian Mountain Cabin
It pays homage to rustic building traditions, but showcases a polished interior
Not far from Lillehammer, where the 1994 Winter Olympics took place and located on top of a mountain in Kvitfjell, Norway is a beautiful mountain cabin designed by architects Casper and Lexie Mork-Ulnes, the first ground-up project they had built for their own family. In designing and constructing this cabin, the architects paid tribute to the view, the cultural landscape of the area, all while experimenting with design and material strategies.
Paying homage to the regional historic architecture of the area, they laid out a grid of 45 wooden columns, "lifting" the home on thin legs 1.5 meters from the ground, making the cabin appear as though it is floating on the terrain, covered with snow in the winter, and grass in the summer. Skigard, long and narrow quarter cut tree logs that are typically used as fencing material in the countrysides of Sweden and Norway, are employed as cladding for this home.
On the roof, the grass that is found on site grows, a nod to century's old Norwegian building traditions. When visitors set foot into the cabin via long and wide steps, they are led to a veranda which treats them with a framed view of the valley and river below the site.
Inside the cabin, four smaller rooms are housed within, capped with a tent ceiling and a skylight that lights the home.
See this modern Scandinavian mountain cabin and its details: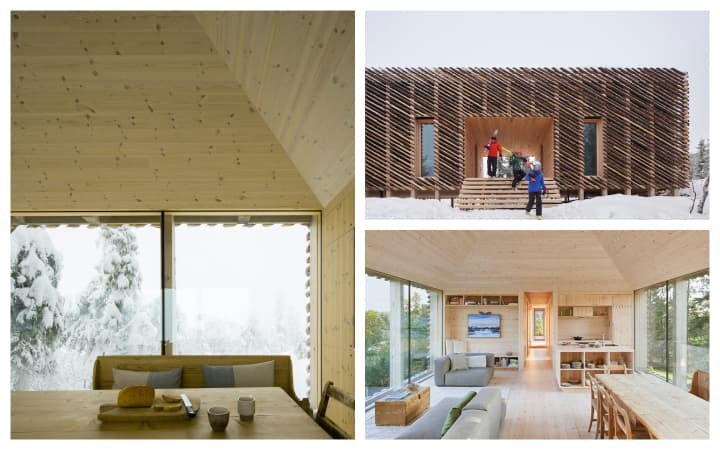 Photo Gallery
Photo Gallery