Park Min-young Hosts A Virtual Housewarming Party At Her 'New Playground'
The Korean beauty gives a quick tour of her terrace and office via her YouTube vlog
It's a rare opportunity to break bread with the stars, but Korean actress Park Min-young graciously invited everyone to her "housewarming party" last July 9. Yup, the "What's Wrong With Secretary Kim" lead star opened her doors—virtually—to her fans for a peek at her personal office and terrace via her recent YouTube vlog post!
The spaces, which she calls her "new playground," have been making appearances already on her Instagram account—from selfies while lounging on a seat to videos of her sprinkling water to her outdoor plants. In the 10-minute tour, Park Min-young lets viewers in for a closer look, accompanied by her cute bichon frise dog, Leon! Watch her vlog here:
The terrace
She first leads viewers to her terrace and opens the vlog with a cheerful welcome. Guiding us past the big wooden door, the 34-year old begins, "I haven't been going out very often lately, so this space is where I come to get some fresh air and cook as well. I guess you could call it my healing space."
And rightly so—the outdoor area boasts of a view of the city and overlooking the mountains. The modern resort-style space draws a relaxing vibe, despite her residence situated in the middle of the metropolis. Wood dominates the space, from the flooring to her choice of furnishings like the buffet table in wood paneling and a dark lined wooden dining table. There are also rattan pieces that add a tropical touch, while the British lamp post and her outdoor plants lend a flair of character to the space.
The terrace is also equipped with a fridge (where she stores her favorite soju!) and a grill, as the actress declares her love for hosting barbecue parties. A hidden but notable area is her mini kitchen with an accent cement brick wall, where she puts the kitchenware. Notice her collection of differently-shaped plates in solid colors, too!
The office
After cooking some hotdogs in her outdoor grill, Park Min-young goes down to introduce her office! "Whenever I get a piece, I have to practice my parts. But since I live with my family, it's not easy to voice out my practices. I'm an actress, but it still makes me shy," she reveals, adding, "I've always wanted a soundproof practice room of my own. This is where I practice now."
It's the first space that she made herself, and we can safely conclude that the "A Piece Of Your Mind" leading lady's got taste! The all-white room is brightly lit and delicately decorated with an elegant selection of furniture. In the dining area that doubles as her desk, the sleek grey long table is accented with cushioned chairs in an array of candy colors. Beside it, Park Min-young built an entertainment area with a modern leather sofa that turns into a bed lounge with a click of a button, a console table with a mini speaker, and a television set. "This is kind of my dream," she grins.
Ventilation is very important, so she placed a wooden ceiling fan that doubles as an aesthetic piece to the room. There are also some big indoor plants, including an areca palm, that acts as an air purifier. And of course, there's another fridge on one corner for her drinks!
Completing the virtual housewarming party/office tour is a visit at the two other rooms across and beside her main office. The former is a pantry area, complete with induction range, sink, refrigerator, microwave, and storage compartments. Meanwhile, the latter is a guest room where the actress can take in visitors or rest in herself. It's simply dressed in minimal decor, with a blue sofa bed and an indoor plant on top of a side table. But upstairs, a pretty white-and-wood staircase brings us to another floor that reveals a room endowed with a double height ceiling and stairs, as well as walls with built-in shelves and lights. Park Min-young envisions this space as an exhibition room.
Check out these gallery of photos for a quick tour of her terrace and office!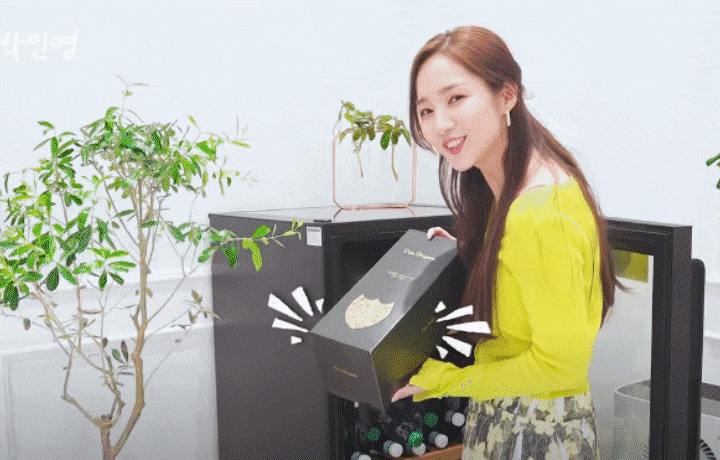 Park Min-young's terrace and office
Park Min-young's terrace and office