Bring Home Park Seo Joon's K-Drama Living Style
Korea's premier leading man Park Seo Joon brought to life drama characters with home and living interiors that are peg-worthy, it's tempting to splurge
Live like Park Seo Joon or bring home something that reminds you of the actor.
There's just something about the handsome actor's portrayal that transcends stereotypes. He can effectively play an editor of a fashion magazine like Ji Sung Joon, a narcissistic but dashing company president like Lee Young Joon, a simple martial arts fighter like Ko Dong Man or a feisty restaurant owner like Park Sae Ro Yi the next day. We have witnessed diverse versions and different facets of this in-demand actor and how each character lives his life.
Just as Park Seo Joon walked into our lives armed with his charming way of speaking and embodying whatever character a script throws at him, we also have the chance to let him live permanently in our homes with some interior inspirations from his K-Dramas, including his ESSA sofa endorsement.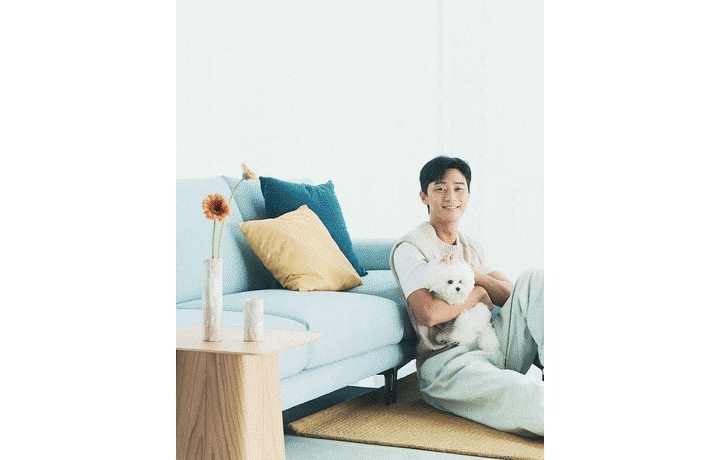 Living In Style With Park Seo-Joon
Living In Style With Park Seo-Joon
Ready to get inspired? Put this living inspo on a vision board, imagine these in your own space and add to cart. Let's journey through some of Park Seo Joon's peg-worthy living space from She Was Pretty, Fight For My Way, What's Wrong With Secretary Kim and Itaewon Class.
Earth-toned bachelor's pad from She Was Pretty.
The bachelor's pad exudes manliness and elegance that's so fitting for a successful magazine editor. His entire space was dominated by hues of brown, gray and cream contributing to its classy masculine aesthetic. His character Ji Sung Joon added a bit of excitement to it by putting up framed artworks on his earth-toned walls and created balance and comfort by putting the right stylish drapes on his couch in the living room. The white sheer curtains in the house also soften the overall masculinity of the place and adds a stark and welcome contrast to the seemingly "all male" energy of the place.
Wood and accented space from Fight For My Way.
Park Seo Joon's iconic turn as martial arts fighter Ko Dong Man revels in his simplicity and being an ordinary guy with a dream. Because he's not exactly a moneyed man in this drama, Ko Dong Man has a very humble and cramped abode which he spruced up by putting up items that speak of his personality and interests: a dart board, an alphabet cabinet, a steel bedframe that's practical because it's long-lasting and easy to clean, and a desk lamp on his bedside as an accent. The use of gray weighted blanked isn't only for the comfort of the homeowner but also adds a classy aesthetic even to a simple home. His industrial pendant light hanging over the dining table was also a good touch. Overall, it was a very practical space for a budding martial arts star.
Elegant and contemporary home from What's Wrong With Secretary Kim?
Handsome and filthy rich—Park Seo Joon's Lee Young Joon can afford everything he places his heart into including an elegant home with a contemporary design. His glass-walled house allows natural light to seep in making it a bright space to live in. The high ceiling also provides a perception of open space making the home feel grand and luxurious. His house was also furnished with luxurious-looking items like a huge flatscreen TV, a minimalist black desk lamp on a glass side table, gray contemporary couch adorned with geometric-designed covers for throw pillows, various audio speakers for an audiophile with expensive taste and mid-century modern furniture from the desk to the chairs and vanity gold-framed mirrors fitting for a CEO of his kind.
Nature-inspired office from Itaewon Class.
Because Park Sae Ro Yi is a driven restaurateur out to avenge his father and his losses, he spent less time at home and more at work. The company's office is filled with modern furnishings that houses interests like guitars and speaker, potted succulents, plants and hues of green which allow breathing space for the main characters—a relaxing comfort place for our protagonists weary of life's curveballs. The red brick walls of the office also give a modern but edgy look to the office marking a balance between nature and cosmo living. Brick wall and greenery make a good combination for a cool textural overall look.
There's always a version of Park Seo Joon that's right up our interior decorating alley so depending on your favorite character, it's easy to feel at home with the K-drama heartthrob. Be inspired and start upgrading your home style a la-Park Seo Joon. We love him just as he is, hanging out with his dog, Simba and lounging around in comfortable furniture, as seen in his ESSA sofa endorsement: