This Pinterest-Inspired Mediterranean House In San Diego Has A Homey Filipino Touch
House plants, family pictures, and a very stylish house: Carmela Sanford designs the perfect home for her family
With the help of social media apps such as Pinterest, Filipina clinical director based in California, Carmela Sanford was able to gain just the right amount of inspiration to design her home exactly to her and her family's liking.
Located in Poway, San Diego, the home embraces rustic and Mediterranean styles with a touch of a farmhouse vibe as well. She made the decision to maintain a Spanish or Mediterranean style for the home renovations based on the roofing of the house, which used terracotta tiles. It is a California tract house built in 1992, and her parents actually became the second owners of the house in 1994. Carmela added, "My parents retired when I graduated from college and went back to the Philippines. The house then became a rental property until my husband and I moved in when I was pregnant with our first child in 2010."
When she and her husband began looking into the kind of house they wanted to live in, Carmela expressed that their search was all about the location and the basics, since from as early as this point, she already knew that she was going to be renovating the house to her taste.
She shares, "My husband and I started looking for a house once we knew we were pregnant. We knew it had to be in the city of Poway (San Diego) as it has the best school district. It had to have four bedrooms minimally, two bathrooms at least, a yard, and a fireplace [which is] my husband's must-have."
With regard to the design process, Carmela said that she first finds inspiration on Pinterest, as well as on Houzz and Instagram. Then, she goes on to draft designs on her own and shares these with her husband before contacting potential designers or builders to help her carry them out onto her home.
When asked if there were any noteworthy elements or pieces from her home, she simply replied, "So many for each renovation." From this alone, you can already observe how much care Carmela puts into the designing process.
Some of the noteworthy elements of her home include the "open" fenced front yard, the downstairs industrial bathroom with open ventilation, the built-in step stool at the kids'' bathroom, the beautiful tiles and the open master bathroom, the hidden trash bins in the kitchen, the built-in laundry baskets in the closets, and the "dirty kitchen" in the backyard where an electric stove was installed as part of the concrete bar top.
"I especially love my Saltillo tiles installed in the backyard, the side yard for the dogs, and the custom-made, narrow dining table for 14," shared Carmela. She also revealed her favorite parts of her home to be the bathrooms, the backyard, and the kitchen: "Everyone ends up hanging out in the kitchen when people are over."
Have a look at all the carefully-designed corners of the Sanford home in this gallery: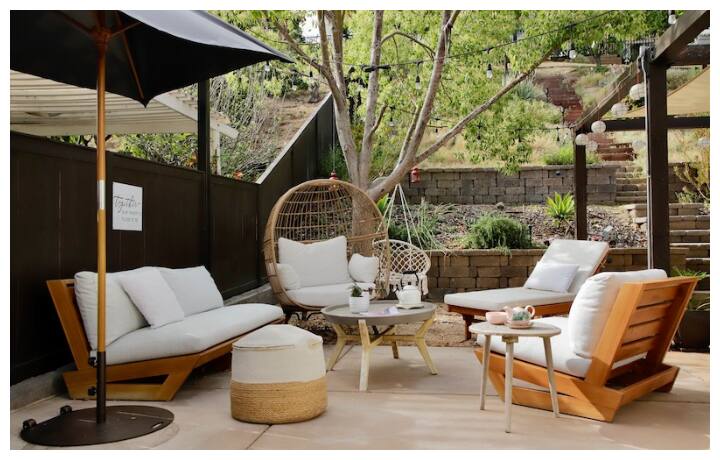 Photo Gallery
Photo Gallery
Photographs by Milo Sogueco