Sombrero Accents And Tropical Details Made This Resthouse A Uniquely Elegant Retreat
Designer Karisa Yee went the minimalist approach in this boho space, with enough quirk and playfulness for a tasteful and sunny space
One of the best things about living in the Philippines is our year-round enjoyment of the warm weather—the tropical weather allows us to bask in warmth and sunshine no matter where we go. This eternal sunshine has also graced not just our countless islands, but numerous spaces that reflected what our country has to offer.
The use of native materials to showcase our traditional home elements is one of the best ways to design a tropical-inspired abode. Good thing that, while a lot of designers have worked on these details, there's always something new to showcase—which Karisa Yee successfully created in one of her projects. This hot springs resort house, located in Los Baños, boasts of an elegant yet playful take on the style. While sleek and minimalist, this tropical retreat offers quirky distinct accents that keep its look forever enticing.
The 500-sq.m. dwelling's white structure is mainly dressed in wood and black steel railings, imbibing spaciousness and warmth. Upon entry, the custom design 2.7-meter door with glass inserts greets its occupants—with even more natural light entering thanks to the numerous windows put in place. The view of the pool, which can be seen from the living room, also adds to the relaxing feel, complementing the house's clean aesthetic.
Most of the big furniture, the designer shares, are custom made from Manila to Nueva Ecija suppliers. Rattan and soliya are also major style points, while the sombrero details that clad its walls all over are definitely the unique icing on top of the cake. Karisa mentions that it's actually her favorite detail, along with the pendant lights on top of the dining table.
And of course, the presence of greenery paints life to this polished space, a reminder of island living capsuled in this particular rest house.
Supporting local is ever-growing, and Karisa highly recommends that you do the same when spicing things up for your home. "Support your own! We have so many resources here in the Philippines—it would be a shame not to use them," she stresses.
An easy way to begin is by finding furnishings from start-ups that use local materials. A drive through highways will open up many possibilities; or if you're the type to just stay in, the internet is a brimming source for all these wonderful tropical pieces!
And finally, taking this good practice from this project, one can always turn to that one memorable definitive item—in this case, the sombrero—for that outstanding flair that's sure to be the talk of town.
See this home's unique modern boho features in this gallery: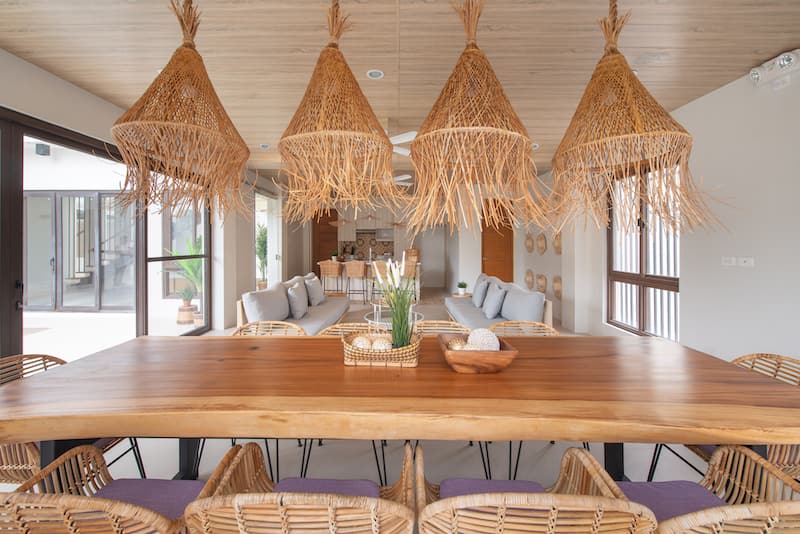 Photo Gallery
Photo Gallery
Photographs Courtesy of Karisa Yee