Inside The Carrie Bradshaw Airbnb Apartment
Sarah Jessica Parker hosted this faithful Airbnb recreation of Carrie Bradshaw's apartment, complete with a closet full of fabulous clothes and Manolo Blahniks
"Beauty is fleeting, but a rent-controlled apartment overlooking the park is forever," Carrie Bradshaw muses. The iconic character essayed by Sarah Jessica Parker in Sex and the City has been etched in many a late 1990's, early-2000's TV-viewing hearts. A single girl trying to make it in the Big City, sipping cosmopolitans, shopping at Tiffany, Dior and Gucci, having brunch with her friends, figuring love, life and relationships out, kept many of us glued to the series episode after episode.
Many of these scenes took place in her Upper East Side apartment. Its facade was shot in 64 Perry St., while its interiors were sets which were all imagined by Production Designer, Jeremy Conway. The apartment was lived-in, messy and real, portraying her creative side.
Drumming up the excitement for Just Like That, the new cinema installment of the Sex and the City franchise showing in December 2021, Airbnb and Warner Brothers have meticulously recreated Carrie's apartment, complete with its pistachio-colored walls, a 2000's cordless phone, a work station with Carrie's laptop and a post-it note inscribed with the WiFi password. Martini glasses populate the shelves, along with issues of Vogue.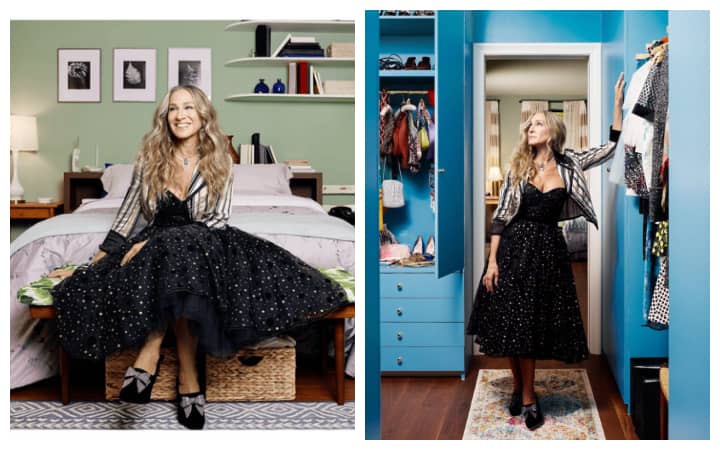 The Carrie Bradshaw Airbnb Apartment
The Carrie Bradshaw Airbnb Apartment
True to Carrie form, the closet in this Airbnb rendition is also bursting with fabulous clothes and accessories, complete with the Patricia Field tutu she wears in the show's opening credits. Of course, the Manolo Blahniks are also there, all ready for guests to try on. And just like that... An instant Sex and the City-themed photo shoot for those staying in the Carrie Bradshaw apartment!
Sarah Jessica Parker participated in the fun, playing host to the Airbnb guests. "The Carrie Bradshaw character is near and dear to my heart, and revisiting her world for the continuation of the Sex and the City story has been such a joy… I'm excited for our audience to experience Carrie's New York like never before and walk in her shoes, quite literally, for the first time," she says in her virtual greeting.
Completing the experience, brunch at the Chelsea was included in this Airbnb experience which concluded last weekend.
Photographs from @airbnb @sarahjessicaparker Airbnb website