Step Inside Serena Williams' Statement-Making Miami Home
The tennis legend showcases her love for art and pride in her new home north of Miami
Ever wonder what a tennis legend home looks like? If you're curious, we'll tell you ahead that it isn't plain and simple—especially if we're talking about 23-time Grand Slam singles title winner Serena Williams.
The tennis player recently welcomed viewers for a home tour of her new home north of Miami through Architectural Digest. Her stunning abode, which boasts of eccentric, statement interiors, speaks of its owner's love for being a stand out. For styling the rooms, she worked with her sister Venus, who owns an interior design company called V Starr Interiors. With highlights such as her living room-slash-art gallery, an all-in-one karaoke room/bar/clubhouse, and of course, a trophy room, Serena's space is a refreshing yet awe-striking place you'd love to be in.
Upon entry, you'll instantly spot her knack for art—welcoming you is a floor-to-ceiling piece by Radcliffe Bailey, followed by a display of other works from different artists in what she likes to call "the art gallery." "Most homes actually have a formal living room, and I didn't wanna lose that aspect. But I also didn't want a formal living room," Serena muses. So instead, she threw her collection into this space, and voila! Other accents include her own work of art, which hung on the wall beside her mini library, and a clear glass grand piano. Serena also points out to the two woman figures made by Brandon Marshall, which she says represent her and her sister.
She then takes viewers for a glimpse of her precious trophy room, which boasts of her magnificent wins in the many tournaments she's won from throughout the years. After a brief stop, Serena led the team to her work station, where we can see a snug yet cozy and warm space filled with everything the tennis player needs to get her work done.

Finally, we see her functional karaoke room/bar/clubhouse—a space brimming of color and life, a perfect venue for having a good time. There's a built-in stage for intimate gathering performances, pretty yet practical couch chairs, a bar her husband filled with cool liquor, and the popcorn machine, which Serena describes as the most used piece in the space.

Feel like a special guest by Serena Williams and take a closer look at her home in the gallery below!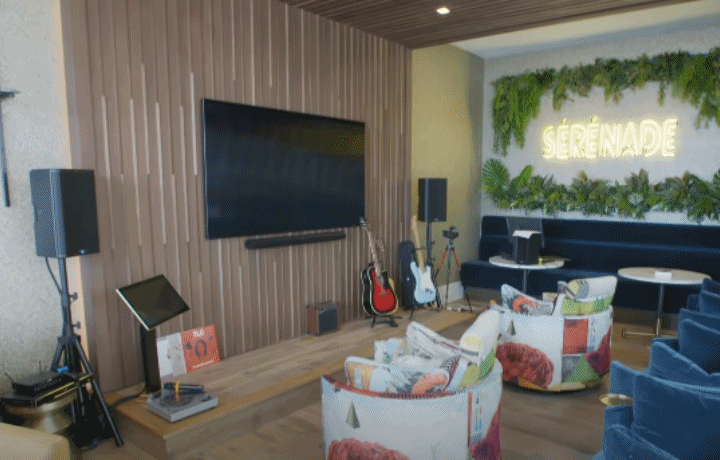 Serena Williams' Miami Home
Serena Williams' Miami Home
Photos from @serenawilliams and screen-grabbed from Serena William's Youtube Channel