Sienna Miller Goes Cottagecore: A Tour Of Her English Cabin
This 16th-century landmarked home has a warm, modern eclectic feel
Not unlike the idyllic cottage that belonged to Kate Winslet's character in Nancy Meyers' The Holiday, a 16th century English cottage with landmark status provides respite to Sienna Miller who bought the home when she was 25. "I was in sort of a panic, and life was very intense. I was dreaming of a place to get away to. And I saw this place online. It's about 45 minutes away from London, and it was on to rent or buy."
"I thought I'd rent it for a year… I came to see it, and fell completely in love [with it] and bought it."
"It's really my sanctuary. It's where I come to do nothing," Miller says in her Architectural Digest Open Door tour.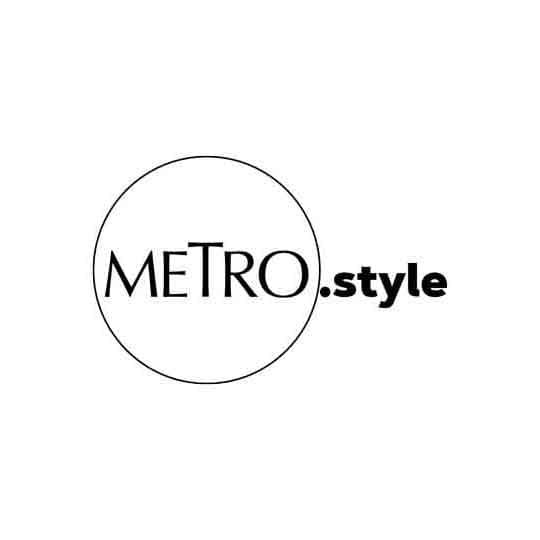 Sienna Miller in her Buckinghamshire property | Simon Upton for Architectural Digest
The place has been gifted with magical appeal, akin to a fairytale, and as it goes for fairytales, there is a fairy godmother who made the magic happen for Miller in the person of film director, Gaby Dellal. "[She] has the best taste out of everyone I've ever met. In lockdown, when she was panicking about what to do because her film was pushed, I said, 'You can do up my cottage,' and she did," Miller states. A house for "good living, rather than a show piece" was what Dellal had in mind, with the motivation of capturing Miller's "joie de vivre, generosity, and spontaneity."
Giving The AD Open Door Tour
Her AD Open Door tour starts in the kitchen "where everybody always ends up." Among its notable details are its 1920s Crittall doors, sourced from eBay, which are hard to come by nowadays and its Lacanche stove. "I have dreamt about having a big stove, and I've never ever had one before, and I love to cook… If I'm in the city or the country or anywhere and there is a Sunday, there will be food being cooked. Having this much space is just magical," the actress states.
"Having an old house is a magical thing but having contemporary touches in it really work."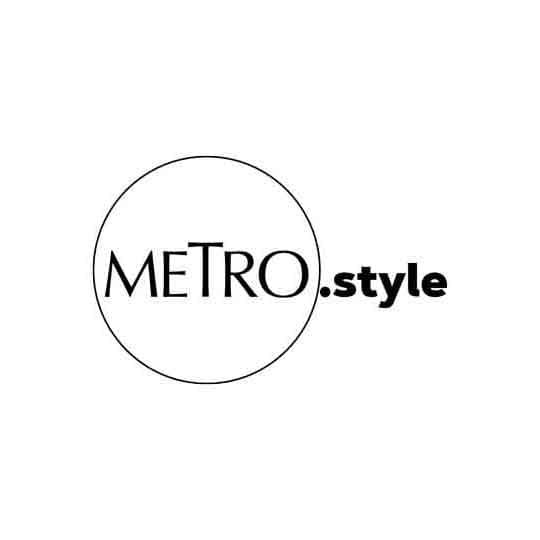 1920s Crittall doors sourced from eBay open up to the garden. The Lacanche stove is the centerpiece of the kitchen. | Simon Upton for Architectural Digest
She bought it from a couple who had done it up and sold their furniture with it. She felt as though she inherited someone's vision, but it didn't quite fit. Now, the cottage is tailored to Miller's aesthetic.
Its 6 bedrooms can accommodate 12 people. The dining room is where she entertains when she has a lot of people in the home. It enjoys sunlight from the double height space with a Juliet balcony overhead. An enormous fireplace holds court in the space. At Christmastime, it's a treat to be in this space decked out with all the season's trimmings and sprucing. A Christmas tree completes the ensemble for the holidays, along with foliage, lights and the occasional "tipsy person [who plays] the piano, (a gift from her first boyfriend) [and bashes] out a tune." Vermillion, evergreen and ruby red solids are the colors in this space, giving the old space a slice of the contemporary, the same effect mirrors do for select walls in the home.
The art work is a merry mix… here, a gift from her godmother, Christine, there, an acquisition from Frida Jones, an artist she recently met. "I think she's brilliant," Miller volunteers.
Natural light was a major consideration in the home's design. As a film director, it was of crucial importance to Gaby Dellal. "She was very focused [in] playing with [light]," Miller shares, pointing out a door that used to be an old stable door that was replaced with a new one with "lovely painted glass" that streams natural light in.
For storage, Miller states, "You have to be creative with a little house of where you keep things," showing shelves in residual spaces, populated with items such as glasses and wine, "essential in a country cottage," she quips.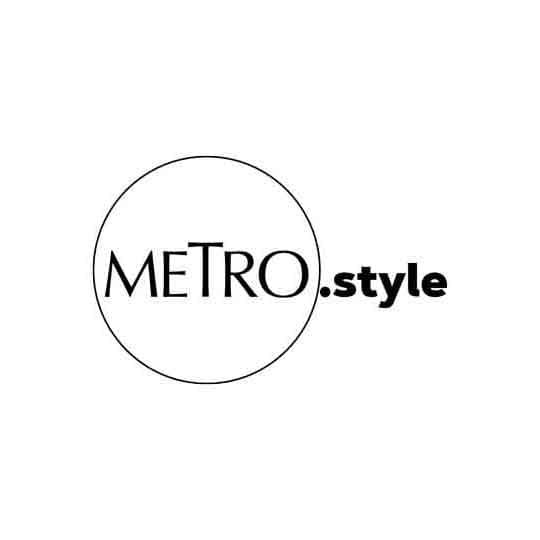 Flanking the custom dining table by Pintor are 1957 Hans Brattrud chairs and seating by Howe London. | Simon Upton for Architectural Digest
The Snuggly Entertainment Room
The low ceiling height is a boon at the "snuggly" entertainment room, "where [they] all watch TV. In this space, the beams overhead are all original to the home, while the soft furnishings, the sofa, accent pillows and lamp shade are all covered in delightfully bright colors, lending the room a modern touch. Softening the room is a cream-colored paint with a tinge of pink, which Gaby Dellal had custom-mixed. The hue renders lightness to the room. A combination of traditional paintings, a gift from her mom by artist Carol Davis, her godmother, and contemporary pieces (doodles on "crappy bits of cardboard by John Mabry fro 2006, for example) populate the walls here, as well as with the rest of the home. Calling the space "magical and cozy," Miller describes a typical winter scene here, "We light a fire… it's a beautiful and roaring fire, and watch old movies at Christmas," she shares. "It's about as dreamy as can be," she says.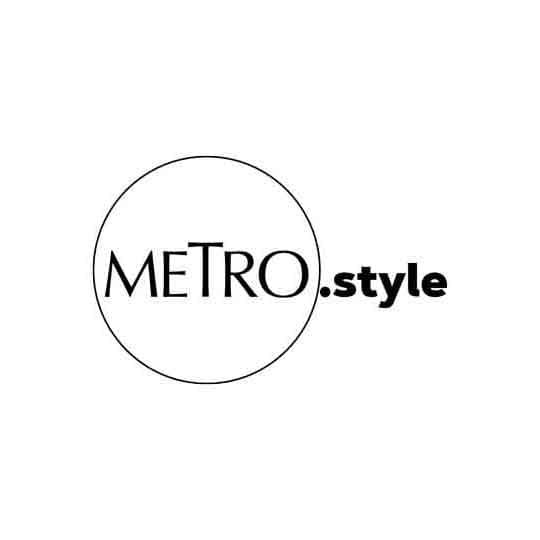 Covering the Rose Uniacke sofa, fuchsia donegal tweed by Sequana. The low ceiling allows enough artificial light courtesy of wall lights, an antique scissor lamp and Victorian sconce. Beni Ourain rug from Francois Gilles Carpets anchor the furniture. | Simon Upton for Architectural Digest
Going up the stairs which they have reclaimed by stripping, she showed a book shelf that contains Shakespear, a well-thumbed and dog-eared Stanislavski volume, "The Actor's Handbook."
A Girls' Room That Jane Austen Would Approve Of
"It feels like something out of Jane Austen," Miller says. "The beds are quite little for somebody who is growing so fast," she continues.
The headboards are made of Welsh blanket fabric combined with sheepskin, giving it that extra cozy country touch.
At the hallway connecting the bedrooms, a reading nook was created for her daughter, Marlowe "because there's not much space in this hobbity little house." Home schooling is particularly idyllic here, where Marlowe's desk is perched by a window overlooking a meadow.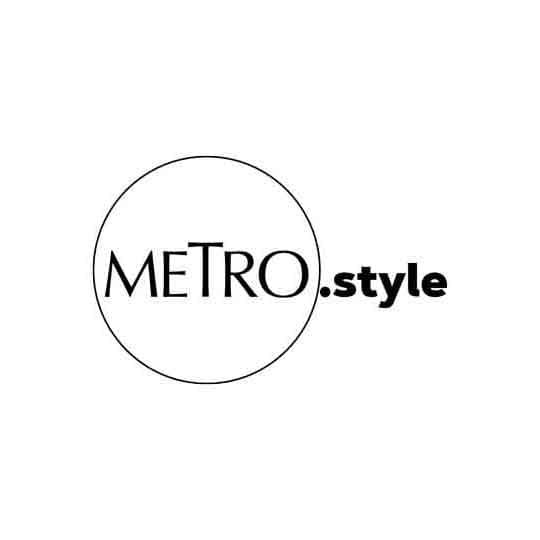 Projektityyny quilts and cushions cover the beds. | Simon Upton for Architectural Digest
Her bedroom is located where the 1970s addition to the cottage was made. Thus, a complete renovation was possible because the space is not within the landmark laws. The space is accentuated by a wall covered in Maison C Coven paper printed with "naked witchy ladies dancing." The bed has a headboard covered with striped Hungarian linen and is covered in Hermès blankets. A rich purple vintage Gabbeh rug completes the soft furnishings scheme in this sanctuary. Old doors with old panes of glass open up to a balcony with a view of the hedged garden. A Murano glass orb chandelier illuminates the space that is separated from the tub area by a Victorian fabric-covered screen. "Having [these doors] open with the bath with the bird song and the trees is definitely about as happy as I will ever be."
Old saloon doors open to the bathroom which is finished with Moroccan tiles for the flooring.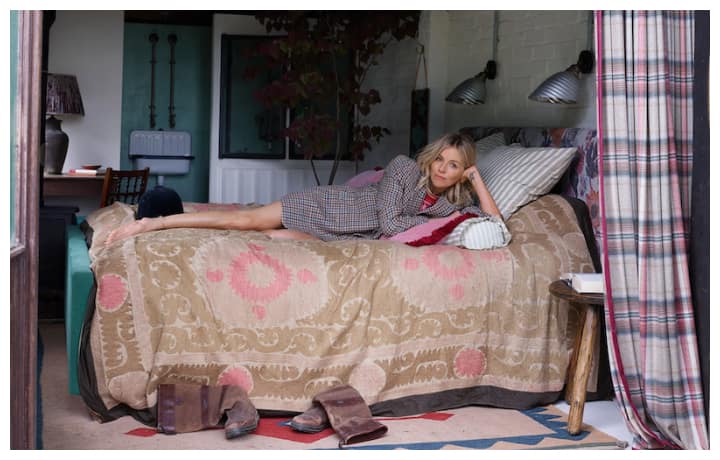 Photo Gallery
Photo Gallery
The Outhouse for the Madly In-love
"Welcome to the most romantic bedroom in the property," Miller states. It's a cozy affair in the premise's outhouse which used to be a "horrible storage space with old bicycles and old furniture." After cleaning it out and kitting it out with old signs embedded onto the ceilings, Gaby Dellal transformed the space into a warm little haven which was a surprise for Miller. "It's where I send my friends who are madly in love," she reveals. A wood burning stove keeps the place warm, while a writing and reading table bathed with natural light streaming into the windows makes it the perfect guest retreat.
Watch Sienna Miller's full AD Open House tour here:
Photographs by Simon Upton for Architectural Digest