Tour This Beautiful Quezon City Residence That Could Become One Of 2021's Best Buildings In The World
Designed by Filipino architectural firm Sim Ateliers, this home could win an ArchDaily 2021 Building of the Year award
For 12 years, ArchDaily and its readers have scoured the world for the most beautiful and thoughtfully designed structures. Residences, commercial and work spaces, high-rise buildings, places of worship, small-scale installations, and even landscaping masterpieces and sports venues have all been recognized over the years.
A select few are then chosen as recipients of the architecture and design online community's coveted Building of the Year award, and this year, the Philippines is proud to make it to the community's shortlist of nominees for the award's home category.
Five Filipino-designed residences are going head to head with thousands of other international contenders, the collective achievement elevating local architectural firms that have made an impact on the global industry by pushing the literal boundaries of design with their vision and flawless execution.
We shine the spotlight on one of these nominees, B Residence designed by Sim Ateliers located in Quezon City.
As described on ArchDaily, B Residence's lead architects, Luther Maynard and Joy Veronica Sim, were given the challenge to break the monotony that dictated the design of this home's community. That meant much less walls and concrete, more creative expression of lines and corners, and being able to improve residents' quality of life considering their home's location in the center of a crowded metropolis.
B Residence's crowning glory was arguably its well-balanced use of indoor and outdoor spaces. In front, there is a courtyard and at the back of the house is yet another open area turned into a lush, functional garden that does more than adorn the property. Personal spaces were afforded the same features; bedrooms, for instance, had private terraces and balconies attached to them to elongate the space, while the massive living room was given a beautiful high ceiling and floor-to-ceiling windows for panoramic views of and easy access to the courtyard and garden.
Maximizing light and ventilation while maintaining residents' privacy was what ultimately guided B Residence's design.
ArchDaily will announce if Sim Ateliers' B Residence will make it to the finalists round any time between February 10 and 18.
The winner will be named on February 18.
Take a look at B Residence's interiors and best features in the gallery below!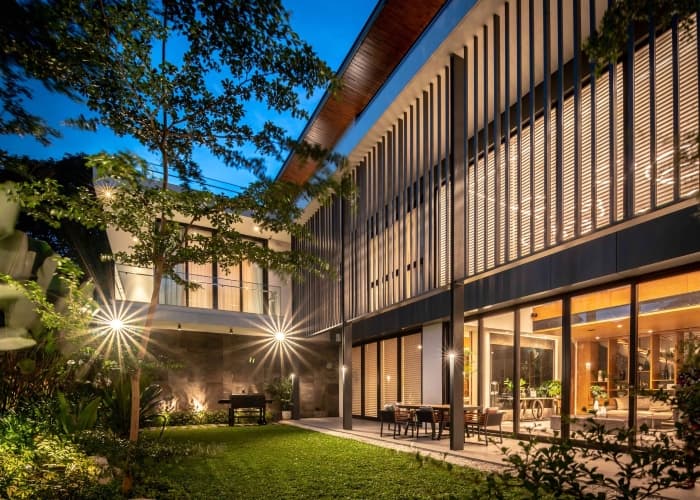 the philippine home nominated for a building of the year award
the philippine home nominated for a building of the year award
All photos by Benson Go as featured on ArchDaily.com