LOOK: This Little Man Cave Debunks All The Myths About Pastel And Gender-Appropriate Colors For The Nursery
Years of set styling primed celebrity-approved photographer, The Stork Studio's Sofia Genato, for the creation of her own baby's room
For a lot of expecting parents, designing and creating their own nursery is a fun way to await their baby's arrival. This is where parents let out their creativity in conceptualizing what their baby's room would look like. Yet designing your baby's nursery can be quite intimidating and can easily get overwhelming. So if you're looking for a new nursery idea, this Little Man Cave of Sofia Genato, the owner of The Stork Studio, is worth checking out!
We asked Sofia for some tips for expectant parents who are designing and creating their own nurseries and here's what she said:
Don't overspend.
When designing your own nursery, it is important to set a budget, and more importantly, follow it! It is quite easy to go overboard and purchase a lot of things. However, it's all about being resourceful and making the most out of what's around you. There's nothing wrong with buying elements for your nursery, but make sure to consider that your child grows fast, so some items might not be of use for a long time. In fact, not everything needs to be shiny and brand new. Secondhand items are welcome!
"I didn't want to spend too much because they also grow so fast and I also believe not everything has to be brand new. So many of his clothes, toys and even his stroller are actually hand me downs from friends and family," Sofia says.
Keep it simple and timeless.
One of the main reasons as to why Sofia decided to go for a monochromatic theme was so that her son could use the room up to at least the age of 7 years old. They didn't want to keep on changing the color theme of the room again and again as her child grows up. So, she kept the colors in the room very neutral, mostly in black, white and gray.
Sofia gave importance to practicality, decorating the room with items that are simple yet timeless, decorations that aren't what you normally see in a nursery. Handmade touches to the room can also go a long way in making it feel unique and created with love. Sofia mostly sourced her items through local craftsmen who built decors that fit her theme at a very reasonable price.
"I wanted a nursery that wasn't too baby-ish and that would grow with him and still be relevant up to at least age 7 maybe. Our walls were already white, and I just wanted to keep everything simple and not have to repaint things over and over again," Sofia expressed.
Make it relevant to your family.
Lastly, Sofia gives importance to adding a personal touch to a nursery. She stresses that it makes a room more meaningful if you incorporate items that are relevant to your family.
In fact, the theme of the room came from Sofia and her husband's experiences and interests back from when they were still living in New York. Through their love for camping and hiking, they were able to decide on the man-cave, adventure idea.
"My husband and I are outdoorsy people, and he is from Upstate New York, which is a camping and hiking paradise, so the theme is close to our hearts. We love to go on travel adventures together especially on road trips while we were living in the US," she says.
"The best part of creating your own nursery is to make it relevant to your family. It's more meaningful that way," she adds.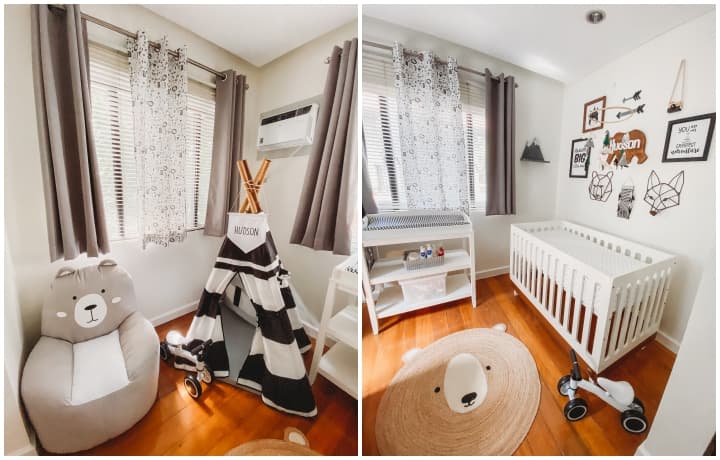 Hudson's Little Man Cave
Hudson's Little Man Cave
Sofia shared her little black book of suppliers for this project:
For the custom wall decor, handmade by Del Castillo Antonio (@handywood18), 09257439360
Bear Rug - H&M
Home Crib - Cuddlebug @cuddlebugbabyph
Mattress - Tinywinks @tinywinksph
Teepee - Pottly & Tubby @pottlyntubby
Bear Chair Pouf - insta_mug @insta_mug
Llama stuffed toy - @littlewab
Blanket - @littlek.ph
Photographs courtesy of Sofia Genato