Seo Dal-Mi From Start-Up Has A Bedroom That Is Brimming With Nostalgia
We tell you where you can get her wicker and rattan pieces locally
K-Drama fans are fresh form a Start-Up hangover, as the show wrapped on Netflix over the weekend. Set in a fictional incubator for tech start up companies called Sand Box, it tells the story of characters who are driven by their ambitions to achieve a career and a legacy, all fueled by deep back stories that have left indelible marks on K-Drama viewers. Its lead female character Seo Dal Mi, played by Suzy Bae, dreams of becoming South Korea's Steve Jobs, as she works her way up in life, having been left by her father who passed away when she was a teenager; her mother who re-married and her sister who chose to be with her mother.
All she has in life is her Halmeoni, Ms. Choi, who owns a corn dog stand, and is helped by Han Ji-Pyeong, an orphaned boy. Ms Choi is bereft at the palpable loneliness of the young Seo Dal Mi. Attempting to make life better, she coaxes Han Ji -Pyeong to write her granddaughter letters encouraging the latter to form a friendship. Han Ji-Pyeong, though, assumes a pseudonym who happens to be a real person, Nam Do San, a math genius who looks to Han Ji-Pyeong as though he has the perfect family life, one for which Ji-Pyeong aspires. Fast forward, fifteen years later, all these characters meet in Sand Box as they chase their dreams and discover truths in pursuit of true happiness.
Based on her back story, we see Suzy Bae's character who shares a home with her Halmeoni in a lived-in bedroom. It is peppered with furniture that looks as though it had been handed down, coating the set with the requisite nostalgia to bring to life and to the viewer's consciousness the importance of the memories contained in the letters that formed the foundation for the story, and even the motivation for the character's pursuit for success.
All of the elements in this room are styled to convey nostalgia, a theme that runs through this endearing K-Drama. From the act of letter writing that spurs the love story in this series, to the memories that date past fifteen years back, the series is laced with hints of the old revamped to serve the present day. Not to be mistaken for the grandmillenial style that also has similar elements, Dal-Mi's room is much more lived in and thrown together, unlike the carefully edited still life compositions that mark the latter.
Take, for example, all the furniture in this bedroom rendered in wicker (rattan) and finished in solihiya (also called "Viennese cane screen," in reference to Viennese furniture maker, Tonet's No. 14, or the "Vienna House Chair") . Perhaps a nod to traditional Korean aesthetics that prize natural finishes and materials, wicker furniture was embraced in South Korea as in most of the world at the height of its fashion. In lieu of the traditional woods— paulownia, persimmon— as well as bamboo— wicker furniture was used in homes, owing to its accessibility and friendly price point. In Dal-Mi's room, we see these preserved, perhaps as hand-me-downs from her grandmother. Based on her character, they could even have been thrifted and upcycled.
The good news is that in the Philippines, there is a wealth of resources for these types of furniture and accessories for those who like this look. The industry's openness to customization is a plus! Explore one or more of these resources. See the gallery below: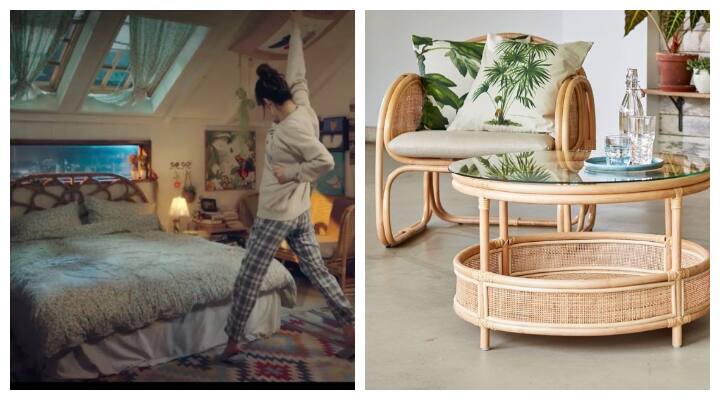 Photo Gallery
Photo Gallery