Live With Nostalgia In This High Rise Manila Residence
Torre Lorenzo Malate partnered with interior designers Ivy and Cynthia Almario for its modern interiors laced with a hint of that familiar old world Manila charm
City living has all the perks an urban dweller can have—the perfect location where all the necessities and hip and happenings take place, the convenience of modern day living, and the energy that only the fast-paced hustle and bustle can bring.
That's why choosing your home in the urban jungle is important. It should accommodate your way of life, from your taste in interiors to your daily needs and habits that you need to perform. Taking people's lifestyle and luxurious style, Torre Lorenzo has opened its newest high rise residence in the vibrant district of Malate—taking a nod to the historic place's old world charm.
Torre Lorenzo Malate is a 45-storey condominium with premium features that caters to Filipinos' modern, evolving lifestyle. Partnering with interior designers, Ivy and Cynthia Almario, the space evokes the nostalgia, romance, charm, and beauty of Old Manila.
"The interior architecture has a regional colonial appeal infused with a modern take on the selection of furniture and finishes," Cynthia shares about the design. "Each multipurpose space was designed with both the younger and older generations in mind—both in function and design style. It is hip yet nostalgic, traditional yet contemporary."
And it's seen upon entrance to the residence building—from the choice of artworks to the choice of Machuca tiles, its sophisticated look is beautifully matched with contemporary decor and accessories.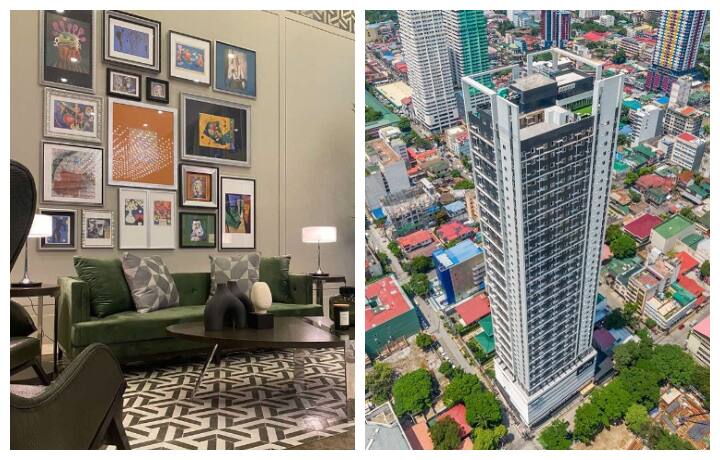 Photo Gallery
Photo Gallery
Inside the units under The Residences at TLM, its limited space doesn't scrimp, but is maximized. Giving its studio units a more practical partition, a glass wall separates the kitchen and dining areas from the bedroom. Higher units are also treated to the majestic view of the Manila Bay—making it a total breather from time to time.
Apart from The Residences, Torre Lorenzo Malate also houses The Suites and Lyf, managed by The Ascott Ltd. These are stylish serviced residences fitted to cater to short-term stays, which features hip and colorful design to match the lively vibe of the new generation.
Of course, the condominium is more than just its living spaces. They also set up leisure facilities for residents to enjoy, like the chic and learning- and work-conducive visitors and residents lounges, meeting rooms, a swimming pool, a fully-equipped gym, and the Sky Lounge and Garden.
What's more, security is up to date with CCTV cameras strategically equipped throughout the building, 24/7 security, a 24-hour emergency hotline, and the use of electronic access cards to enter each resident's respective units. Shuttle services are also available to cater to the transportation needs of professionals and students in the area.
Torre Lorenzo isn't just bringing a major throwback through their space—they take luxury living up a notch with its complementary offers perfect for the city lover.
For more information, visit https://www.torrelorenzo.com/.
Photographs courtesy of Torre Lorenzo