Great News Twilight Fans! You Can Rent The Honeymoon Villa Of Edward And Bella
The house is located in a private beach in Paraty, Brazil.
It's been 9 years since the release of the film Breaking Dawn Part 1, and we still can't get over how beautiful the honeymoon villa was. In the film, Edward Cullen and Bella Swan finally get married, and Edward whisks Bella off to an island called Isle Esme. While the island is fictional, the actual house is definitely real, and you too can stay in it!

The house is located in a private beach in Paraty, Brazil. The villa sits between two small hills, making it so secluded that it is only accessible by boat or helicopter, truly giving you that island hideaway experience.
Designed by Thiago Bernardes of the architecture firm Bernardes + Jacobsen, the villa blends the indoors with the outdoors, giving you a luxurious treehouse vibe. The combination of skylights overhead and palm and banana trees sprouting from planters set into the floor makes the interiors feel like an extension of the outdoors.
The 37,674-square-foot villa has six bedrooms and 8 bathrooms. It can sleep up to 12 guests, so it's not only for those honeymooners but it is also ideal for a large group of people, too. The house sits in the tropical fjord of Saco do Mamanguá, according to the listing, so guests can swim and relax on the beach whenever they want.
Learn more about the rental listing here.
Check out this gallery for more photos of the property: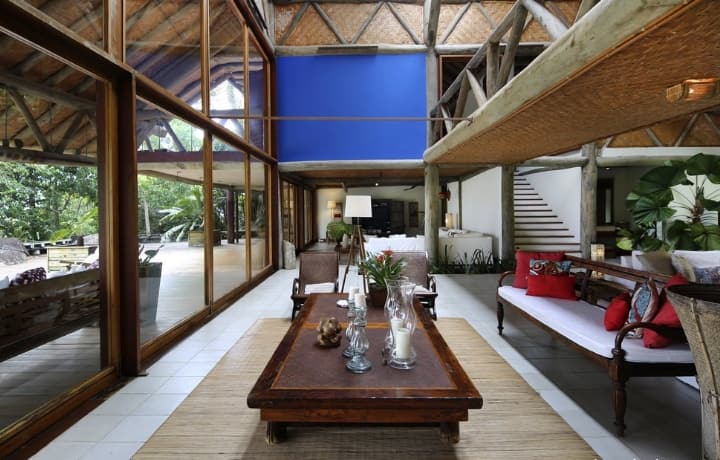 Paraty Villa
SWIPE LEFT OR RIGHT
TO NAVIGATE BETWEEN PAGES
Photos from Summit Entertainment and Rio Exclusive