Inside Casa Vicky Marchadesch, Where A Colorful Bazaar And Flea Market-Inspired Style Is The Norm
Here, she serves up heaps of personality and character through her maximalist eclecticism
No stranger to what makes a house a home, Vicky Marchadesch has the eye responsible for spotting all the precious finds as the purveyor for Seek The Uniq's arsenal of curiosities for the home. This crackajack is a firm believer in second chances, having recently added "Creative Entrepreneur" to her cap, creating VickyMarché (@vicky_marche), a small online flea market shop that truly upholds her belief that the best things in life are old, loved and rescued, a personal ethos that informed the design process for her own home.
When asked about how the design of her home was conceptualized, Vicky admits to being a bit of a hoarder with the tendency to over-sentimentalize objects and feel a loss at their disappearance. She shares that most everything in the home such as the furniture, art, and other trinkets, was handed-down, purchased secondhand, or DIY-ed. "This is very important to me," she stresses, "With this in mind, my mantra and concept has been 'My Thrifted Home'." She put her home together without consulting any designer. "Just me, myself and tons of flea market decorating books for inspo," she says. But having fab friends in the design world, she admits to receiving much appreciated great decorating tips.
Vicky believes that what makes a house a home is the people who live in it, sharing that the most important feature of her home is that it is part of an old family compound, owned by long time family friends. The property has been owned by the same family since the early 1900's and Vicky's family home is the 2nd house to be built in the compound. It's almost a 100-year old house, built in the 1930's, and Vicky likes that it's full of history and scars. It was even occupied by one of the Japanese high ranking officials during WWII. Imagine that! It has weathered many storms and configurations but it has survived. "We are grateful to be where we are," she tells us. And as is relevant with the times, living in the compound made the lockdown more bearable, where kindness and friendships blossomed.
There are, of course, favorite areas for the family: the living and dining rooms. Vicky tells us that they used to entertain a lot, though adding a disclaimer that those were not for fancy dinners: usually just for happy hour or after dinner drinks, Wine & cheese, G&T nights or Beer and Pizza. "As long as the bar cart is full, we're good!" she laughs. But their current favorite includes the porch and pocket garden, as these additional spaces are projects recently completed during lockdown. In the new normal, it's much safer to use the outdoor spaces for small gatherings with neighbors, as opposed to indoor ones.
Personally, Vicky doesn't have one particular favorite or "most memorable" aspect of her family home. She views their home as a collection of treasures that embrace them: heirloom pieces from her mom and partner Joey's mom, gifts from family & friends and of course, thrift finds. She buys a little something for the home every time she travels as a reminder of the place, the time she visited and the memories she's created. She loves that everything has a story.
Vicky describes her personal style: "Eclectic, Vintage, Haphazard and I do love a bit of kitsch! Ours is a hodge-podge of things; no reason, no rhyme." She says that nothing in her world matches and that everything in her world clashes. With this in mind, this is how she chooses items for their home. Having a layered style with maximalist leanings, she will certainly choose a mismatch collection of things and yet, somehow, it all works. "Or at least, I hope it does," she adds in good humor. Vicky is not sure anyone would want their home styled in a similar manner, and she emphasizes that it's really not for the faint of heart. As for styling tips, she suggests to just be patient and really "live" in the place to learn about the space before starting to decorate. "We moved into this home, barely two years ago, after living in one neighborhood for almost 20 years. It's a smaller place than our last home so I spend a lot of time in the living room and dining area (where I now work from home) and do a lot of decorating and constantly move things around," she imparts.
Vicky admits that it's only been the last few years that she has truly developed her own sense of style for the home. Seeking and curating pieces are new to her, having been in the beauty and fashion retail industry for many years. Thus she feels absolute love and gratitude to be able to do this for Seek the Uniq. Her bazaar, flea market style guided her to neither follow fashion nor obey rules. She simply sets her imagination free, mixing furniture and fabrics collected from across the years and homes she's lived in. Fortunately, her style is one that need not cost much and isn't hard to achieve. Like Vicky, we can just have fun and follow our instincts.
Tour her home through this gallery: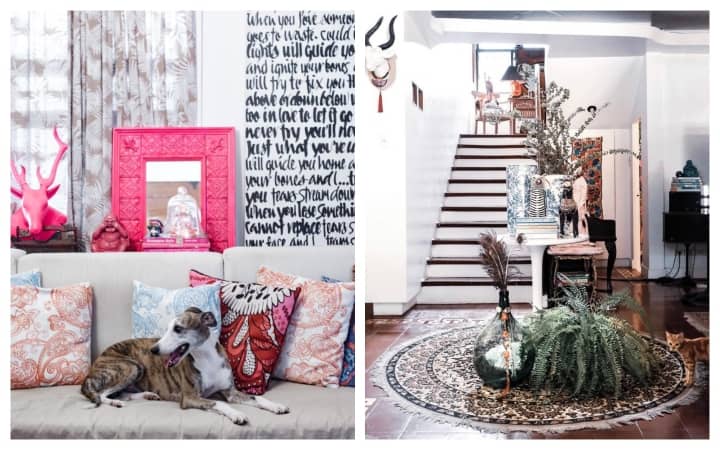 Photo Gallery
Photo Gallery