Welcome To Casa Andres: A Glimpse At Maja Salvador's Home
Maja welcomes us to her family home through a home tour video, which now has more than 1 million views on Youtube!
Many of us have been investing heavily on our homes since the start of the pandemic—and Maja Salvador has been doing the same.
Pre-pandemic, Maja used to live in her condo unit in the heart of the metro so she's closer to shoots and her work. But since the quarantine started, Maja has decided to move back to their family house so she can spend more time with her family. What was once called the "RC house" is now "Casa Andres," to signify the work that went to completing and designing their home.
"Dati ang tawag ko sa bahay na ito ay RC Cola house kasi dati nagre-rent lang kami, palipat-lipat kami, nakikibahay lang kami. Nu'ng medyo naging okay 'yung career, nakaipon tayong koni. 'Yung mommy ko, nagikot-ikot nu'n sa village na 'to tapos nakita niya 'tong bahay, malapit nang matapos. Sabi niya, 'Anak, parang gusto ko nang magkaroon tayo ng sariling bahay.' Sinasabi ko lagi sa inyo, God will always provide. Nag-pray kami nang nag-pray, and nagkaroon ako ng commercial, 'yung RC Cola. 'Yung payment ng RC Cola, lahat 'yun nilagay namin dito sa bahay na 'to para matupad 'yung dream house namin. Kaya sobrang importante talaga 'tong bahay na 'to sa'min," Maja shares.
Patio
The first area that will greet you when you enter Casa Andres is the patio or mini garden. Maja shares it's the favorite spot of her Daddy Roy, where he would tambay to drink coffee or enjoy the outdoors.
This area is also where they would hold grill nights and steak nights. This is where the grill that she gave her brother as a gift is stored.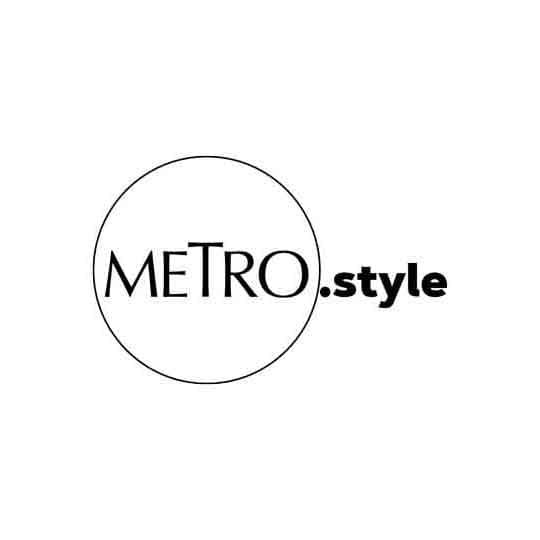 Maja takes her viewers to her patio area. | @iammajasalvador
Health protocols
To keep everyone inside the home safe, Maja has installed some health protocols before entering their home. At the front door is a foot bath, so people can disinfect their shoes. Beside this is a shoe cabinet so their shoes can be thoroughly disinfected with UV light.
Once you enter the home, you can use the pambahay slippers that they have ready and disinfected. There's also a welcoming table with a temperature checker, alcohol, and sanitizers. Maja also bought an Air Purifier to keep the air inside their home clean.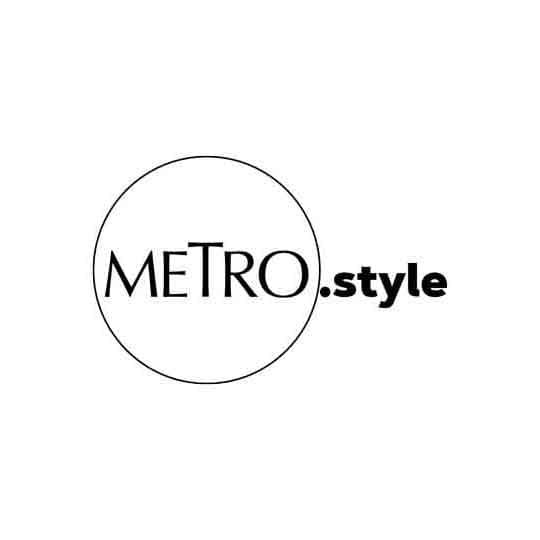 In compliance with COVID-related health protocols, Maja thoughtfully arranged a sanitation station at her entrance. | @iammajasalvador
Living area
Maja shares that the living area is her favorite part of the house. This is where she stays after waking up because it's the most relaxing part of their home. The living room has a high ceiling so it feels cooler and more spacious.
Maja credits most of the work on her home to her best friend-slash-interior designer, Miah Gomez. Miah says that the concept she followed for Maja's home is Modern Tropical since Maja loves traveling. Wood features and wicker elements dominate the space, and plants were incorporated to simulate the outside indoors.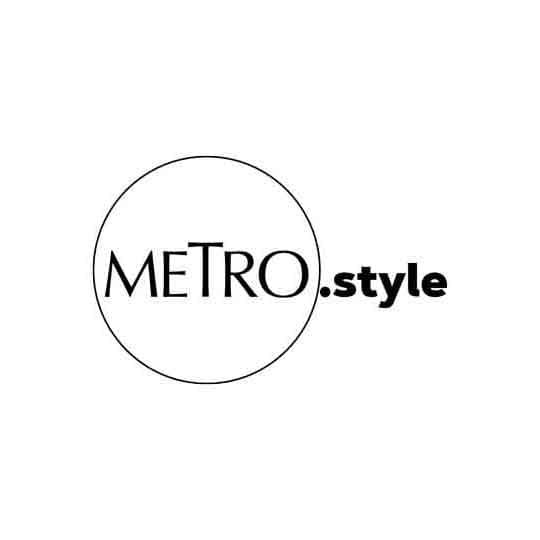 In Maja's living room, Patchi sits on a wing accent chair made of tropical caning, by OMO Furniture of award-winning furniture designer, Milo Naval, enhances the tropical feel of the place. | @iammajasalvador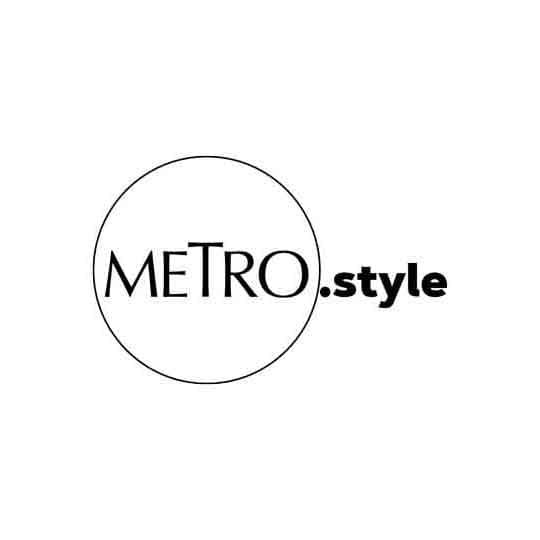 Plants refresh her space. | @iammajasalvador
Maja admits she is not a plantita, but she enjoys seeing plants inside her home. The plants add a relaxing ambiance to the home, and goes well with the theme of the whole interior.
On the living room is a huge shelf where Maja says she stores her favorite items. "It's the simple things na nagbibigay happiness sa'yo 'pag nakikita mo sila sa bahay," she says.
Photos of the family and Maja's awards are displayed on the shelf, including her Gawad Urian trophy for best actress for the film Thelma, and a trophy from the Busan Film Festival where she won best actress for Wildflower.
Also prominent on her living room is a three-piece art collection by her dear friend, John Lloyd Cruz. Maja shares, "Siya 'yung nag-introduce sa'kin sa art. Um-attend kami sa isang exhibit niya and du'n ko 'to nakuha."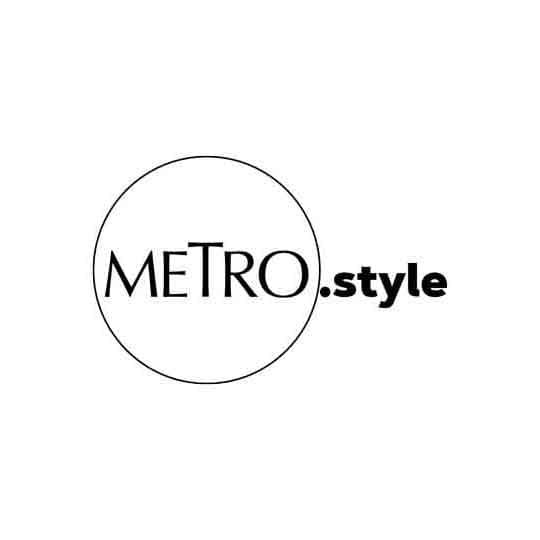 Maja spends a quiet Sunday at home with her furry friend, Patchi. | @iammajasalvador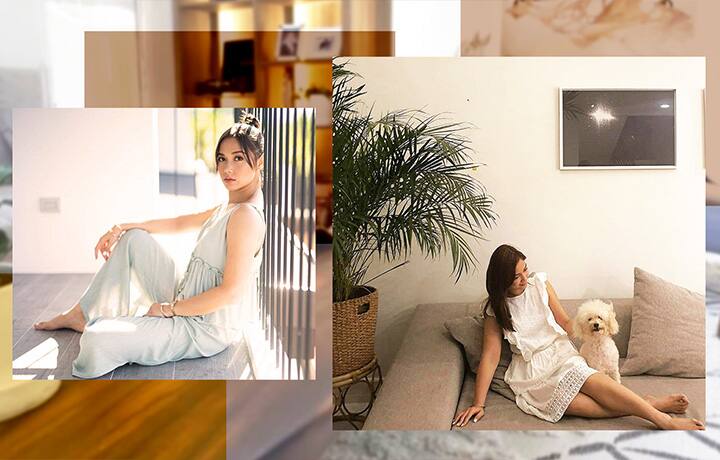 Photo Gallery
Photo Gallery
Kitchen and dining area
The kitchen maybe one of the most renovated areas of the house, Maja says. From a red-black-white palette, it now goes with the modern tropical concept that flows throughout the house.
The kitchen is also very special to Maja because she says she has found cooking therapeutic, especially because of the pandemic. The bar in front of the stove is where Maja likes to eat breakfast.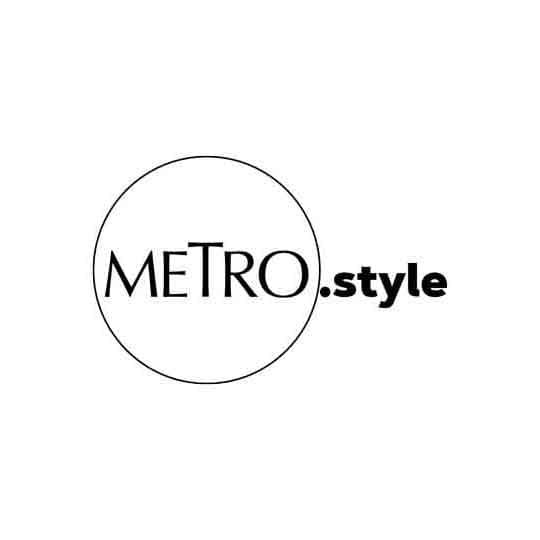 Maja's kitchen is modern tropical, making use of wood and its natural grain to add warmth to the space. | @iammajasalvador
The entire dining set came from Maja's condo, and with Miah blessing (Maja consults her best friend when it comes to all design decisions), she transferred the whole set to this house. A prominent part of the dining area is the huge white dining chair at the head of the table, which is a special Ito Kish piece given to Maja by her Robinsons family.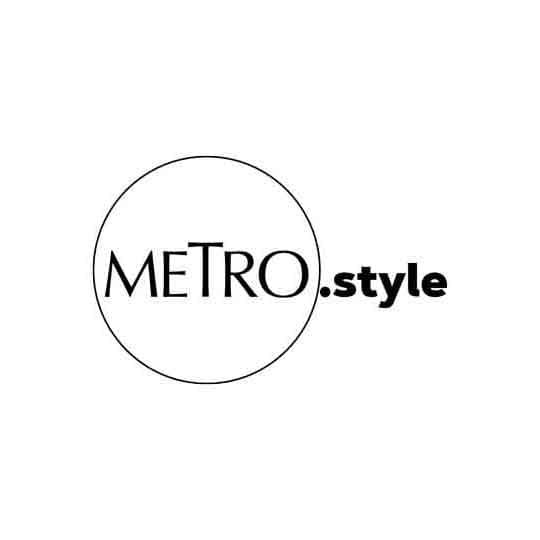 Ito Kish's Gregoria chair holds a special place as the "cabisera" of Maja's dining table. | @iammajasalvador
Lounge
Beside the dining area is the lounge area, which Maja says is still undergoing changes and design. This lounge area is equipped with a bar so they can stay here to chill over wine and drinks.
"Madaldal kasi 'yung pamilya namin kaya maliban sa living area at sa dining area, kulang ang mga area kaya nagdagdag kami ng lounge area," Maja says.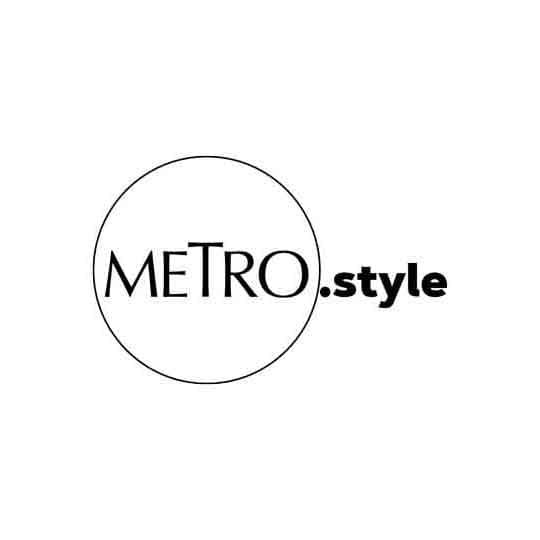 Soft furnishings such as a yellow throw and a woven rug add character to this room. | @iammajasalvador
Lanai-slash-gym
What was originally the lanai area has now been transformed to an indoor gym to keep Maja and her family in shape. Gym equipment fill the area, with a large LCD TV to keep Maja entertained when she's on the treadmill.
There's also an indoor sauna in this area that can fit 3 people. Maja shares the sauna was a gift from her boyfriend, Rambo Nuñez.
Maja says that once she hits 1 million followers, that's when she'll release a tour of the second floor, which includes her bedroom. But for now, you can watch the video of the first part of her house tour below.