This Museum-Like Toy Room Will Make You Want To Organize Your Collection, Too
WTA Architecture and Design Studio's William Ti revels in his toy collecting passion by giving it pride of place
"It's about having your own space with the things that you love to have around you. It's about having a place to escape to after a long day and being able to inspire your thoughts as you go through your day," Principal Architect of WTA Architecture and Design Studio and massive toy collector William Ti tells Metro.Style about the best thing of having a personal toy room.
He's always been a fan of character figures—owning a lot of toys for as long as he can remember. However, it's only recently that he decided to put everything up on display. "I brought some of the pieces from my office back home. At first, it was gonna be one wall, then two—and now, it's basically all four walls of the room. This hobby tends to do that to you," William muses.
The architect's toy room is actually his home studio, which is set up like a museum display with mini display spotlights to highlight each piece. William used a black background to mellow down any brightness, while the shelves are custom made using plywood and wood framing with a felt layer on the base.
Then, there's his desk area, where he loves to just sit and look across the room—his pride—and admire the different pieces on those shelves in between breaks as he does his sketches.
His current collection, which was showcased on his Instagram account, started with the Lord of the Rings. It snowballed from the moment he grabbed the Rivendell environment right after seeing it on display, after watching the movie. Now, it's filled with majorly statues from the universe JRR Tolkien created, as well as characters from Spiderman. Comic book superheroes and fantasy characters can be spotted there, too.
"Basically, one wall is for Lord of the Rings stuff, while another is for superheroes with a Spiderman, X-men, and Avengers cabinet. The other two walls have the TV, my work desk, and some more LotR pieces. The room, except for the superhero wall, is basically themed for LotR," he describes.
Although everything is meticulously arranged in the almost two months of putting all his toys up, William isn't the type to get fussy about them being so pristine. "I'm the type who unboxes every piece and puts it up on display. I like being able to get close to them and touch them so I don't put them behind glass. I like things that feel like they've aged and show it," the toy fan explains.
At present, he mentions the Treebeard from Weta, which he recently got from a cruise ship comedian in Florida, and a dragon piece called Fearless Journey from Infinity Studios as his favorites. But the passion and fascination for figure characters grow by the day, so acquiring more pieces will always be part of the process. "I'm looking forward to setting up my Lord of the Rings armory in the next couple of months," William admits. "I'm also waiting to complete my Spiderverse shelf. I probably have 20 pieces still on order!"
For fellow toy enthusiasts like him, he gives a piece of advice when setting up a toy room in your home. "I think one of the most important things about any display is the lighting. Whether it's meant to fully show the pieces or, as in my case, to highlight them, that's one of the most important decisions to make. Shelves look best when they're not too cluttered, although as with any collector, I'm probably guilty of this in a few of my shelves. I like displaying characters and pieces that are related together. It's nice when you can tell a narrative with your display," he offers.
Check out his toy room in the gallery below.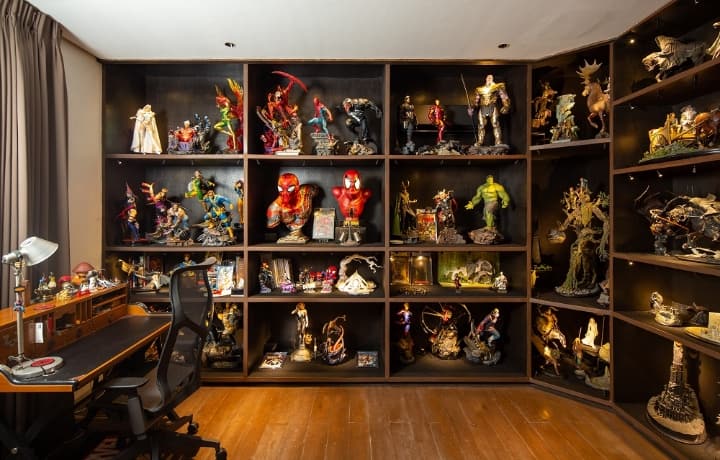 William Ti's Toy Room
William Ti's Toy Room