Designer Wilmer Lopez's Mid Century Modern Cabin In Antipolo Inspires Us To Live As One With Nature
Metro.Style toured this "safe space"—a place where he can rest his mind yet stay creative, live a better lifestyle, and stay happy and content
"This entire mid-century cabin, every inch of space, I am proud of," designer Wilmer Lopez says about his newly-renovated home in Antipolo. "It took a pandemic to make me go back to my first house and renovate it the way I envisioned it. What this represents for me is a better, more mindful lifestyle."
One look and you'll entirely be transported elsewhere—the feeling of being lost in the middle of nature, living sustainably in a comfortable, cozy space filled with everything you love is exactly what he aimed for this renovation. This rundown bungalow, which he originally acquired way back in 2001, was simply designed in minimalist white with a touch of green paint and decorated with chinoiserie prints, vintage pieces, and a few mid-century modern furniture pieces.
"I generally liked the quiet environment with big trees all around, a relatively cooler climate, and a view of the Sierra Madre Mountains from the roof deck," Wilmer relates. However, with his work demanding him to be closer to the city for convenience, he decided to have his nephew stay in the house instead for a few years.
"And then the pandemic happened," the designer recalls. "I had to cut back on losses, gave up the apartment I was renting with my mother, and moved back to Antipolo where it was safer: no nearby neighbors, open spaces, fresh air. It was the move that I needed for my mental health."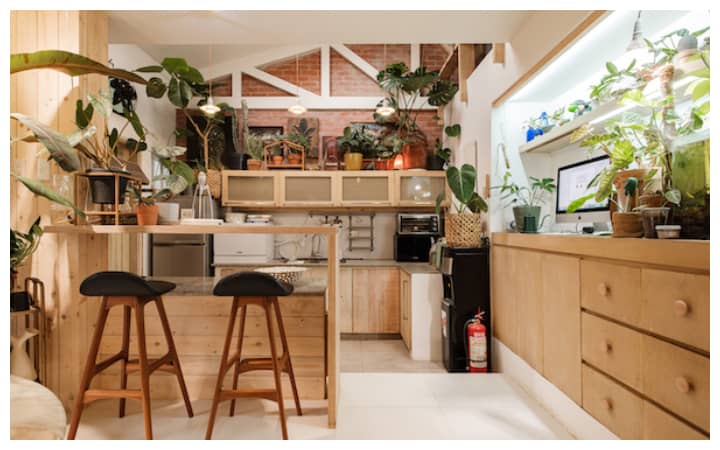 Inspired Pandemic Living By Wilmer Lopez
Inspired Pandemic Living By Wilmer Lopez
This is a wise choice—not only did it give him more headspace to keep himself above water, it also became his outlet for creativity and a way to discover better ways to live. Since the house isn't well-maintained, he thought of renovating it, this time, with a vision. Despite the challenges that come with the health pandemic, including safety and security of his family and laborers, Wilmer managed to push through and succeed in bringing his ideal home to life.
Just like everyone else, the Space Encounters founder found respite in bringing the outdoors in, what with all the staying in we've went through in the many months following the initial lockdown. His theme? A cabin in the woods.
Apart from the vacation in the middle of nowhere kind of vibe, Wilmer also incorporated sustainability at the core of the house's design. First, he looked for sustainable sourced cedar wood planks for walls and bedrooms. He also transformed the 197 sq.m. space into a plant-lover haven, filled with countless greens spread out in different areas.
There's a space he called the Greenhouse Cafe, where most of his plants are stationed. Varieties such as the Monstera albo variegata, Thai Constellation, Monstera Standleyana, philodendrons Verrucosum, Billitae, Gloriousum, and Glorious, and Anthurium Waroque and more can be found here.
Meanwhile, his front garden is alive with bonsai, cacti, and some flowering plants. He also owns a garden on the side for propagations and medium light plants. His kitchen cabinet, workstation, and living room are also lined with plants.
Furthermore, he furnished the home using vintage pieces, which is an environment-friendly way of decorating your home and giving it a distinct character. Some of his favorite items include the Fritz Hansen Series 7 chairs, the vintage PH5 drop lights, and the Eames swivel chair.
To add more personality to this mid-century modern cabin, Wilmer made use of art. Each nook carries a certain theme, which exhibits the designer's personal collections. "There's humor and it also shows one's personal aesthetics," he explains.
There's the Warhol Lounge, featuring paintings of Andy Warhol by local artist Mr. S along with Warhol quote posters from Sweden. Meanwhile, Van Gogh den is filled with Van Gogh inspired art by local artists Farley Del Rosario, Amos Malayao, and Irish Galon, posters from the Van Gogh Museum in Amsterdam, some calendar Van Gogh prints, and Van Gogh toys and vases.
Over to the dining area, he placed more Mr. S art—one of a boy with sushi on his head and another of a boy with his Playstation right below my vinyl record player. He also included Buboy Canafranca's meat paintings. "I don't always eat red meat, but at least I can admire it!" Wilmer exclaims.
On the other hand, his greenhouse stands out because all his favorite things—the plants, his project terrariums with mosses from different places, and his crystal collection—are all there. "This is where I get some quiet outdoor time whether it's doing my morning exercises or relaxing to a cup of coffee. The sunlight is always dappled in this space so it never gets too hot, and it is perfect for understory plants like most philodendrons. I spend a lot of my time here just checking on plants or simply just hanging out and admiring them," the creative points out.
"The more the pandemic dragged on, the more we realized how important outdoor spaces were," he further states. "In the city, it's difficult to step outside and just breathe in fresh air. Here, I can do that easily." This is why letting natural light in as well as having proper airflow are his main considerations during the whole completion process. Wilmer also wisely made use of wood for both design and functionality, as research showed that organic surfaces were more resistant to viruses.
This project didn't just transform the space—it also reshaped Wilmer's overall way of living. The space inspired him to stay grounded and be one with nature, taking day after day with what the world naturally offered us. With this, he started to recycle, eat healthier, take better care of his environment, and the designer even adopted a Siamese-looking stray cat he named Siam!
"This kind of mindful, slow living that is in tune with my environment is what I have always aimed for and my new space motivates me to practice it. It's my safe space, but also my space for inspiration. It's a space for growing: plants, ideas, and creativity," Wilmer thoughtfully ends.
Photographs by OLA Interior Photography, Courtesy of Wilmer Lopez