Appreciating African Design With The Three Women Who Shaped Africa's Visual Landscape
A2A Safaris takes us on a visual tour of Africa's best chic safari accommodations with Liz Biden of The Royal Portfolio, Caline Williams-Wynn of Artichoke Design, and Debra Fox of Fox Browne Creative.
A trip to the African safari is a dream for many—staying in a cozy lodge in the bush, sleeping and waking up to the distant cries of an elephant or a hippo, and enjoying a change of pace away from the urban jungle of the metro.
With the Covid-19 situations still prohibiting many countries and travelers from crossing borders, there's little we can do now in the way of travel. This is why A2A Safaris, a company that specializes in creating luxury and bespoke African safari itineraries, decided to bring together three of the most talented designers who has helped shape and introduce African design to the world.
The women who shaped Africa's visual landscape
Liz Biden is a South African hotelier who transitioned from the fashion business into the hotel business. She shares that after she sold her fashion business at 50 years old, she decided to dabble in hospitality by turning their holiday homes into private hotels.
Her first project was their holiday home in the African bush, which they turned into the luxurious lodge that is now the Royal Malewane. After that, she turned their beach house into what is now the Birkenhead House, and their smallholding in Franschhoek was transformed into La Residence. Before long, they also found the perfect spot in Cape Town, where they opened The Silo.
"I had no training whatsoever in hospitality, but I always loved traveling. So I thought I'll just put together everything I've enjoyed when I went to other people's places," Liz shares.
Debra Fox is the better half of the Fox Browne Creative, which she started in 2009 with her husband, Christopher Browne. She recalls it was back in 1994 when they were still pioneering luxury safaris in Tanzania when she and Chris met, paving the way for Fox Brown Creative.
With Debra's hotelier background and Chris's interior design skills, they were able to bring together their knowledge and passion to create the company. After more than a decade in the industry, Fox Brown Creative now offers architectural and interior design, hospitality concepts, training, and so much more.
"We complement each other," says Debra about their partnership.
Caline Williams-Wynn is the humble heart of Artichoke Design, which is behind some of the most eye-catching safari camps in Africa. Caline recalls it was a small shop in France that really jumpstarted her career, bringing her from set design to interior design.
"I used to work in the theater and the movies. But as a collector of beautiful things, and since I've traveled a lot as a child and as I grew up, I opened a shop in France filled with kitchen-related items," Caline recalls.
She then just started bringing pieces from all over the world, collecting and creating decorative design. And from the first lodge business who trusted her, she is now designing some of the most beautiful lodges and camps in South Africa.
Here's a visual tour of some of Caline's, Liz's, and Debra's favorite projects across South Africa—what went on behind the scenes, what were some of their design processes, and what that meant for the communities they were building in.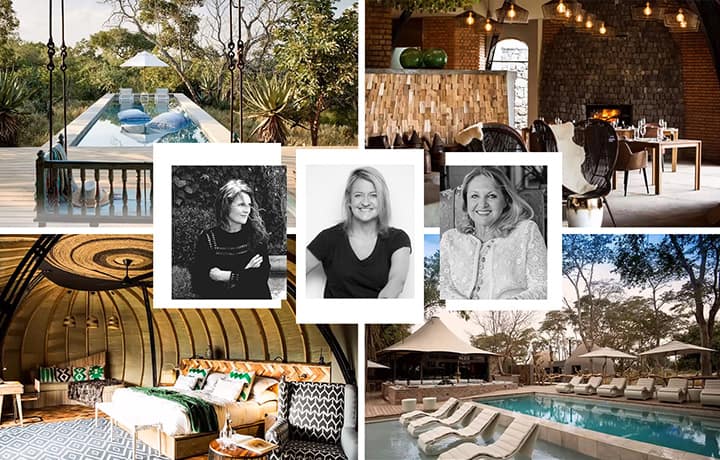 Photo Gallery
Photo Gallery
For your next African adventure, visit A2A Safaris, which has been bringing bespoke, luxury safaris to people in Asia for over 18 years. The company was founded by business partners Jose Cortes and Victor Dizon, who are both passionate about travel and the beautiful surprises that Africa has to offer.