LOOK: "A Wonderful Garden" Blooms In SM Aura
This summer, Filipino artist, Mark Magnaye, in collaboration with Molly Chen and Sense Art festoons the mall in giant flower inflatables
SM Aura Premier blossoms with colorful giant floral installations from Visual Artist Molly Chen and Filipino Creative Mark Magnaye, who graduated with a Fine Arts degree from the University of the Philippines. His design-driven art work draws inspiration from Mid-Century Modernism, pop culture and daily life. His vibrant colors and geometric shapes have been seen in corporate work that range from Honda to Apple to Facebook. His editorial work have graced the pages of The Atlantic, The Guardian and The Sunday Telegraph. Mary Blair, The Polish School of Posters and Paul Rand are artists who have inspired Mark "Blok" Magnaye.
Magnaye and Chen have collaborated with Sense Art Official to make the exhibition a reality. An art services company based in China, Sense Art offers international artists representation, consultation, curation, and media consultation there. "We want to help international artists enter the Chinese market and work together to promote international art and culture in the Chinese market and to reach a wider Chinese audience," their website emphasizes.
In SM Aura Premier, the larger than life inflatable flowers and cacti wrap the mall from its atrium, landings, and all the way to its Skypark Lawn. The interactive exhibition is part of an international collection from China called Wonderful Garden, and greet and surprise customers not just with their sheer size but also with their unexpected beauty as they can be seen looming from multiple floors.
Get a glimpse of this summer wonderland through this gallery: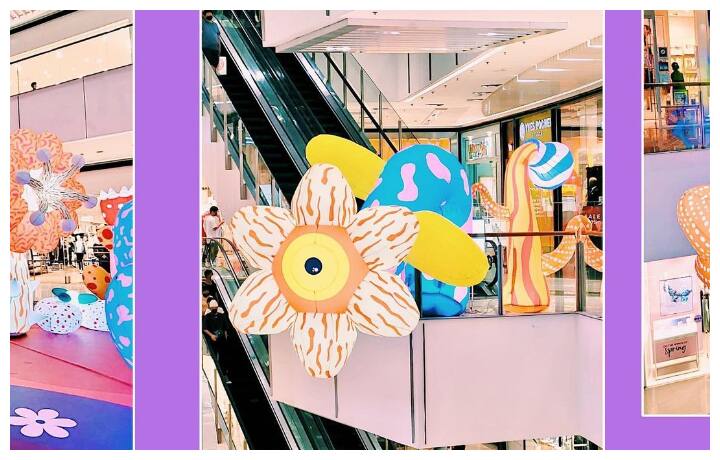 Photo Gallery
Photo Gallery
View "A Wonderful Garden" at the SM Aura until May 31, 2022.
Banner and thumb nail images by @blokism.