Host Your Birthday Parties And Bridal Showers In This High Tech Co-Baking Space
Make macarons, cake pops and themed cakes with the help of an app
The pandemic has brought about a renaissance in the baking realm. With the quarantine, the pleasures of the kitchen have been revisited by many. Sourdough bread, focaccia, all manner of cake and desserts have filled Instagram posts, proving that the baking trend has been rising. It is fitting that SM Aura Premier recently opened Bakebe PH, the first Hong Kong based co-baking space that teaches you to bake with an App!
Founded by Cantonese food blogger Venus Chi, Bakebe PH aims to set up a learning structure that allows everyone to experience the joy of baking. With recipes from global pastry chefs from Michelin starred restaurants, one can create beautiful "instagrammable" unicorn cakes, macaroons, piñata cakes, cake pops and other themed cakes with zero baking experience.
With an extremely user-friendly app, the participant can get a step-by-step guide in an IPAD, to bake their chosen pastry. This one-on-one experience can help you complete each step at your own pace. This app teaches anyone, may it be a newbie, an enthusiast or even a professional.
This baking wonderland is fully equipped with ovens, mixers, baking tools and everything you need to whip up your dream pastry! What's more is you can even take home your creations in a beautifully wrapped signature box.
Break Up and Bake Up at Bakebe if you are having a lonely heart, or Bake with your Bae on your special day. Bake with your Bestie and make baking a new hobby or Bake with your Squad and have a bake-tiful special moments with your family!
Bakebe also has Bridal Shower package, Birthday Party package, Gender Reveal, School Tours, Team Building and Photoshoot Package. Each package includes your choice of cake to bake, exclusive use of venue, party favors, party host, games and prizes and even set meals.
Tap your way to the perfect cake with the Bakebe App! The app comes with detailed instructions, graphics, videos and a step by step guide that will help you complete your chosen baking project.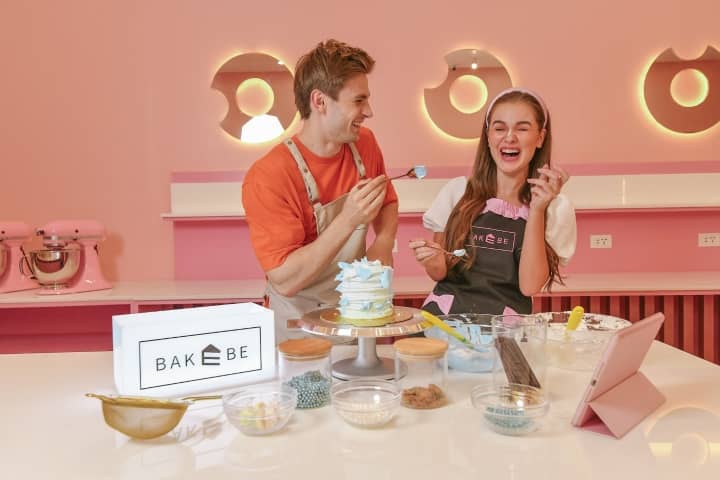 Photo Gallery
Photo Gallery
Have a fun modern baking experience at Bakebe PH located at the second floor of SM Aura Premier!