This Cabin In The Woods Connects You With Nature
All white accentuated with black trim, this house was renovated by designer Kitty Buñag into a soulful escape away from the city
Marc Soong declares himself as semi-retired at 42 years old. Now with more time on his hands, he is finding ways to share what he finds worthwhile to others. His work in the luxury car dealership industry brought him to Tanay, Rizal one and half decades ago to demonstrate the off road vehicles that he carried at the time.
"I've been coming here for the last 15 years. It started out as work and then it became a hobby. It's the off road capital nearest Manila. It wasn't easy to go to, that's why I liked it here. When I used to come here, the main highway used to be off road. After you pass a certain area it was only a dirt road," Soong recalls.
During the pandemic, he set up Camp Well River Valley - a scenic and remote campsite within Tanay with Agos River flowing through it. It combined several of his favorite things - off road driving (you'll need a 4x4 vehicle to get to the campsite as some of the roads are quite rough), and the great outdoors. "Lately, this area has grown exponentially so the weekends get busy. Pre-pandemic, the sites here had 3,000 local tourists hiking Saturday and Sunday. We were lucky enough to find property when it was still possible to buy."
"In Daraitan, there are three sights that are next to each other. There's a cave, there's Mt. Daraitan, and there's Tinipak. Tinipak would be the easiest trail - it's like a 45-minute hike. And it's one of the most beautiful places you can go to," Soong is referring to the stunning marble rock formations by the river. "Over the years, I've been bringing people here to this place and have them enjoy it, but I never really had anything set up of my own to host. That's how this came about. I just enjoy hosting and giving people an experience that they will never forget."
The Cabin by Camp Well initiates those inclined to spend more time in the great outdoors but isn't prepared just yet. Soong hopes to organize tours, hikes and even off road driving lessons in the nearby wilderness. A trip to the river at Camp Well is a must where families can take a dip and enjoy nature at its finest.
Located about an hour away from Camp Well, The Cabin sits on a 4.5 hectare property and was built by a couple who wanted to retire here. As they moved on, the house was left in disrepair. "We came here, and Kitty saw the dilapidated house. She was like 'wow, it's a great place'! We walked through it and I told her to keep it simple. We sold luxury cars, but we're really simple. We really didn't want anything too extravagant. And Kitty, she worked with what we have and I think it worked out well," he says.
The Cabin is white with black trimming with an inviting porch to overlook incoming guests. Guarded by two lion sculptures, the cabin opens up to the open layout of the living, dining and kitchen.
"The brief was simple - to makeover an old house in the mountains, and turn it into a beautiful BnB," Buñag mentions. "I remember my first conversation with Marc & Loralee while in the car heading to Tanay. Marc was describing how Tanay became a refuge to him the past couple of years. Whether he was riding his 4x4 or a motorcycle, the drive was a soulful scenic escape not too far from the city. Near Marc's property, they brought me to off-beaten paths within lush mountains, insanely beautiful white marbled rocks and pristine river water. I was enthralled by everything. My task was to translate that feeling into the space through design."
To allow more natural light into the dining area, Buñag tore down two of the walls and replaced it with glass sliding doors. A built in bench under the stairs provides a comfortable nook for reading or lounging. The outdoor lounge area also features a built-in concrete ledge that doubles as a bench. Buñag's relaxed design style has a beach resort sensibility that gives the space an instant instagram appeal.
"We sourced a few pieces from Acasa Manila. Their chic teak outdoor furniture can surely withstand the misty weather in the Sierra Madre," Buñag reveals. She also added redressed lamps by Solano. For a personalized touch, frames photographs she took around the area hang on the walls.
The bedrooms incorporate the original dormers of the structure which add an attic feel to them. The rooms aren't over decorated for good reason. "Throughout the design process of The Cabin by Campwell, we found that there truly is beauty in restraint. We can never outdo nature. We dwell in it. We connect with it. The less distractions there are inside, the more people can see and hear and feel the peace that nature brings in from the outside," she says.
The Cabin is equipped with 4 bedrooms, a fire pit, a swimming pool and meals cooked by staff. Soong urges you to go out and smell the fresh air. "Just being around trees is such an experience for kids. Swim in the river. Some people are like, what are we going to do there's no signal? But you'd be surprised. Disconnection is the best connection."
In the gallery below, take a peek at the Cabin by Camp Well's corners, including what it used to look like, pre-renovation: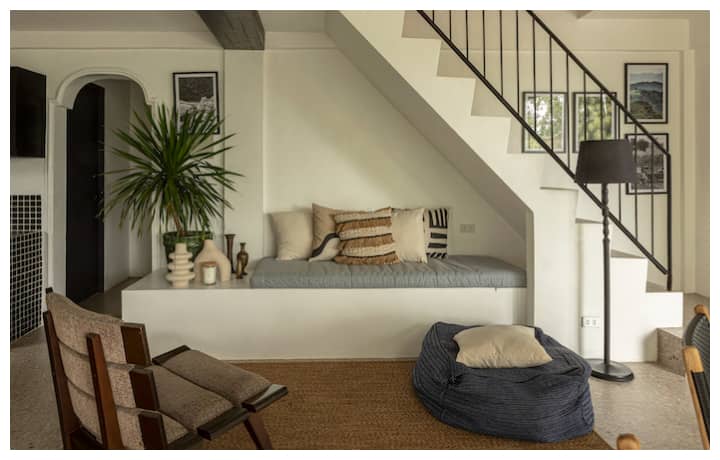 Photo Gallery
SWIPE LEFT OR RIGHT
TO NAVIGATE BETWEEN PAGES
The Cabin by Camp Well Pre-Renovation
Photo Credit: Jar Concengco
The Cabin by Camp Well Pre-Renovation
Photo Credit: Jar Concengco
The Cabin by Camp Well Pre-Renovation
Photo Credit: Jar Concengco
The Cabin by Camp Well Pre-Renovation
Photo Credit: Jar Concengco
The Cabin By Camp Well Renovation By Kitty Buñag
Photo Credit: Jar Concengco
The Cabin By Camp Well Renovation By Kitty Buñag
Photo Credit: Jar Concengco
The Cabin By Camp Well Renovation By Kitty Buñag
Photo Credit: Jar Concengco
The Cabin By Camp Well Renovation By Kitty Buñag
Photo Credit: Jar Concengco
The Cabin By Camp Well Renovation By Kitty Buñag
Photo Credit: Jar Concengco
The Cabin By Camp Well Renovation By Kitty Buñag
Photo Credit: Jar Concengco
The Cabin By Camp Well Renovation By Kitty Buñag
Photo Credit: Jar Concengco
The Cabin By Camp Well Renovation By Kitty Buñag
Photo Credit: Jar Concengco
The Cabin By Camp Well Renovation By Kitty Buñag
Photo Credit: Jar Concengco
The Cabin By Camp Well Renovation By Kitty Buñag
Photo Credit: Jar Concengco
The Cabin By Camp Well Renovation By Kitty Buñag
Photo Credit: Jar Concengco
The Cabin By Camp Well Renovation By Kitty Buñag
Photo Credit: Jar Concengco
The Cabin By Camp Well Renovation By Kitty Buñag
Photo Credit: Jar Concengco
The Cabin By Camp Well Renovation By Kitty Buñag
Photo Credit: Jar Concengco
The Cabin By Camp Well Renovation By Kitty Buñag
Photo Credit: Jar Concengco