5 Scandi Design Moves To Cop From The New Flagship Store Of Design Story
Design Story opens its new flagship store at the Karrivin Plaza, and its designer Rossy Rojales of Hurray Design and owners Stenie Coyuito-Tay and Dana Uy share their process in designing for retail and how this process can help all of us at home too
Design Story, founded by Stenie Coyuito-Tay and Dana Uy, has a new flagship store at the Karrivin Plaza. Upon walking up the flight of stairs, you're welcomed by the double volume ceilings and openness of the layout.
"Initially we started out in the mall, then we moved to a space in Karrivin but we found the space too limited. So we grabbed this opportunity and made sure that the new space was light, airy, multifunctional and flexible which reflects how people design their homes right now," Coyuito explains.
Design Story is the official dealer of brands HAY, &TRADITION, Stellar Works, and Verpan. The new showroom's spacious 350 square meters is able to highlight each brand. "We got inspired by exhibits and museums and our travels. Pieces are displayed in a way that the guests can appreciate them. The furniture pieces are displayed in a way that they have their own sections, with specific, iconic pieces of the brands highlighted on platforms. We also placed visual aids all around the showroom to help the clients go around by themselves without assistance," Uy says.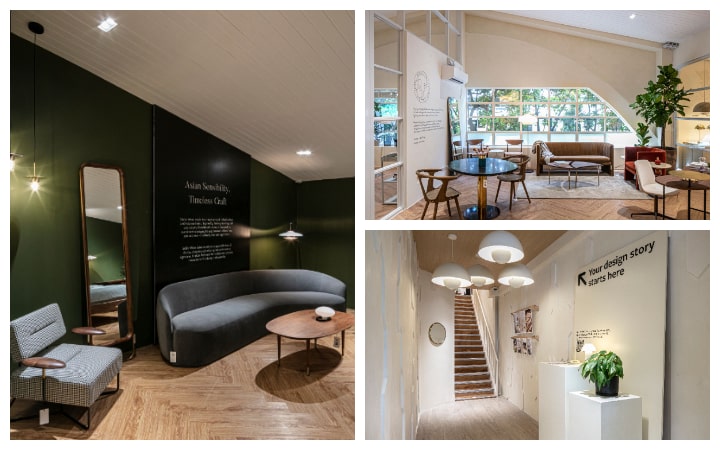 Inside Design Story By Hurray Design
Inside Design Story By Hurray Design
Rojales shares some of the techniques she used in designing this retail space and how we can cop the look for our own homes:
1. Color temperature is important
"The color temperature of course can provide the right mood. For Design Story's showroom, we used 3500 degrees Kelvin and since it's a retail space, the Coloring Rendering Index (CRI) was key," Rojales shares. Lighting with a higher degree in Kelvin registers as a more cooler light, and lighting with a lower degree in Kelvin has a warmer tone. A warmer light can evoke a cozy and intimate environment and can be used for living rooms, bedrooms and bathrooms for instance. Cooler lighting is crisp and invigorating and works well for work spaces, offices, and garages.
While shopping for LED bulbs, you may have come across the acronym CRI, and this refers to how faithful artificial light shows colors. The higher the CRI rating (a 90 rating is considered excellent), the more accurate it makes colors look. In retail spaces, this allows consumers to see real colors of the products and also entices them to buy.
2. Pop Of Color for interest
When thinking of Scandi interiors, one may think of using only neutral colors or a monochromatic palette. "One tip I can say is follow your heart and don't be afraid of colors. Be bold if you must," says Rojales.
Easy ways to add pops of colors are through smaller accessories. The Arcs Candleholder from HAY comes in a Dark Blue or Red that can be placed on a side table for effect. It's also small enough to put away when you want to swap it for another color or a different accessory.
3. Spruce up your outdoor space
According to Uy, "One thing we noticed now is a lot of people want to fix up their outdoor space. Because of the pandemic, people are spending more time outdoors. And because of this our clients are also now more particular with the quality of the pieces."
The Palissade collection from HAY designed by the Bouroullec brothers are perfect for the outdoors as they're practically indestructible with little to no maintenance. Portable outdoor lighting such as the Lucca from &TRADITION operates for as long as 12 hours and is great when you're spending time in your patio or garden.
Design Story's showroom now has a Light Room where they have consolidated all of their lighting fixtures so guests can see them side by side and have an informed decision when choosing the light perfect for their home.
4. Have fun with your dining ware
"One of the major things we have in the showroom that we didn't have before is the Three Squares Cafe Bar. It's a fully functional cafe bar that really serves dishes and freshly prepared meals. The menu is mostly comfort eats with an extensive coffee and cocktail menu. It's more for people to relax and enjoy themselves. The furniture at the cafe bar is also from our brands. The cutleries, plates and glasses are also from HAY. So we're hoping that that can help inspire our clients in using the brands in their home," Uy explains.
HAY has a wide variety of glassware and utensils with an obvious slant on design. The Salt & Pepper from HAY for instance is a bold duo-chromatic salt and pepper mill designed by George Sowden. HAY's Rainbow Plate series is made of durable porcelain and come in muted colors that can help make eating at home special.
5. Research and plan
"Amidst the challenges of the pandemic, from conceptualization, we finished this project in a total of less than 8 months," shares Rojales. This timeline wouldn't be possible without research and planning she and her team did. Rojales' familiarity of the brand and its vision set her in the right direction.
Design Story's showroom has several features that allow visitors to learn more about the products that they see. A platform of several iconic chairs in the middle of the showroom also have scannable QR codes that will tell you more about the designer of the chair, its price and other information. There are other visual aids throughout the store that will inform the visitor about the products.
With this, Coyuito has one advice for those looking into improving their space at home, "Research and take your time. Don't rush the design process. We want your space to be about you, and it must tell your story."
Photographs by Jar Concengco