You'll Love This Living Room's Farm Glam Transformation For The Holidays
Previously seen in Metro.Style as a cozy quarantine nook and then again, decked out in beach-inspired coastal blues and whites, this LA home goes through its final makeover this year
LA-based decorator and antique purveyor George Garma has been at it again! For the season of giving, his living room experiences yet another makeover.
We've seen his living room before as a cozy quarantine haven, where the maximalist aesthetic wasn't just executed for looks. It actually served the users by having all of their creature comforts in one space:
During the LA summer months, he changed the space again, in favor of a blue and white scheme, befitting of the season:
This time for the holiday season, inspiration came from a box filled with photos of an old country house in the South of France. Against a neutral background, and under the glow of amber-colored lights, textured with wicker furniture and baskets, he festoons key elements in the space with garlands of pine and evergreen, giving this space an understated, rustic holiday flavor.
Garma walks us through his design process:
Metro.Style (MS): What was your inspiration?
"While rummaging a box of old photographs, I came upon some old pictures of an old country house in the South of France. It's similar to an old cottage that my wife and I visited long time ago along a vineyard, filled with old baskets, rattan and wicker furniture, taxidermy, old paintings, antiques—things that we like. I've always had an appreciation for the European farmhouse style—old world, quaint, charming, old fashioned. I thought I'd recreate that look with our Christmas decoration this year."
MS: How would you describe this look?
"I would describe this look as glamorized farmhouse, or farm-glam, if you will. My family used to live along the beach in Los Angeles, but we moved to a place surrounded by orchards and vineyards. The new house is giving me a farmhouse vibe. I thought I could use my collection of baskets, mostly old champagne baskets from France that I sell in my shop along with the other antiques. I also collect old wicker furniture, antlers, and old garden implements. What better way to showcase them than during Christmas time among the fresh garlands, wreaths, swags, pine cones and, of course, that freshly-cut Christmas tree."
MS: Given that this year is different from past Christmases, did you tone down or make any adjustments to how you usually decorate for the holidays?
"I'm glad you mentioned that. Compared to the Christmas decorations that I have done in the past, this one is more simple and pared down. Toning it down a notch was a conscious decision on my part, putting in mind the many unfortunate and sobering things that have happened this year. It's in accordance with the serious and solemn mood we're in right now."
MS: What are the top 5 decorating must-haves for the season?
1. A Christmas tree.
"I love the real ones for the scent, aside from the authentic look. Fraser fir and Noble fir are my favorites. Nothing wrong with using artificial Christmas tree, just make sure you don't hang it upside down! That a big no-no. I've seen people doing that and it's utterly atrocious!"
2. Have a central theme. It makes things easier. It also gives cohesiveness to your display.
3. Have plenty of Christmas lights.
"They make everything sparkle and festive. I personally prefer soft white lights over multi- colored lights, but once in a while I switch to multi-colored lights when I'm feeling nostalgic. My parents always had them around the house growing up and they were such joy to look at for me and my siblings."
4. Christmas wreaths.
"I don't really care if they're real or not, so long as they have ribbons and bows to complete the look. I like to hang them on door entrances and mirrors. I've seen some made of twigs and just pine cones, and they look great! I think the more unusual they are, the more interesting they look."
5. Fresh cut flowers.
"They set the mood. They make everything look fresh and romantic. I prefer hydrangeas, peonies, tulips, garden roses for the holidays. I also like bulbs like amaryllis, daffodils, and paper whites, which are abundant this time of year. Although a bit predictable, poinsettias are also good, especially the white ones. I'm not a big fan of floral arrangements. I like flowers placed randomly in a vase."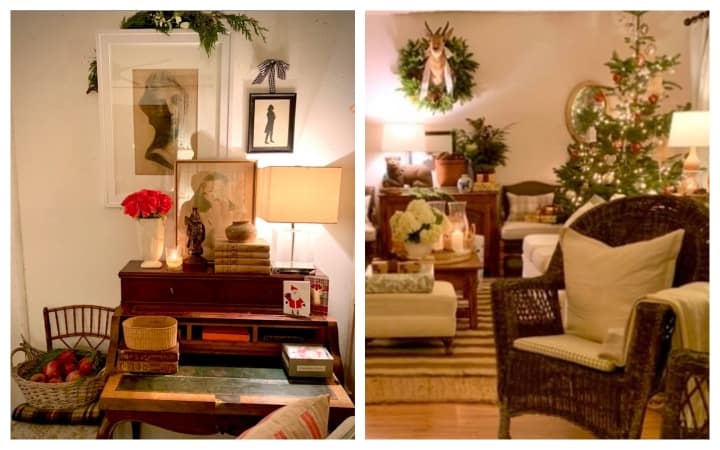 Photo Gallery
Photo Gallery
This year, George and his family are having a humble Christmas celebration in this setting. "We're just glad that we're complete as a family this Christmas as our only daughter is back from her studies in New York… The kids created a parol ( Christmas lantern) [from a tutorial] they saw in YouTube. Also, I've saved some old Christmas decorations for the rest of the family to hang on Christmas Day," George reveals.
Photographs courtesy of George Garma