You've Got to See The Hamanda's Modish Makeover
Swedish design acumen coupled with Filipino artistry and craftsmanship made this once nondescript building in Pampanga a getaway that now feels like home
In the heart of Pampanga lies a lovely getaway nestled inside the famous Souq Restaurant Compound. Hamanda Hotel is a destination in itself with carefully and lovingly curated guest rooms that have a modern and stylish flair even whilst being away from the hustle and bustle of the city. The hotel believes in the saying, "People don't live to travel—we travel, to live." Trips are collections of sight, sound, and taste experiences, awakening the senses and unearthing deep-seated feelings. To them, travelling is an adventure full of discoveries not only about lands and cultures, but ultimately of the self. Hamanda Hotel offers to be a waypoint to rest and dine and share stories. Guests can also enjoy delicious food from the restaurants SOUQ and Mpacho situated below the hotel space.
Before what the beautifully designed Hamanda Hotel came to be, it was a plain, nondescript building. Owned and designed by Swedish interior and furniture designer Andreas Lundin, from Design Republic PH, the hotel tries to find a way to interpret the Filipino style in a different way. It fuses a hint of modernity through the design choices whilst using local materials such as coco lumber for the roof. The decor also supports the local design industry, as they come from different companies in Pampanga. Each room was carefully curated to transform from a blank concrete slate into having different identities which are still familiar to the Filipino eye.
The hotel feels cozy and homey without seeming less spacious. The minimalist style is often accented by smatterings of warm colors in the decor, as well as the charming light fixtures. The perfect mix of modern and traditional somehow makes the space feel relaxing, definitely giving the guests a real vacation vibe which feels like a home away from home.
It is close enough to interesting sites like historical churches, making it an ideal place to relax in between adventures. While this is true, Hamanda Hotel is also a destination in itself with each room uniquely designed for solo travelers, groups of friends, or families hoping to have a reprieve from their busy normal lives. The warm and friendly staff reflects the overall vibe of the place, ensuring a nice and recharging stay in Pampanga.
Let's have a look on how this amazing space came to be!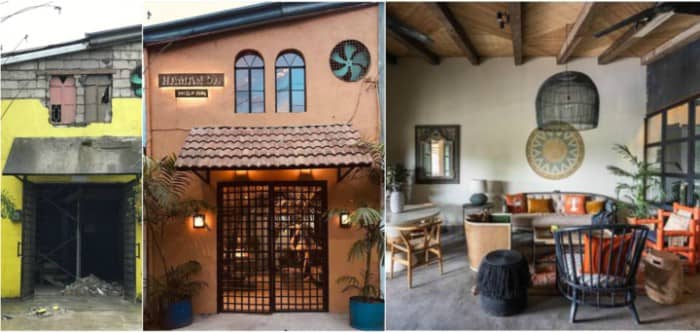 The Hamanda's Makeover
The Hamanda's Makeover