EXCLUSIVE: Patty Ang's Newly Renovated Atelier In BGC Is Sophisticated And Totally Instagram-Worthy
Patty Ang's industrial atelier had a major makeover
Successful fashion stories almost always start with humble beginnings.
Patty Ang, one of the country's top fashion designers today, is internationally acclaimed for her minimalist aesthetic and her clean, crisp ready-to-wear pieces. Some of the most sought-after local celebrities have worn her creations, but guess who is one of the latest additions to her roster of muses: no other than Hollywood A-lister Chrissy Teigen! Recently, too, Patty made her sophisticated designs more accessible to on-the-go women who are seeking for affordable yet stylish workwear options through her collaboration with local homegrown fashion and lifestyle brand Bench.
But when Patty began her fashion career in 2014, she only had a small unit in Eastwood. There, her clients would twirl in dresses inside a tiny storage space, converted into a makeshift fitting room.
Her team only had three members: two other seamstresses (both of which she still works with today) and herself. However, as her namesake label expanded through the years, Patty's team grew, pushing her to transfer locations several times. She first moved to Palm Village, before setting up her own industrial chic atelier in Bonifacio Global City, which we featured last year.
"I always get emotional looking back at how far we've come as a team," the designer shared in an exclusive interview with Metro.Style. From two members, her team now consists of over 40 people. "My staff are also my family. Sometimes, I even spend more time with then that my [actual] family, because I come to work every day!"
Making Room for More
Just in time for her label's 5th anniversary, Patty decided it was high time for another expansion—and that means renovating her unit to make space for more. "The dream has always been to grow bigger, and bigger, and bigger! We've been looking for an extension for so long, but we couldn't find a place because I was already very happy with our location here in BGC. I started looking for available units inside this building, but we couldn't find one. Thankfully, a blessing in disguise—I met the owner of the unit right next to mine, and she allowed us to rent hers out. We combined the two units to accommodate a bigger production area!"
The makeover began in February. "We couldn't stop our production, that's why we started renovating the second unit first, so we could still use the first unit." By the end of April, the second unit finished construction, allowing Patty's team to temporarily transfer there. Finally, on June 23, the renovations for both units had been completed.
"It was a very long process, but everything eventually fell into place." Patty ended up hiring the boyfriend of her sister-in-law as contractor. "It was a special project, because it was also a collaboration of everyone [special to me]."
The ground floor of the first unit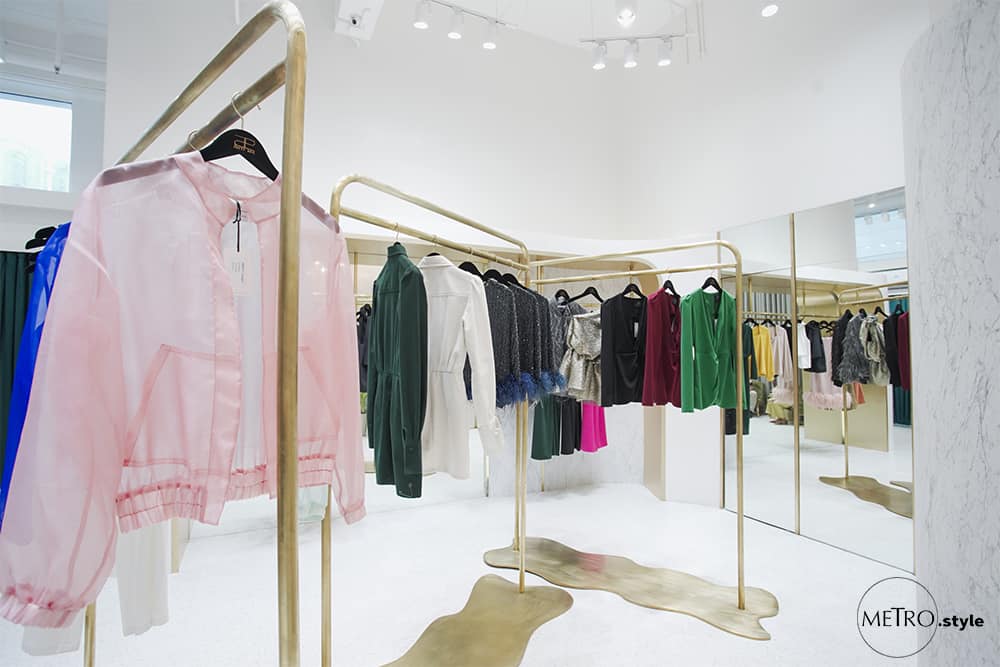 Patty Ang's signature pieces hang from brass racks in the first unit of her atelier. The high-ceiling room features mirrors on its wall, which provide an illusion of space.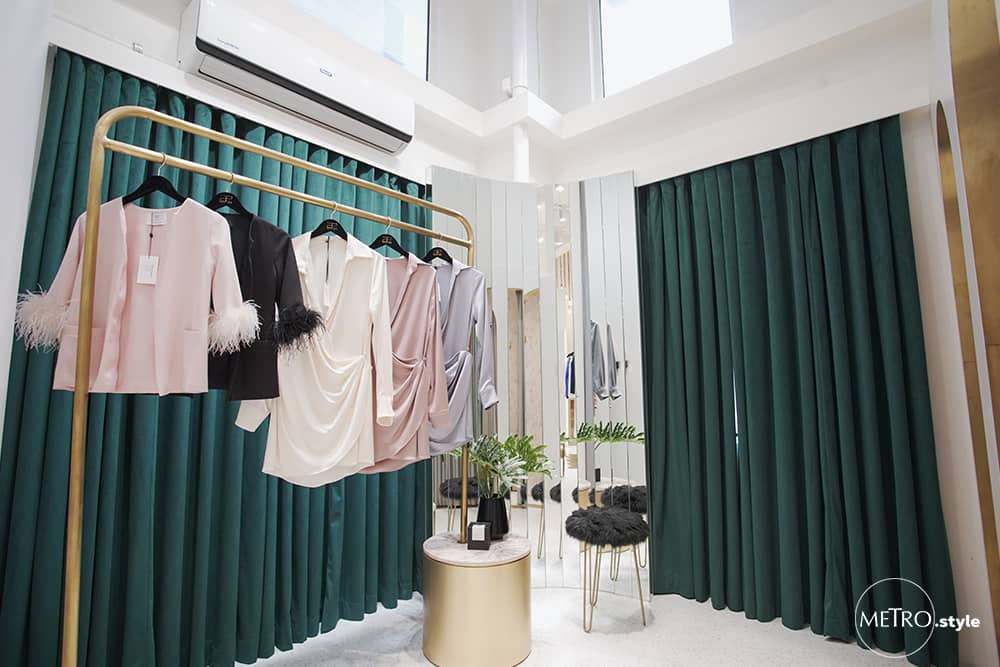 A gorgeous brass arch connects the first unit to the second
The ground floor of the second unit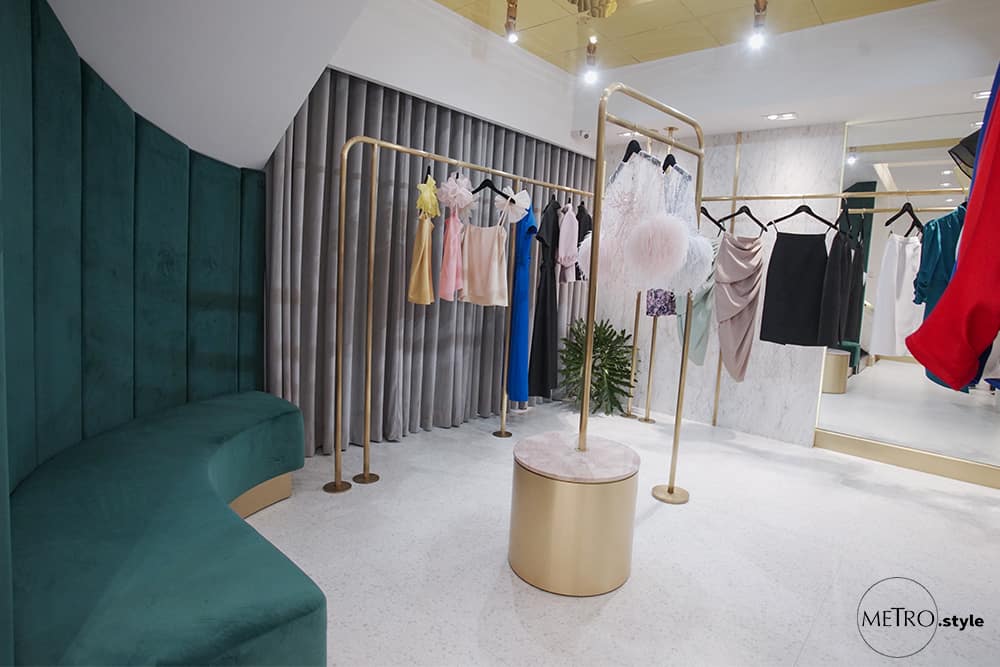 The second unit of Patty's atelier is welcomed by another room dedicated for ready-to-wear ensembles. The golden mirrors on its ceiling also creates an illusion of a larger space.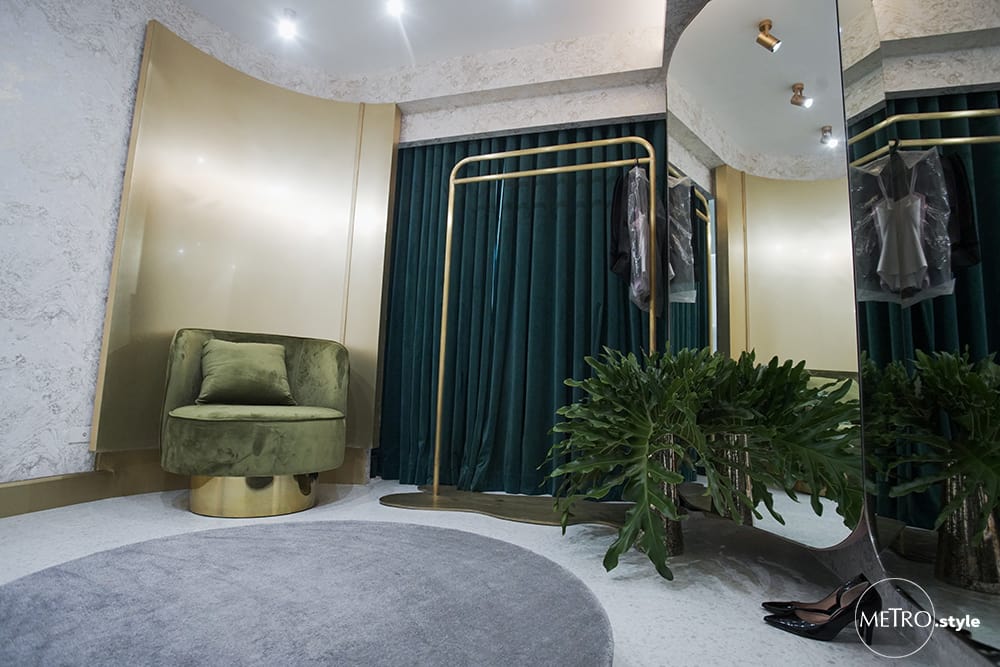 This spacious room reserved for custom-made fittings features perfect lighting and the widest mirrors.
The Makeover
Take one look at Patty's brand new space, and you'll notice the huge transformation. Aside from her space becoming (literally) bigger and brighter, the interiors now incorporate the brand's new colors—teal, lime, and bronze. "These days, you need to be Instagram-worthy while still sticking to your branding. My interior designer, Vianca Favila of Empire Designs, helped me decide on the colors. At first, we tried different shades until we found which ones suit the whole brand—we wanted something sophisticated, with a touch of vibrance for that picture-perfect feel. Vianca and I collaborated on everything here—she has been with me even noong wala pa akong budget. She's been designing my atelier ever since my Palm Village days."
In contrast to her minimalist and classic pieces, the interiors of Patty's atelier provide a vigorous, energetic feel. "When my clients step inside, they'll see that everything is fresh and well lit. When they walk around, I want them to know [and feel] what our brand can offer."
While Patty's atelier shines the spotlight on modern, contemporary interiors, the designer made it a point to retain some sentimental pieces. "If you look closely, you'll also notice I have some stuff here that have been with me since Day One, like art pieces, some light accents, and some chairs. Almost all the stools here were also just reupholstered. I also still have my first ever chair with me—it's super dirty now, but I just can't let go of it because it's special."
Watch this exclusive video for a tour of Patty's hip, new atelier!
Can't get enough interior inspiration? Swipe through this gallery for more photos!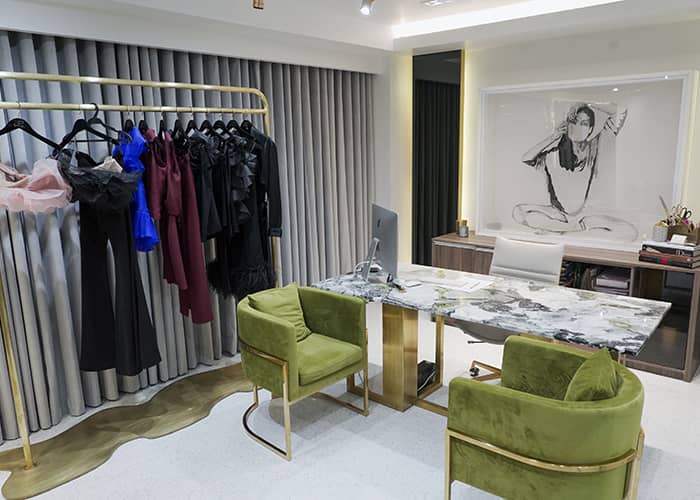 Patty Ang's Newly-Renovated Atelier
A Bigger, Better, and Brighter Working Environment
"This renovation isn't just for me—this is also for them," shared the designer, referring to her trustworthy team. She further highlighted the importance of providing an energizing working environment for everyone. "Almost all of my staff have been with me since the very start of my career. They are like my family. I treasure every one here, and they really worked hard for where we are right now."
On one corner of her new space lies a chic bar, where Patty shares some drinks with her clients on some days, and with her team on others. "My staff and I have a few days in a month to unwind, drink, and talk. I think that's very important to have with your staff—the right communication."
The past years had been an amazing ride for Patty—launching countless collections, landing on fashion headlines, bagging awards, and becoming one of the most sought-after designers in the industry today. She got married this year, too! Half a decade has passed, but the journey is far from over. After a (literal) expansion of her atelier, Patty and her team are ready to seek new heights, and take on more challenges. And as they prepare for the next five years, Patty has one promise: "I always stick to the same team. I always tell them—when I grow, you grow with me."
Produced by Grace Libero-Cruz and Hershey Neri
Photo and video by Spotlight Creatives