IN PHOTOS: Team Kramer Unveils Their Newly Renovated City Dwelling
Doug Kramer shows off their newly-renovated condo unit that's similar to their Antipolo home
Here comes another inspiring update from one of our favorite celebrity families—Team Kramer has recently unveiled their newly-renovated condominium unit! The city dwelling is a spacious home that Doug Kramer, who shared photos of the unit on Instagram, describes as "very similar" to their Antipolo home, which is shown in this vlog:
The property was first turned over to the couple a year ago. Since then, the complete home transformation began. The couple's distinct taste in interior design is palpable in their newest space. While it's yet to be completed, the place already oozes with warmth and coziness.
The once plain white interiors were given life, with the addition of modern industrial details within the space. With the help of Vianca Favila and Nikko Sotoridona of Gussy Design by Empire Designs, their dream condo space started coming to life.
The ceilings are clad with wooden planks, while the walls are adorned with bricks of different textures and finishes. Wooden doors and iron bars contribute to the tasteful masculine aesthetic, furthering the contemporary touch to the home.
There isn't a lot of furnishings inside just yet, but the pieces that are put in place highlight the modern industrial scheme, with a wooden table, the mix of minimalist dining chairs and wood bar stools, and the stark lightings and classic ceiling lamps.
And given that Doug hinted on its resemblance to their actual house, we can expect antique details to decorate this soon-to-be furnished Kramer home.
Get a closer look at Team Kramer's city home, a work-in-progress, in the gallery below: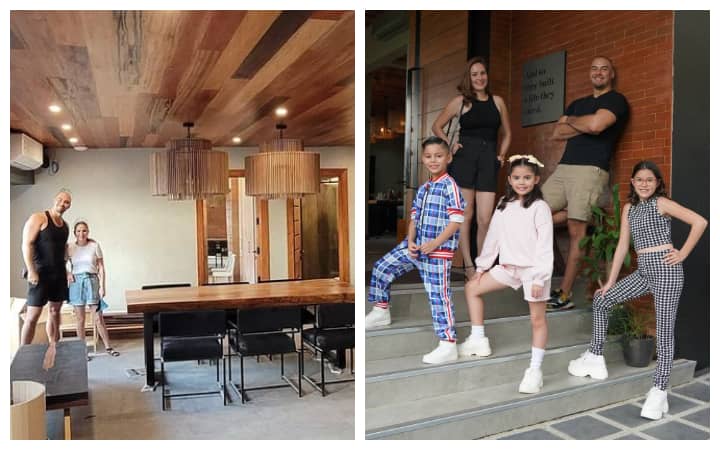 Work-in-Progress Condo of Team Kramer
Work-in-Progress Condo of Team Kramer