The Henry Suites MiraNila: Past Forward
When charm and character meet family heritage and national history, it's an experience like no other
On my way to our shoot and interview for this story, I double checked my phone to make sure that I was going to the right place. As I perused the address, I thought to myself, what a mellifluous congruence of words and images. MiraNila, a clever coinage of rhyme and assonance , rolls off the tongue and evokes a place of poetry and history; and as if that wasn't enough to put the mind into a state of nostalgic reverie, it's fortuitously located on Mariposa Street, and there are few creatures as loaded with mystical associations and as universally pretty as the butterfly. In a time of riotous news, false and otherwise, what could be more of a balm to the soul than an old family estate, complete with a heritage museum and library, that is graciously reinventing itself and bravely facing the future?
Le Fil Rouge
When I first experienced MiraNila, I was with some friends who were volunteers for Binhi, a literacy NGO and we were graciously toured by Petty Benitez Johannot, curator of the Mira Nila museum and granddaughter of Conrado and Francisca Benitez, who had lovingly built the house as a haven for an asthmatic son and home for a young family. One friend said, "It's like being in the province but still being in the city." As big believers in literacy and education, we oohed and aaahed at how the Benitezes had been such pioneers in education, culture and the arts and nation building; and of course, how Petty seamlessly and skillfully wove family lore with the home's many treasures , and how it all impacted our country's history and progress. We had taken the tour in late 2019, in the halcyon days before the pandemic.
In late April, I read about the launch of the newest outpost of The Henry Hotel group and was intrigued to see that it was not only in my "hometown" of Quezon City, but nestled right in MiraNila. I made a mental note of visiting the place, but even better, I was able to sit down and chat with the fascinating team behind this amazing creative collaboration.
On the morning of our chat, we gathered in the front porch of MiraNila, with a wonderful view of the newly renovated Henry Suites; many side stories and much laughter punctuated our interview, which meandered like a gurgling stream, as the best conversations tend to do. Petty Benitez Johannot and Pe Benitez Brown brought their family stories; and Eric Paras and Hanky Lee came in as the designer and hotelier, respectively . When asked take us back to the very first seed of the cross pollination, they each have their own insight.
Petty calls it, "Le fil rouge," She explains: "It's French for a power cable, or a telephone wire. But it's also an expression for how things are tied together. I was already happy that we had our museum here, and our wedding venue, but of course when the pandemic came, it wasn't enough."
Her nephew, Pe Benitez Brown, then adds, "Many people chose to relocate back to their provinces or move out to the suburbs, and for the first time since the apartments had been built (the apartments being a building separate from the main house but still with a view of the home and gardens), there were no tenants at all. My mom really wanted to do something , she didn't want them just being empty and when the idea of a small hotel came up, she just wanted to go ahead with it."
Eric then reveals that he had already been approached about helping develop Mira Nila as a type of lodging. "A few years ago, their family asked me what I thought; at that time, they were considering opening up the home as an Airbnb and I told them, 'ay magulo.'"
Hanky Lee then says, "I had seen MiraNila with some friends; I really love to go around and see new places. Gala talaga ako."
Petty then interjects and asks, "I really want to know, so what made you decide to take it on? What makes you decide if a place is right for your hotel?"
Everyone turns to Hanky , and he admits candidly, "It may sound corny, but you just feel something in your heart. Yes, part of it is a sense of place but that's not just it. I also think of it as a kind of stewardship. There's only one MiraNila, and I see this partnership, as a beacon of hope. It can be a template for other old ancestral homes, moving forward, taking the local hotel industry in this direction. For example, I was just in Bacolod, and saw all these old homes in Silay, and because of family squabbles, they are now empty and not being used. Since the pandemic really affected tourism and all other industries, what we've done can be come a new template."
Sadly, the one person who brought them all together, couldn't make it to our interview. Audrey Tanco of the Bizu group had already been in partnership with the Benitezes, handling the catering for weddings and events booked at the Gallery MiraNila. She broached the idea of converting the apartments on the family estate into a Henry Hotel to Hanky and Eric, and the Benitez family, and thus the red thread tied them all together.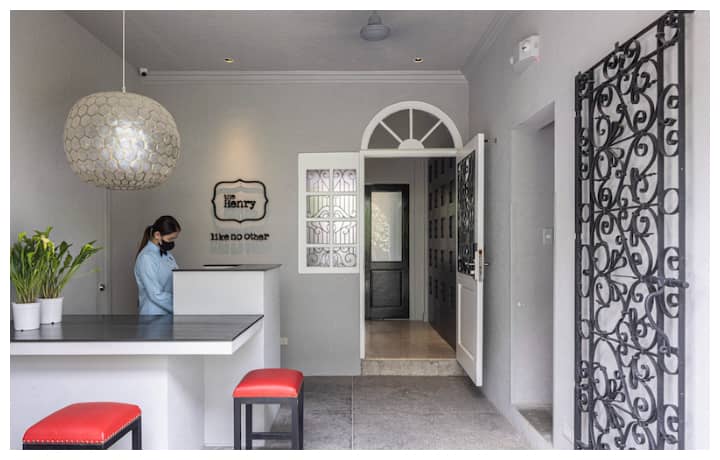 Photo Gallery
Photo Gallery
A Light Touch
Eric chides Hanky with giving him a very tight budget for designing the suites . Hanky defends himself that he wants the new venture to be a viable and long lasting business.
And then Eric admits, "Actually, I like it even better when I am given a small budget. It makes the designing easier!" Of his process, he says succinctly , "I really just follow my instinct."
Petty reveals, "When I first saw the finished product, my jaw dropped! It wasn't an aping of MiraNila and yet it seemed so authentic."
At some point in the interview, Pe Benitez Brown mentioned that the late rock star Karl Roy had once been a resident of the apartments. When I observed that the mix of revered politicians and legendary rock stars that had graced MiraNila was so reminiscent of Hollywood's Chateau Marmont, Eric Paras quips, "'Yan ang gusto ko na vibe!"
He says knowingly, "From having done The Henry in Pasay, of course we know that we have to create those design highlights, the 'IG moments.' So I chose some of the family pieces, updated them, and planned those spaces that I knew would be moments on social media."
When we tour the suites, Eric points out the vintage pieces that he integrated into the suites. Lyca Benitez Brown had generously "donated" to the hotel some mid-century pieces, chairs and furniture that came from her grandfather's clinic. Some showstoppers include an antique dresser, and a glass and wood screen, frosted with , appropriately enough, umbrellas. This very same screen coves a claw footed bath tub that is sure to be a social media favorite. In fact, Hanky was sent photos from a recent bachelorette party and the bride to be's friends had styled the bathtub and screen with balloons and bubbly glasses.
Eric has a deft hand with updating pieces and rooms with unique, whimsical and memorable lighting fixtures. He also understands that the rooms will be booked by wedding parties, so he sets up areas where brides can be photographed as they are being made up; and he also set up common areas where families and the wedding entourage can get together.
Celebrate The Good Times
Walking through the rooms of the Henry, and also getting a more intimate version of the Mira Nila tour, it is no small achievement that a venerable family tradition in politics, civics, and the arts has been united with the quirky and contemporary edge of The Henry. Trying to deconstruct and understand this cross pollination results in a spirited discussion.
Pe says, "This has always been a family home. For us who grew up here, it's really always been about gathering ,whether it's for special occasions or simple family dinners.
Petty adds, "It's all about welcoming. When my aunt, Helena, was the lady of the house, there was nothing she loved more than welcoming people into the home. And she really had this vision for the house, that long after she was gone, it would still be a place where people would gather to celebrate, to get together to celebrate art and culture and history."
Hanky then adds, "It really takes a visionary to keep a heritage alive . Part of our DNA in the Henry Hotel group, is to create hotels that are like no other. And also , to celebrate the Filipino. And that can clearly be seen here in MiraNila. So it really wasn't a stretch at all; it wasn't really difficult to find the common ground."
At the end of our shoot and interview, I realized that I hadn't taken any photos at all; I had been so immersed in the multiple conversations and observations that I forgot to take photos. Good thing our photographer and Living Editor posted some IG Stories, that I was able to repost and also save. A dear friend then messaged me that a family wedding would soon be held at MiraNila. I replied, "It's the perfect place to begin a family's new chapter."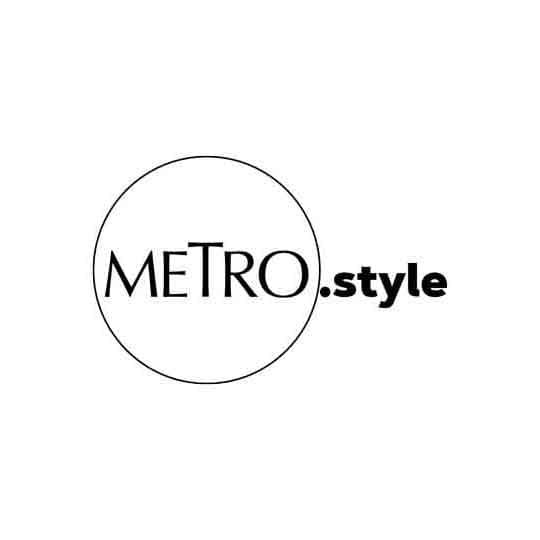 A photo of our morning at Mira Nila. L-R: Interior Designer Eric Paras, photographer Jar Concengco, Petty Benitez Johannot, Pe Benitez Brown, Metro.Style Living Editor Anna M. Rosete, writer Leah Puyat (Seated), hotelier Hanky Lee | Jar Concengco
"A good hotel is really all about the story. Please help us to tell our story," Hanky tells me as we were winding down our interview.
Many stories end with "happily ever after." But it's clear that at MiraNila and the new Henry, the end is just the beginning.
Photographs by Jar Concengco