This Wood Kiln Drying Facility Is Experiencing A Second Life As A Boutique Hotel
A second generation furniture maker from Betis, Pampanga turns to adaptive reuse… here's how Venta Suites, her pandemic project turned out
Being a second generation furniture manufacturer and exporter, Lieza Bituin - Chief Operating Officer of South Sea Veneer - has known only furniture growing up. Her parents ventured into the furniture business in the 70s and their craft got global attention.
"When they started to export furniture to the U.S. or Europe, finding good quality wood suitable for it - wood that wouldn't crack - was difficult. So they had to integrate that process into our manufacturing," Bituin says.
To address this, her parents built a wood kiln drying facility in Betis, Guagua in Pampanga. Wood that is kiln dried has less moisture and is less likely to crack under different temperatures and humidity - perfect for exporting to countries that have different climates. The large structure with high ceilings accommodated 200,000 board feet of wood per chamber. It was equipped with large fans that circulated air inside to help dry the wood evenly.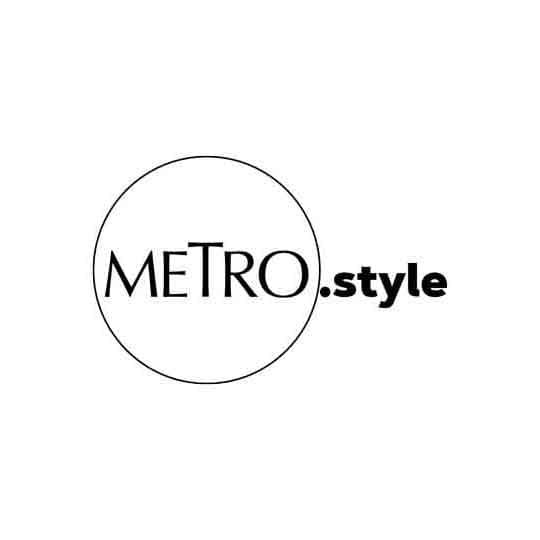 Old elevation of kiln drying facility in Betis, Pampanga that was converted into Venta Suites, a boutique hotel, by Lieza Bituin, COO of South Sea Veneer | Courtesy of Venta Suites
"When Mt. Pinatubo erupted in 1991, the kiln drying facility was hard to sustain. For 5 years, Mt. Pinatubo's effects like flooding and lahar were still felt. So we had to move out of Guagua and transfer to Concepcion, Tarlac and Mabalacat," Bituin recounts. The facility in Guagua basically became a warehouse with a pond that her father used to raise tilapia.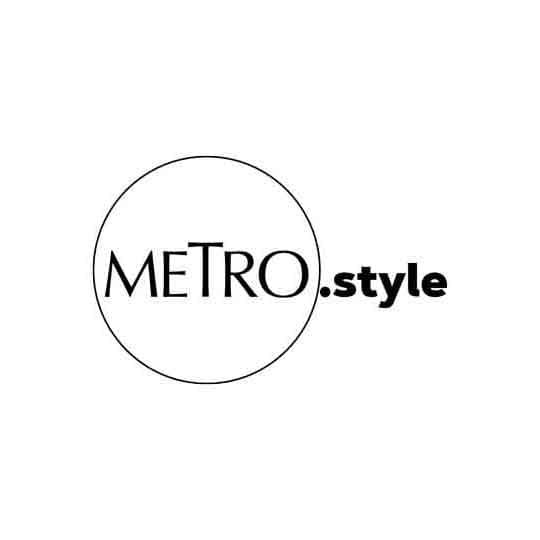 Old kiln drying facility. | Courtesy of Venta Suites
Adaptive Reuse
Longing to diversify her family's business, Bituin thought their defunct wood kiln-drying facility could yield an interesting opportunity through adaptive reuse. Without demolishing the whole structure, Bituin was able to reimagine the space's purpose as a boutique hotel named The Venta Suites.
"We started construction around September 2020. We did it slowly. With or without the pandemic, budget is always a challenge or restriction. But at the same time, this forces you to be creative. If you have all the financial resources, I think you can build fast but it may not always be the most creative way," Bituin says. "If you take things slow, you can think of more ideas."
The chambers of the kiln were turned into the three rooms of the hotel. The large fans that circulated the air in the kiln were dismantled and used in the main arch of the property. Keen eyes can spot other remnants of the facility scattered across the property: shafts for the fans were turned into pendant lamps hanging on the trees, 1x1 wooden sticks used as spacers between lumber while drying in the kiln were assembled together as a headboard in Chamber 1. An old green stationary router from her family's factory hides behind Bituin's collection of different varieties of philodendron and Peruvian fern in the receiving area.
The chambers were opened up to take in the view of the pond. The original columns where the gates of the chambers were are exposed in the cement walls and offer a reminder of the room's early purpose. Outside, these wooden columns were retained to hold up the canopy. Bituin's favorite detail in the chambers is the part of the ceiling that forms an arch, "I'm an engineering graduate and that arch is my favorite detail. It's part of the whole air flow mechanics of the kiln drying. You need that curve; it's aerodynamic."
Melting Pot
Bituin didn't dillydally during lockdowns last year. She took pen to paper and sketched out what she wanted to do with the property.
"I'm sure if I look at my first sketches, it's probably totally different as to how it turned out. I didn't start already knowing what tiles I was going to use, or what paint I needed. I really took my time as I went along," Bituin shares.
This period of time allowed her to mix together all of her personal and professional passions. Traveling to trade shows in Milan and Paris through Manila Fame and CITEM, bedspacing in local families' homes in Benguet before going out to hike, or exploring the local vibe of Siargao and Palawan all inform her design decisions. "This project is like a melting pot for all my experiences. It's a mix of my love for furniture, design, local crafts, traveling and plants," she says.
The Venta Experience
With a mostly open layout, guests can feel more secure while staying at The Venta Suites. It's brimming with nature and plants abound. A pond side deck is installed for lounging while looking out onto the water ("I love seeing guests use it because it means that your design was effective"). Chambers 1 and 2 can be adjoined while Chamber 3 is the largest with a living area, 2 bathrooms and a private pool that evokes Morocco.
Each room has a unique collection of furniture that Bituin sourced mostly from her family's warehouse - a cart made of faux shagreen, bedside tables made with lahar (volcanic ash) resin, and consoles laminated with banana bark. The common pool area has solihiya lounge furniture and a set of family-friendly games such as giant Jenga and Tic Tac Toe. Although The Venta Suites itself doesn't have a restaurant of its own her brother runs the restaurant Souq in the same compound. Breakfast comes out of a basket in individual metal and bamboo containers.
"Venta offers the amenities of a hotel but it feels very homey. It's relaxing and we're surrounded by nature. In the morning, you hear all the birds. Our guests say it's Instagrammable - which is intentional on our end - but moreso we didn't make it just for Instagram. We hope guests find a certain authenticity to it. Given our history as furniture makers, this is how we express our creativity - in building spaces. The pieces in our chambers are real and handmade. I hope it feels genuine."
Enjoy this retreat's details through the gallery below: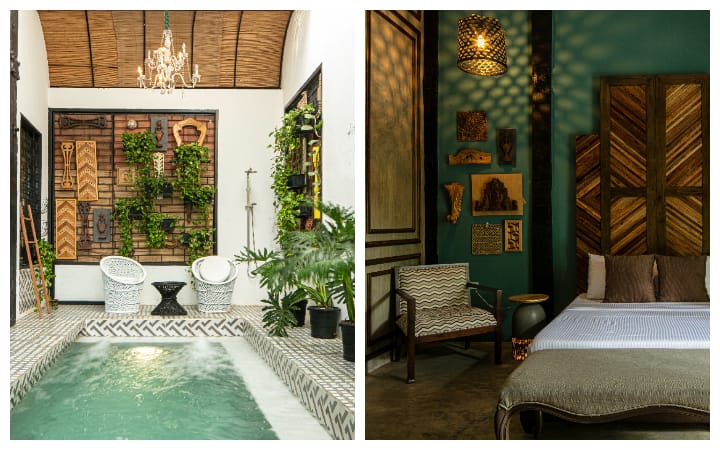 Inside The Venta Suites
Inside The Venta Suites
Photographs by Jar Concengco