This Japanese Restaurant Highlights Local Craftsmanship
Graduating interior design student Evonne Limsui references the Japanese home and sources "made in the Philippines" to get a warm, minimalist look in this space
In the Japanese concept of yūgen, when you see a beautiful flower, the beauty you see is only the beginning. The harsh winds that it endures while you weren't watching or even the thought that it will continue to bloom even though you've walked on by give it a more profound beauty than how you are seeing it right at this moment. There's really no exact English translation for the word yūgen. Many define it as the art of the unseen or unknown.
This was the inspiration of Evonne Limsui, a graduating interior design student and co-owner of Yūgen restaurant in Pasig. "My mom owned an existing Japanese restaurant that closed in 2021 and it was operating for 10 years. She decided to rebrand the restaurant and give it a completely fresh logo and fresh look. She gave me the freedom to do that," Limsui says. "Yūgen is a spatial concept that is applied in different fields of design. When you look it up you'll find that it means a mysterious sense of the universe. But it really depends on the context you're using it in. So in our case we refer to it as a subtle and profound sense of beauty. One that is more suggestive rather than direct."
Aiming to make dining at the restaurant as comfortable as possible, Limsui turned to the Japanese home for references in her design. As you pass through the noren curtains of the entryway, you will notice floating wooden counters on both sides that signal a loose concept of the genkan of a Japanese home. At once, you're enveloped by a warm color palette from the wall color to the sabouchi ceiling and the handcrafted solid teak wood tables made locally by Lamana. "The color of the walls now are somewhat similar to the color of the old restaurant - maybe a few shades apart only. We wanted it to be warm and we wanted it that when the lights hit it there would be an orange-y glow. We wanted it to be more seamless without having to use the same materials all throughout. I chose a shade between the wood sample of Lamana's tables and the wood sample of the wood on the ceiling," Limsui shares.
A 7-meter counter made of teak line the wall facing the long window to the kitchen. Limsui's mother wanted to retain this from the old design. "It's a show kitchen. We wanted customers to feel more connected to the food they were eating by giving them an opportunity to see how it was being made. It's all about connection, really."
An art piece that subtly breaks the monotony of the color palette hangs on the wall by the cashier. "I found a local indigo dyer named Yana Ofrasio. She's an abstract painter but she also advocates for Philippine indigo. I approached her just two weeks before opening and I'm so grateful she accepted the project. Together we came up with a piece made of abaca silk and abaca pounded which was sourced from a local Aklanon weaving community," she mentions.
Niches in the wall are adorned with a stark and refreshing display of ikebana. "I found a local ikebana florist named Mila Robles. She studied in Jakarta to study the art. We have to change our arrangements every two weeks. We didn't want to use fake flowers because that goes against the principles of ikebana and everything Japanese. Even though it was pricey, we wanted to invest in that because it was something that encapsulates the Japanese concept that we wanted to translate."
This support of local craftsmanship can also be seen from their stoneware that the food is served on. Sourced from EJ Espiritu of Cornerstone Pottery from Silang, Cavite, no two stoneware are alike. "That was one of the first things that we bought actually," Limsui says. "We were sure we wanted to do handmade ceramics just because of its unpredictability and uniqueness."
To highlight the food, Limsui chose greens and blues for the color of the ceramics. For instance, pieces of torched salmon and creamy uni sushi on top of oba leaves (similar to shiso and impart a minty flavor) rest on sage green long plates. Yūgen's menu is extensive ranging from sashimi to ramen to robatayaki and tempura.
Lighting was very important for the restaurant experience Limsui was aiming for. "For the lighting, we wanted for it to be more intimate. So we decided to make all our lighting warm and diffused. So that's why in the function room and the dining room we use acrylic diffusers instead of using direct spotlights everywhere. We made sure that the main dining room lights and function room lights were dimmable so that it can change throughout the day. In the function room, we incorporated a skylight so the lighting changes throughout the day. We wanted people to appreciate the unpredictability of nature - how it can't be controlled."
There's a lesson to be learned in Limsui's design choices for the restaurant and in the Japanese concept of yūgen itself. There is a visual and intense reward in restraint as it leaves something for the imagination. The restaurant's beauty not only lays itself for you to see as you walk through its doors, but grows more profound as you think of what it has been through to get here and how it will flourish in the time to come.
In the gallery below, appreciate the quiet warmth this space exudes: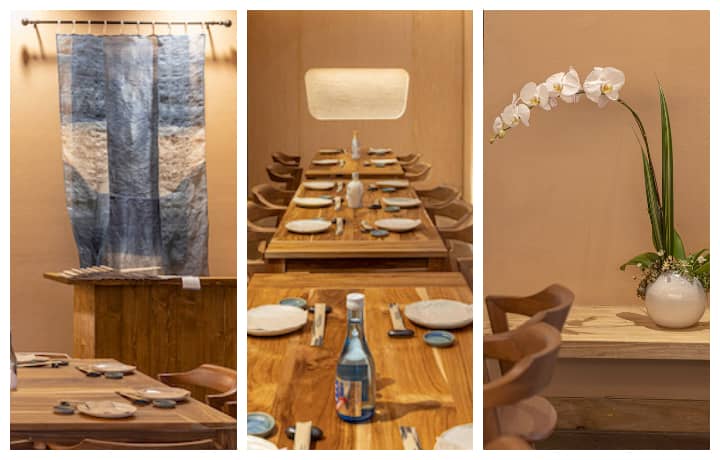 Photo Gallery
Photo Gallery
Visit Yūgen at G/F, The Crescent Condominium, 29 San Miguel Ave, Ortigas Center, Pasig, 1605 Metro Manila. Call 0917 115 0353.
Photographs by Jar Concengco