10 Clever Plant Racks That Will Organize And Beautify Your Green Spaces
What you need to know about choosing the right plant rack, where to buy, and what your options are
If you're one of the many people who went down the rabbit hole of plantitos and plantitas this quarantine, then you might find your home filled with scattered pots containing your plant hauls. While plants are nice to have at home, you might not realize that they may be taking up too much space that can be better transformed into usable or breathing space.
But don't worry. This doesn't mean that you have to cut down on your plant collecting (because we know we don't want to!) Instead, you can actually organize your plants with clever plant racks that will free up your space! In fact, there are many reasons why you might benefit from a plant rack.
Organize and decorate
Plant racks are great furniture pieces that will help you organize your space. Instead of leaving pots on the floor, you can use tiered racks to elevate your plants and free up some floor space. This way, you don't just organize your space, but also allow the plant rack to become tasteful furniture pieces themselves that add energy, harmony, and beauty to your room.
For outdoor spaces, putting your smaller pots into racks will also allow you to make more space for bigger plants.
Indoor humidity chambers
If your air-conditioning is always open at home, the air inside the room tends to be on the dryer side, which is not something that most plants like. Plants love humidity, and if you like keeping beautiful plants in an air-conditioned room, you might need some extra help from a humidifier.
Some glass plant racks are perfect for this very purpose. Chuck in a humidifier inside the rack, arrange your plants inside, and close the rack door to keep your plants happy.
Choosing a material for your plant racks and stands
When choosing which plant rack to use for your home, you have to consider two things: one, how will it affect or complement your home décor; and two, what are the material requirements of your space.
Naturally, if you want to put your plant rack inside your home, you'll have to look at your home's theme and décor, and match what you have. Wooden and bamboo ladders will work well when you have wooden furniture or floors, or if you have a minimalist home. If you have modern and urban décor, you might want to experiment with metal finishes that can create an interesting contrast in your space.
If you're putting your plant rack outside, you have to think about whether your material can be constructed with weather-proof finishes so it can withstand the heat and rain. Bamboo is naturally water-resistant and makes an excellent option for outdoor areas. Powder-coated metal is also a sturdy option.
Where can I buy my plant rack?
It's easy enough to buy off-the-rack racks, which come in different sizes and shapes. But different homes and different plants have different needs. This is why we love that these two stores—Wooden Plant Rack PH and Pot-a-Rack—offer both ready-made and customized options to address different plant rack needs.
Wooden Plant Rack PH specializes in, well of course, wooden plant racks. They use scrap wood or palochina, which are recycled wood that offers sturdy support and construction at a more affordable price.
What we love about this store is that they have a wide range of ready-made designs and options already available for easy browsing. If you have no idea what plant rack you might need, you will surely find something you like from their roster.
While their pieces come in set designs and sizes, they can customize each piece according to your specifications. Maybe you'd like something taller or wider, or maybe you want to add wheels. Let them know and they can make it happen for you.
All racks are made-to-order so send them a message on Instagram at @wooden.plantrackph to inquire.
Pot-a-Rack, on the other hand, specializes in metal works. If you're looking for a sturdy metal plant rack or a greenhouse cabinet, they can build it to your exact dimensions and specifications.
Apart from metal works, Pot-a-Rack can build hybrid racks, shelves, and potting carts. They can make potting carts with metal framing and wooden cabinets, hybrid plant stands made of metal and solid wood plates, and glass greenhouse cabinets for when you need a beautiful humidity chamber inside your home.
Their metal works also come in four different finishes: black, white, gold, and rose gold.
Check them out on Instagram at @pot_a_rack.
Ready for our Top 10 picks from Wooden Plant Rack PH and Pot-a-Rack? Browse the gallery below for our favorite plant racks, shelves, and cabinets from their collections.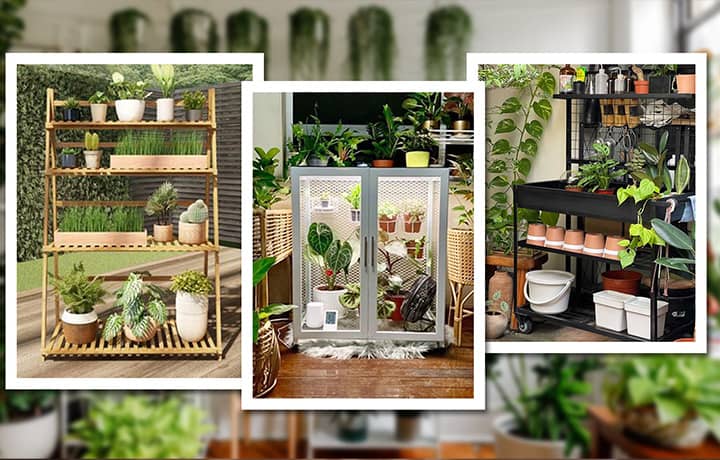 Photo Gallery
Photo Gallery