We Found The Store That Will Get Your Home Out Of The Rainy Season Funk
Pieces from 17 Hacienda Mar will paint your home with creativity, character, and fun
As a tropical country, the Philippines only get to enjoy two seasons—summertime and the rainy months. As we enter the period of darker days and heavy showers, finding the brightness of the fun summer that has been can be a challenge. But not if you have the right pieces to play with!
To take your home out of the rainy season funk, a quick interior update could do the trick. Perhaps a quirky accessory to decorate your living area, or maybe a few colorful rugs and printed sheets to spice up a plain space. No matter what's on your mind, new e-commerce shop on the block, 17 Hacienda Mar , will offer a unique and creative change for a livelier look that's brimming with character.
The brand separates itself from other home and lifestyle stores with its flamboyant range of goods that are anything but boring. Born out of the passion for selecting and collecting beautiful merchandise from around the world, owner Vicky Marchadesch aims to cultivate a lifestyle in which one can thrive emotionally and creatively. She hopes that each item from their myriad of offerings will "set your imagination alight and lead you to dream a little more colorfully." Marchadesch co-owns the online boutique with Cory Marquez, her best friend, who also coincidentally lives in a street numbered 17. Hence, the combination of both their last names and the number 17 gave birth to the brand, 17 Hacienda Mar, a "place" where life's moments, big or small, are celebrated; a "dwelling" where memories with loved ones last forever.
Working as a merchandiser and category head in the e-commerce industry for nine years, it's only natural for this lady boss to eventually put up her shop. Opening their doors to the public last May, the brand is able to grow a community that seeks for something special and distinct. "Slowly but surely, we are getting a warm response from like-minded individuals," she points out.
How can you not get captivated with objects that hint at global forays in search for the perfect trinket for the home? 17 Hacienda Mar's lineup is sourced not just from partner local artists, but also from different travels. With style icons for the brand like Justina Blakeney of Jungalow, author and interior designer, India Hicks, different "thrifters" on Instagram, and her late BFF Mikka Genito-Padua, the vibe never veers far from its core identity.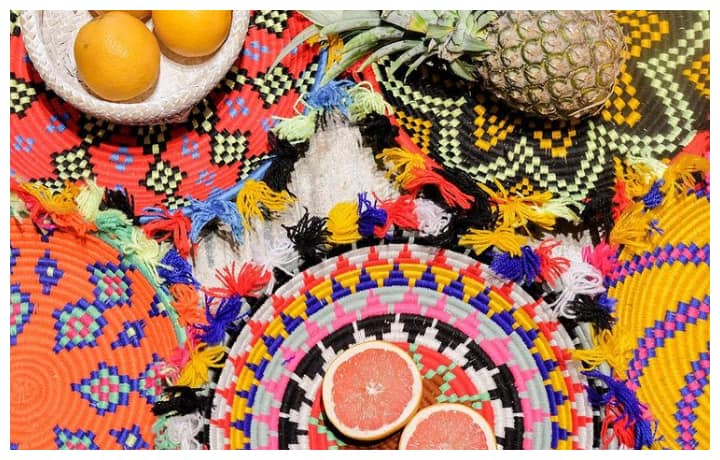 Photo Gallery
Photo Gallery
Staying true to the brand, Vicky admits that she also lives this kind of aesthetic—the look of happiness and carefree living. It even exudes from her own home, which she describes as fun, colorful, and oftentimes a wild clash of colors and patterns!
The entrepreneur wants to share this kind of spirit with her customers. "I say, mix it up! Go thrift, forage, play, and go wild for colors and patterns! I believe color is one of the greatest joys of life!" Vicky exclaims.
Take, for instance, her exclusively-designed collections: the Indienne Floral and the Sunset Palm, which are all hand painted by local artisans. She also gushes about the one-of-a-kind fabrics from India that are exclusively hand blocked for 17 Hacienda Mar. "These are made into summer ensembles in collaboration with Estudio Azucar of designer Arleen Sipat-Sutton," she offers.
There are also hand painted home items from Morocco and Turkey that will add a striking and eye-catching flair to your space. Vicky is also proud of their caftans that are comfortable to wear even on humid or cooler days.
17 Hacienda Mar is only available online for now, with occasional pop-ups around the metro. Her dream for the brand? "My North star is for 17 Hacienda Mar to be Anthropologie, an e-tailer in the US and EU," she confesses.
For now, the designer is busy expanding their product offerings to the public. "We have many new products coming soon," Vicky reveals. And launching new stuff almost every two weeks, you'll never run out of choices for that added sunshine to your home with 17 Hacienda Mar.
Visit 17 Hacienda Mar at https://17haciendamar.com/.
Photographs by @17.haciendamar