9 Sanitation Station Essentials
For a healthy home, these will keep the germs away and your worries at bay
While some of us remain at home, it is inevitable that we occasionally step out to run important errands, and to get some work done in this new normal. Because of this, we are susceptible to bringing germs, bacteria and virus with us into our homes, highlighting the importance of setting up a sanitation station in every home. This can simply be situated at the entrance or foyer to get everyone into disinfecting and sanitizing before they enter their own home.
This new important home feature is easy to accomplish. You can do it yourself with these sanitation station essentials for just the right amount of washing, dusting, sanitizing and disinfecting you need to keep your home safe: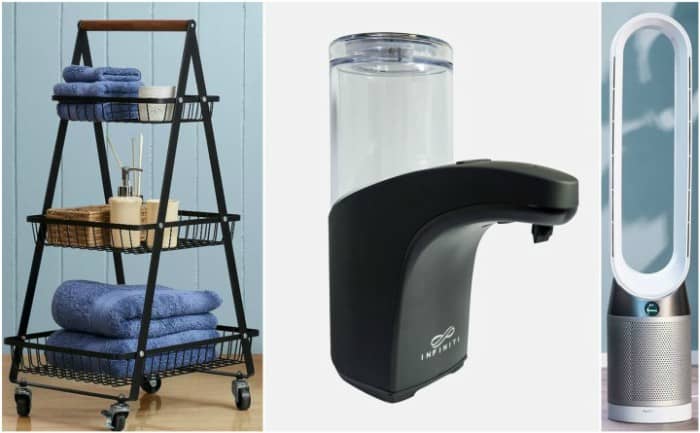 9 Sanitation Station Essentials
9 Sanitation Station Essentials
Keep safe with these tips:
1. Set up a table and a mobile trolley near the door entrance. Put all the sanitizing essentials on the trolley and organize them in storage trays.
2. Have a fill of sprayers with alcohol and disinfectants on-hand. Choose an EPA-registered disinfectant, a 70% Isopropyl Alcohol and a contactless soap dispenser as you disinfect and wash your hands.
3. Have a waste bin to properly dispose used masks and gloves.
4. Put a shoe rack and a disinfecting mat outside. Have a foot bath on the disinfecting mat before putting the shoes on the rack. Always keep the mat clean before and after using the mat.
5. If needed, set-up a makeshift changing room with curtain and ready a laundry basket for changing.
6. Sterilize the area with UV light. Use pocket UV Sterilizer in sanitizing your gadgets, keys, wallet, and doorknobs. Do not forget to keep your Sanitation Station clean.
All items are available at the smhome.com.ph and shoppers can now place their order online through the SM Store's Call to Deliver and ShopSM app. For more info and updates, follow SM Home @smhome on Instagram or visit thesmstore.com website.