THE HAPPY HOME: A Guide To Ethically-Made Homeware
Why it matters to be a responsible shopper and homeowner—plus, 10 cause-driven brands you can support
In recent years, there's been a growing number of consumers and homeowners that are shifting towards purchasing ethically-sourced, eco-friendly, and sustainable furniture and homeware. For some, it's due to the ongoing climate crisis; for others, it's a matter of personal conviction. After all, it's no longer enough to switch to metal straws or bamboo toothbrushes and call it a day, or use woven baskets as planters simply because it matches a desired aesthetic. Now more than ever, it matters to become socially conscious and responsible in every aspect of life, including home design.
Being an ethically-conscious shopper involves more than just purchasing goods that are labeled "sustainable" and "eco-friendly." It's important to do research and ask important questions, too, such as the supply chain for a certain piece of furniture, the ways in which designers and manufacturers are giving back to local communities, and whether the makers were compensated and treated fairly. Just like in other industries, whether food or fashion, being a responsible shopper means avoiding, as much as possible, anything mass-produced, manufactured in sweat shops and contributing to human and animal rights violations.
While it's not always possible to find out the answer to every single one of these questions, many local brands and artisans have founded their identity and missions on ensuring the ethical nature of their products and crafts. As shoppers, it's our duty to be mindful consumers, respectful not only of the artisans but also the cultures and traditions represented in each product, if applicable. It's also important to seek out independent brands and designers that employ or support marginalized artisans, especially women and tribal communities.
Today, on World Kindness Day, we've rounded-up some of the best and highest quality furniture and living accessories for your home, guaranteed to be ethically-made and cause-driven.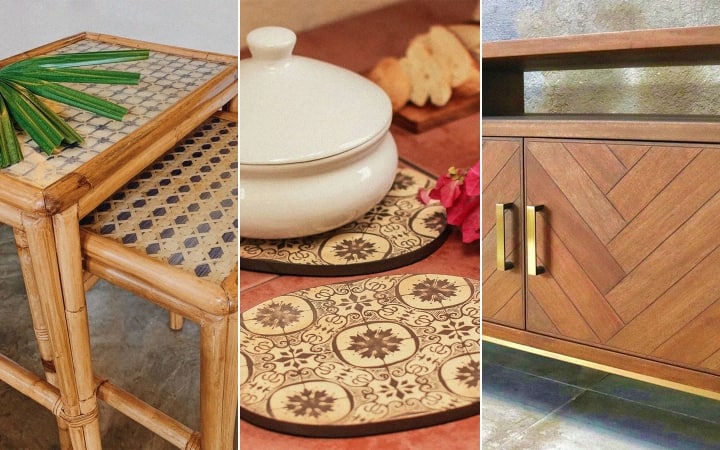 Photo Gallery
Photo Gallery
HoliCow | @holicowph
Based in the Visayas region, HoliCow—or the Holistic Coalition of the Willing—is a group of designers, manufacturers, and crafters who are passionate about sustainability. They collaborate with partner-communities (like the Habloneras in Argao, Cebu, for example) to develop, produce, and market sustainable and fair trade products that supplement the communities' livelihoods. The designers and manufacturers that are part of HoliCow include Hacienda Crafts, Luisa Home, and co-founder Debbie Palao, and they have products ranging from tables to lighting to bed and bath. Visit holicow.ph to shop.
Petty John Pottery | @pettyjohnpottery
Petty John Pottery, founded by couple Jon and Tessy, describe themselves to be at the forefront of ceramic arts in the Philippines. They have a pottery school that teaches interested patrons on the techniques that they've developed over the years, which focus on the use of uniquely Filipino materials." Their work, which ranges from ceramic bowls to vases, tea sets to centerpieces, are perfect for collectors—old and new—of functional home art. The couple has a workshop in Laguna and their works and pieces make use of local materials while employing a combination of traditional Filipino and Asian techniques. Visit their Facebook to shop—they also participate in various art fairs like MaArte and Art in the Park.
SustainablyMade by MARSSE | @sustainablymade
Products from SustainablyMade come from a sustainable tree farm grown responsibly in Umingan in Pangasinan, rather than from the Philippines' already diminishing natural forests. Every tree is used completely, ensuring that no part of it is wasted—small wooden products are made from branches, trunks, stumps, and roots that come from their bigger products, like flooring and furniture. SustainablyMade carries a wide variety of products, from a rustic candle holder made out of Honduras Mahogany branch, to a laptop tray. Visit their Instagram for more information.
C&C | @candc.ph
C&C, which stands for Creative and Committed, is a local lifestyle brand that "believes in elevating everyday living by weaving purpose with style." Every single one of their pieces is handmade and local, and the brand partners with home-based communities of weavers and sewers from Pampanga, Samata, and Bukidnon, showcasing the culture and artisanal skills of Filipinos all around the country. C&C's homeware catalogue ranges from planters (perfect for your #plantita needs) to accent pieces; they also accept custom orders. The brand documents its artisans and weavers through the hashtag #FromHandandHeartToHome, featuring the nanays they employ. Visit candcph.com to shop.
Alabaster | @alabaster.deco
Thrifting doesn't just apply to clothes—if you're avoiding fast furniture and are in the market for unique, one-of-a-kind vintage pieces, Alabaster is the shop for you. Founded by wedding photographers Patricia Abad and Billy Gupita, Alabaster is an Instagram-based shop of used and thrifted items, from chairs to side tables to carpets. But remember: Because their catalogue changes weekly and each piece is unique and carefully curated, we suggest that you have your notifications on for them so that you never miss an item!
DEKKO | @dekko.ph
Dekko Workshop, based in Imus, Cavite, is composed of a team of artisans and craftsmen that specialize in bespoke wood and steel furniture. They make use of reclaimed wood, assuring customers that their pieces are sustainable and responsibly made. Even more, the artisans are out-of-school youth trained and taught by Nath Geluz, the owner himself, allowing them to earn a living for themselves and their families. To get a quote, contact them through their website or their Facebook page.
Beyond Borders | @beyondbordersph
Beyond Borders specializes in abel weaving, a traditional craft from Ilocos. Their products are beautiful, versatile, and handwoven throws that can be used for your couch, your work-from-home office chair, or even for your afternoon picnics in the garden. A piece can take up to three months to finish, depending on its complexity, as the wooden looms used are ancient and traditional. Founded by friends Marga and Billie, Beyond Borders is reviving interest in the centuries-old craft, preserving the tradition, and empowering more and more generations of weavers. Visit Artefino to shop.
Domesticity | @mydomesticityph
Based in Bacolod, Domesticity's products handcrafted locally in Negros Occidental, with a portion of their sales going to Gawad Kalinga San Agustin Village. As a partner of Gawad Kalinga, Domesticity is fully committed the organization's roadmap to end poverty by 2024, and every purchase of their products goes to building more homes and empowering the community. They carry a wide range of crafts, from laptop stands to mask holders, linen napkins to woven placemats, rattan towel holders to quilted storage cases. Visit their website to shop.
The Old Wood | @theoldwoodph
Furniture-maker The Old Wood, founded by husband and wife Ferdi and Liz, has over 40,000 followers on Instagram, and specializes in custom-built handcrafted pieces, ranging from children's beds to cabinets. All of their pieces are made with reclaimed wood, like DEKKO, ensuring the eco-friendliness and sustainability of their products. To get a quote, email info@theoldwoodph.com.
Samsara Urns Philippines | @samsaraph
Consciously supporting homeware industries who engage in kind practices for the manufacturing of their wares is a lifelong mission that can very well be exercised down to choosing one's last earthly dwelling. With Samsara, the discerning can choose from aesthetic-driven, tasteful urn options that are made with materials from nature, marble, limestone or clay, and consciously designed. Visit samsara.ph.
Lead photos from @holicowph @mydomesticityph @theoldwoodph