Achieve Your Aesthetic Kitchen Dreams With Drew Barrymore's Newest Kitchenware Line, Beautiful
The Beautiful collection is all about modern kitchenware for the modern kitchen
The last year has taught us to value and invest more in the things that we put in our homes, whether it's the spaces that we have, the furniture we constantly use, and the things that work for us on a regular basis.
Kitchenware and kitchen appliances are some of the most basic but crucial things we have in our homes. We use these things three times a day on a minimum, serving a most basic function in our lives—which is cooking and eating. And when we are spending so much time in the kitchen using these things, does it not make sense to invest a bit more on them?
That's exactly what Drew Barrymore had in mind when she collaborated with Made by Gather to release her very first kitchenware line, Beautiful.
"The point of the matter is that these things are always out on display on your house so when you look at them, they should spark joy, as Marie Kondo says. How could we make things pleasant and beautiful to look at? We kept talking about beautiful this, beautiful that. So, that's how Beautiful was born," says Drew Barrymore in a promotional video of Beautiful.
Design and homemaking
"The reason I wanted to make the Beautiful line and the thing that really spoke to me was my love of design," says Drew. The Hollywood star's flair for design is something that we have already seen back in 2019 when she released Flower Home, her collection of furniture and décor inspired by her personal travels and familiar places.
This time, she is extending her panache for homemaking into the kitchen, where she loves spending time in to cook for her family. Drew has been very vocal about her new role as a homemaker, saying she has taken a break from movie-making since her kids were born, primarily because she wanted to be more present for her kids and raise them herself. Now, with her Beautiful kitchenware, she can do exactly that—and have fun while at it, too.
A modern kitchen for the modern homemaker
Modern designs, matte finishes, and eye-catching colors define the Beautiful line by Drew Barrymore. Wood textures compliment the clean white finish of the knife block set, and gold finishes add a pop of character and finesse to the sage green toasters and air fryers which have been the talk of the town since launch. Drew says that she has been very intentional about making everything in her debut collection more modern—from form to function.
"Sometimes, we go kind of '50s or girly in the kitchen, and I wanted to do something that felt more modern and really be sleek," she says. "We are going into the future so everything should be touch and digital. One of the things that I tried to avoid was knobs and different meters and sort of a messy look. I wanted everything to be as streamlined as possible."
This is why the kitchen appliances available in the collection—the coffee maker, air fryer, toaster, and electric kettle—are all touchscreen, with straightforward one-touch commands.
Despite the amazingly beautiful aesthetics of the collection and the modern functionality the appliances offer, what's very interesting about Drew's collection is that they are at a very friendly price point. The 14-cup programmable coffee maker, for example, is at $59, which roughly comes up to P2,800. The blockbuster air fryer, which sold out 24 hours after it launched, is priced at $89, around P4,200.
Drew has been very particular about making the items friendlier to more people. She shares that they were really focusing on delivering a "product that was at a really good price point but had incredible technology. It's not just about the look, it's about the function."
Check out the gallery below for some of our favorite cookware, kitchen tools, and appliances from Beautiful.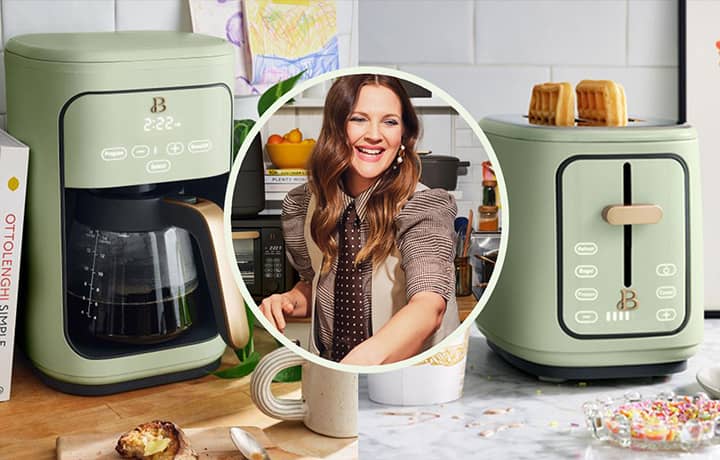 Photo Gallery
Photo Gallery
How to buy
The Beautiful kitchenware is available exclusively via Walmart. If like us, you're in the Philippines but are dying to get your hands on the items, you can rely on global shipping services like Buy and Ship so you can buy overseas with ease.
Buy and Ship will handle your delivery from Walmart straight to your home for a fee. Their pricing is based on the weight of the goods you're buying, with an option to pay with duty fees included. Take note: if you're buying goods from overseas that cost below P10,000, you won't have to pay additional duty or tax.
Shipping should also be fairly quick as it takes 4-6 days for items from the USA to arrive at Buy and Ship's Hong Kong warehouse, and then only another 3-5 days for the item to ship from Hong Kong to Metro Manila.
For more information about Buy and Ship, check out their website here.