Gift Guide: These Holiday Inspired Flower Decorations Will Definitely Make You Feel Joyous This Christmas
There's no better way to celebrate this Christmas season than giving away lasting presents that are both chic and practical as these flower arrangements
Finding the perfect gift this Christmas can be quite a stretch due to safety restrictions on the places we usually visit for holiday shopping and bazaar openings. While this holiday will be celebrated on a year filled with setbacks, this just gives us more reason to put effort into lifting the spirits of our home as well as our loved ones.
For someone who believes in the power of style and function, being homestead for months have given us enough time to to discover different stores which offers sophisticated home pieces to brighten up our mood this coming Yule. Case in point: Fifty Nine Flower Café, a premium flower shop owned by Shirley Wong and her sister which houses well-curated flower arrangements from small bouquets and boxed flowers, to their recently launched holiday collection of wreaths and mini Christmas trees.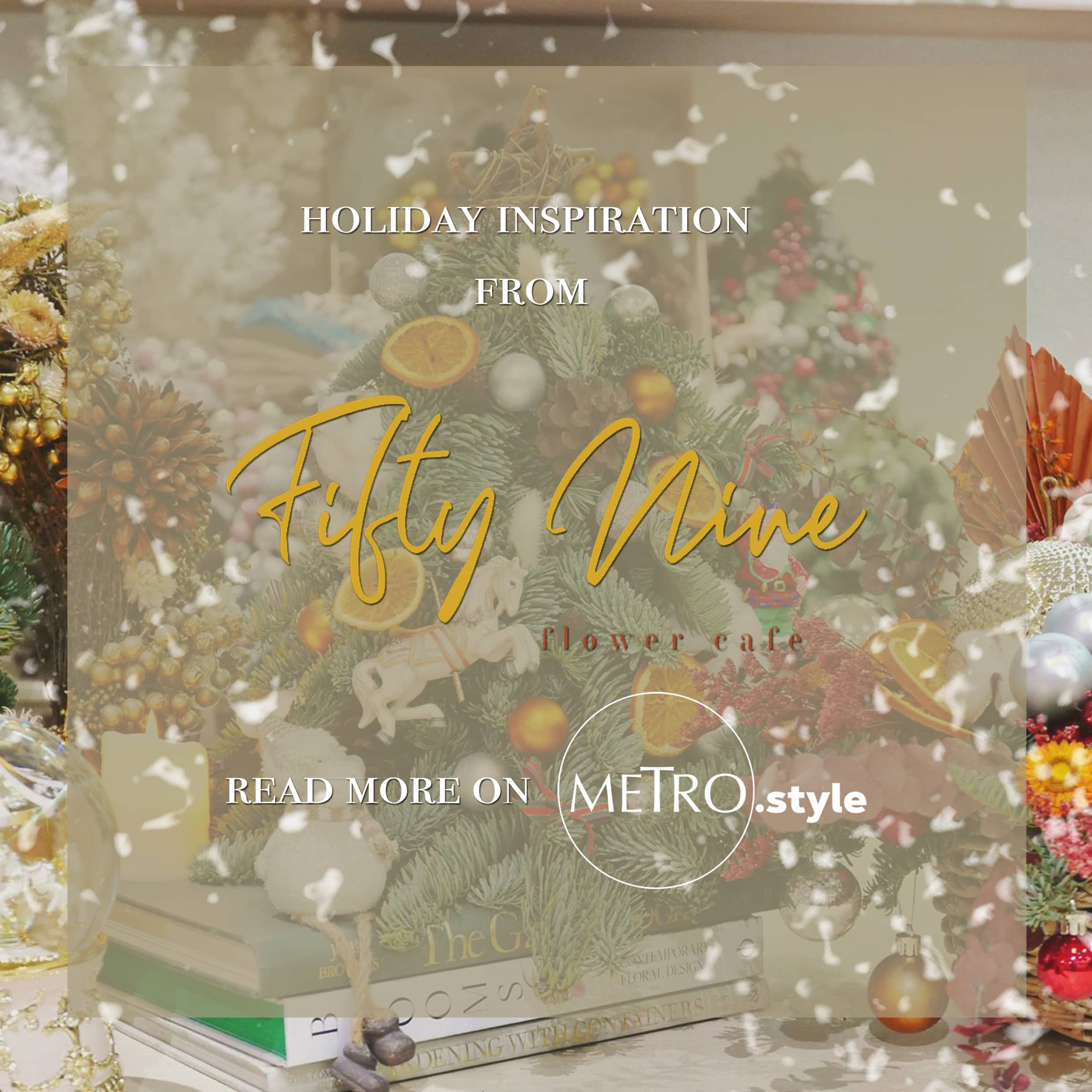 Yes, it's safe to say that we are all craving for something that gives us a sense of comfort and positive spirit in the days ahead. Knowing that there are a lot of ways to effectively enhance our outlook, a chic flower arrangement can be more than just a decoration, but it can also allow positive energy to flourish inside our homes. With Fifty Nine Flower Café's holiday collection, you'll instantly feel drawn to a merry night filled with joy and nostalgia that their holiday collections gives. Their line offers a variety of mini Christmas trees inspired by Santa's reindeers; Rudolf, Comet, Dasher, Vixen, Cupid, and Prancer. As well as fancy and colorful wreaths entitled; Clara, Holly, Felicity, and Noelle. Who wouldn't be delighted to receive one of these?
Mini Christmas Trees: Rudolf
Their Rudolf inspired mini tree has red and silver hollies, topped with a straw star which adds a rustic touch to this curated piece. Along with the simple elements of red and silver, are the minimal Christmas ornaments that adds elegance to this unique mini tree.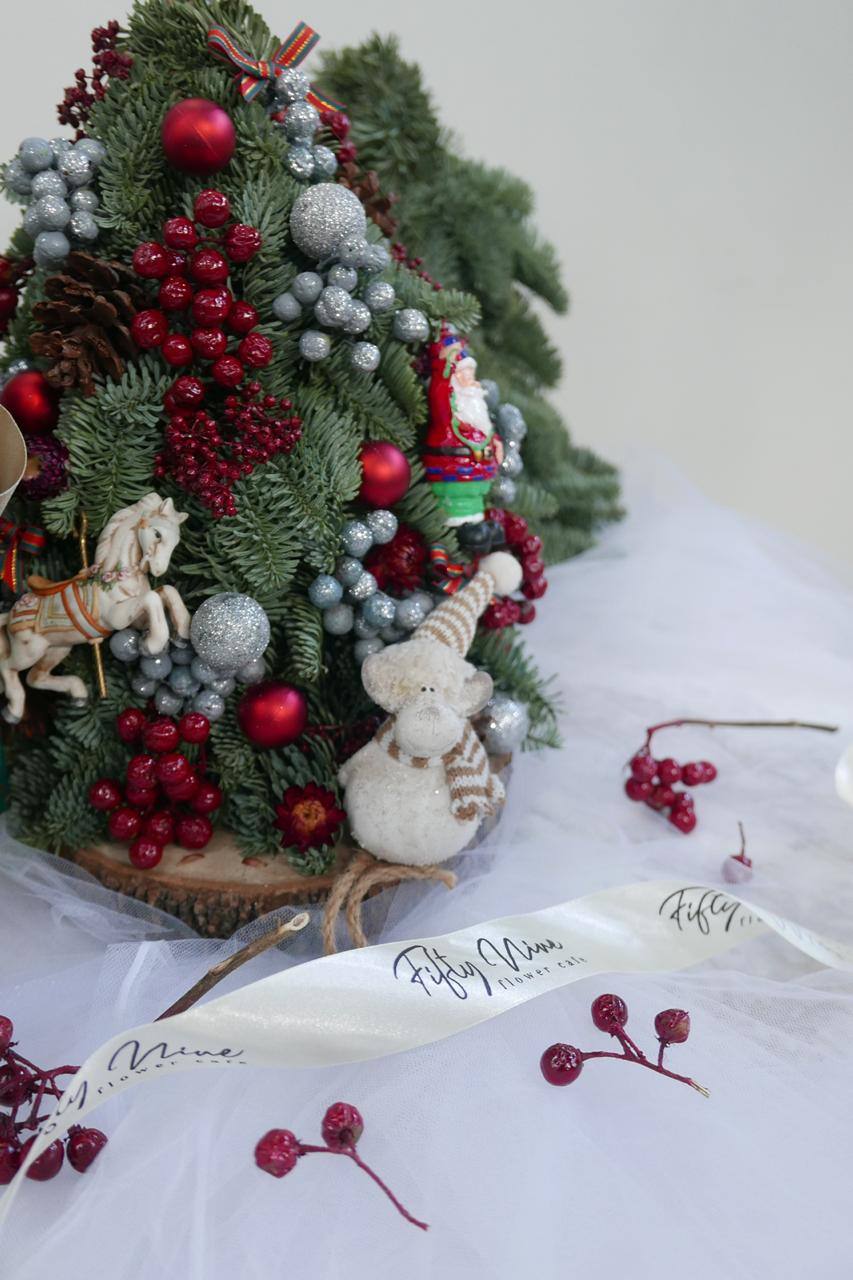 Mini Christmas Trees: Comet
Comet has a little bit more rough touches starting from the gold and brown pine cones, minimal touches of gold and orange Christmas balls, and the weaved star place on top.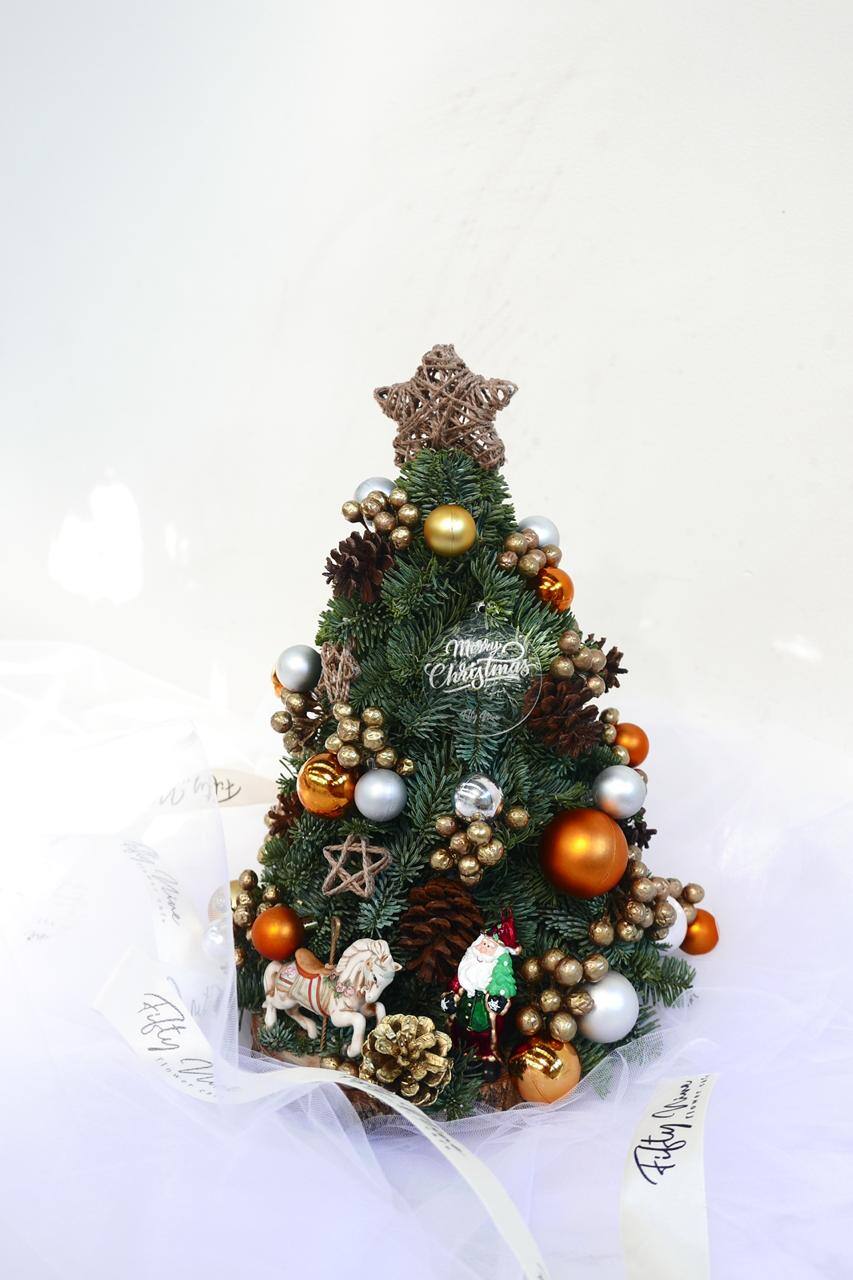 Mini Christmas Trees: Dasher
Colors of blue and silver definitely gives off a cooler vibe from this design called Dasher. Little ornaments like a white owl and a pony can be seen on the bottom part of the mini tree, as well as the same weaved star in their Comet design.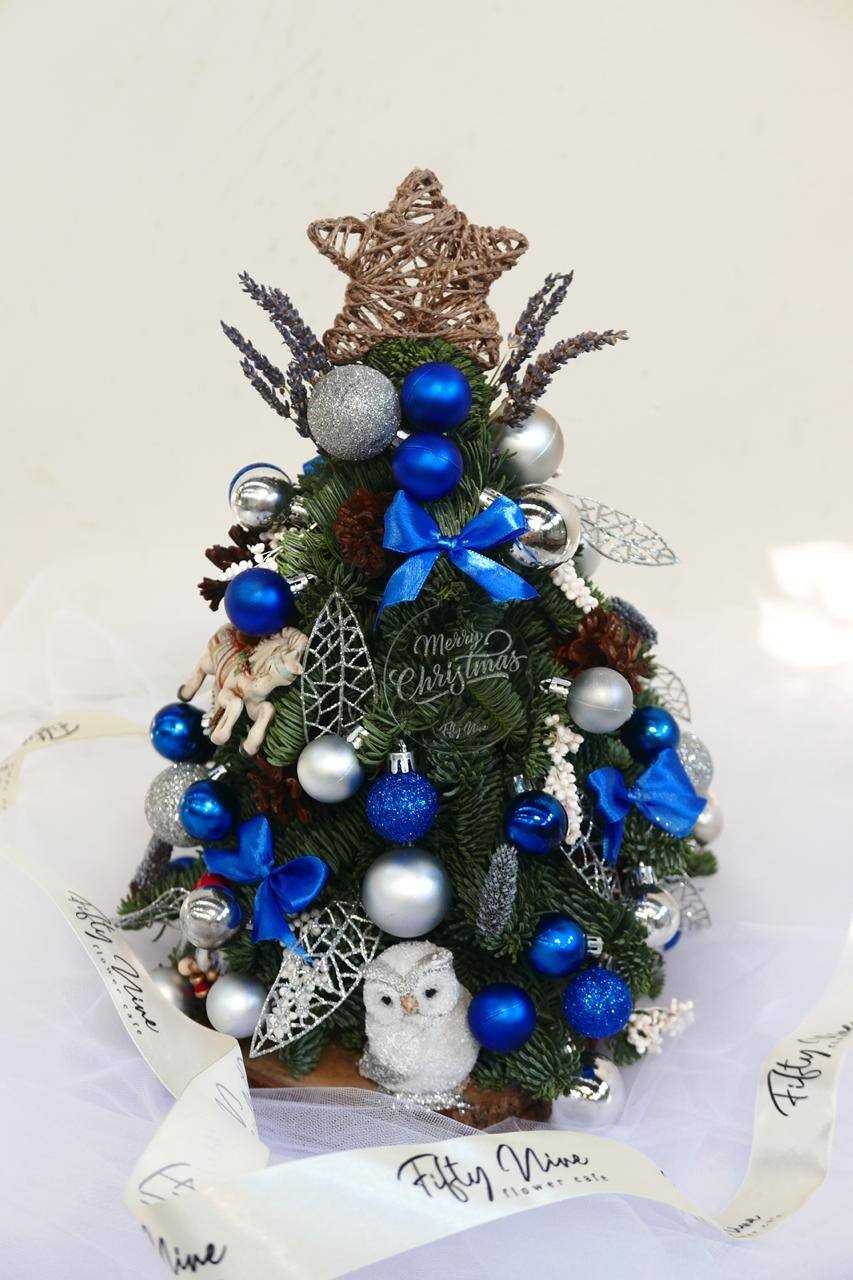 Mini Christmas Trees: Vixen
Vixen mini tree makes us feel extra warm with its dominant orange tones starting from the dried citrus ornaments, yellow and gold Christmas balls, mini pine cones, and a stunning orange ribbon on the top.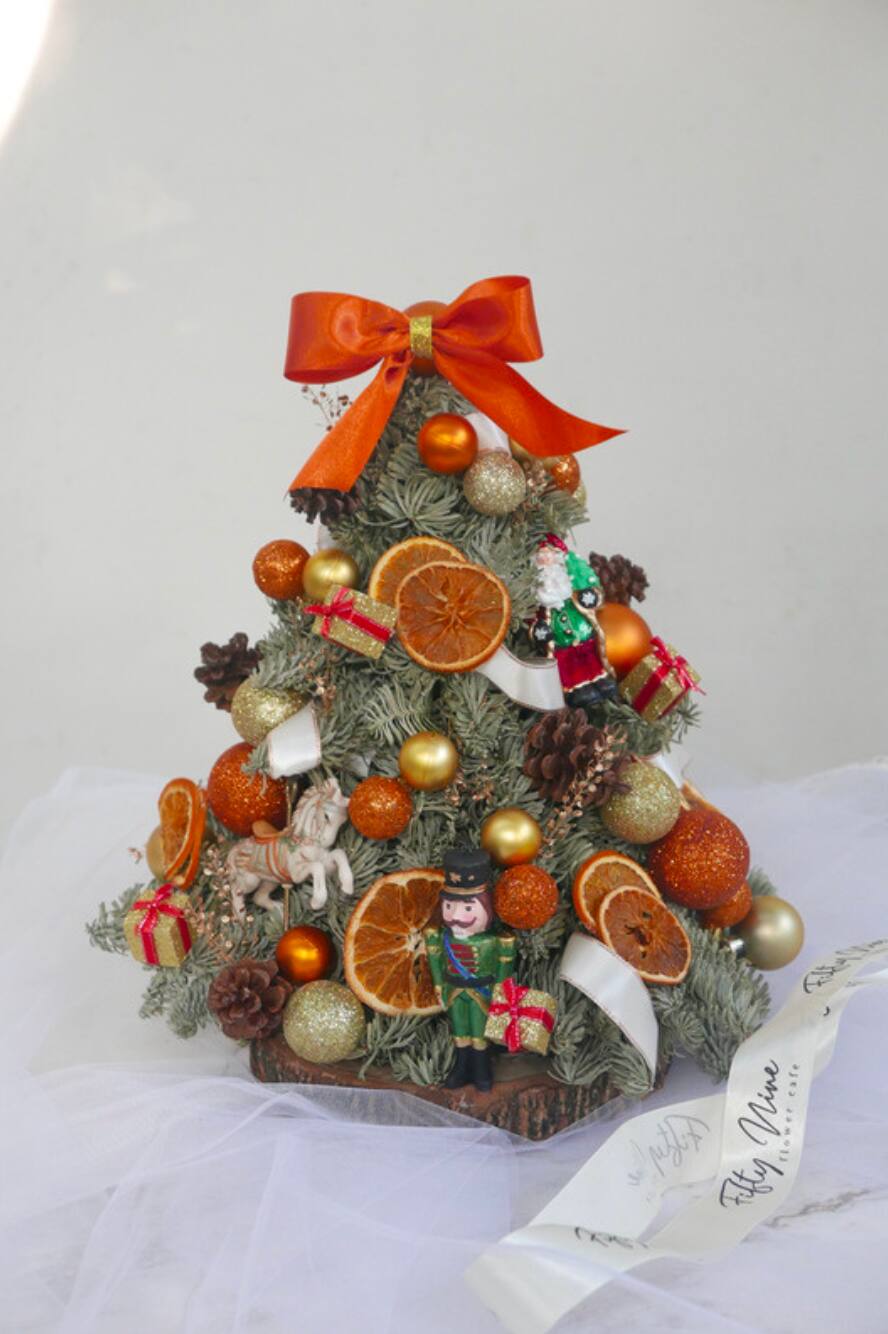 Mini Christmas Trees: Cupid
Cupid mini tree is a little bit more feminine compared to the other designs as it feature shades of pink, ribbons, and sugar canes.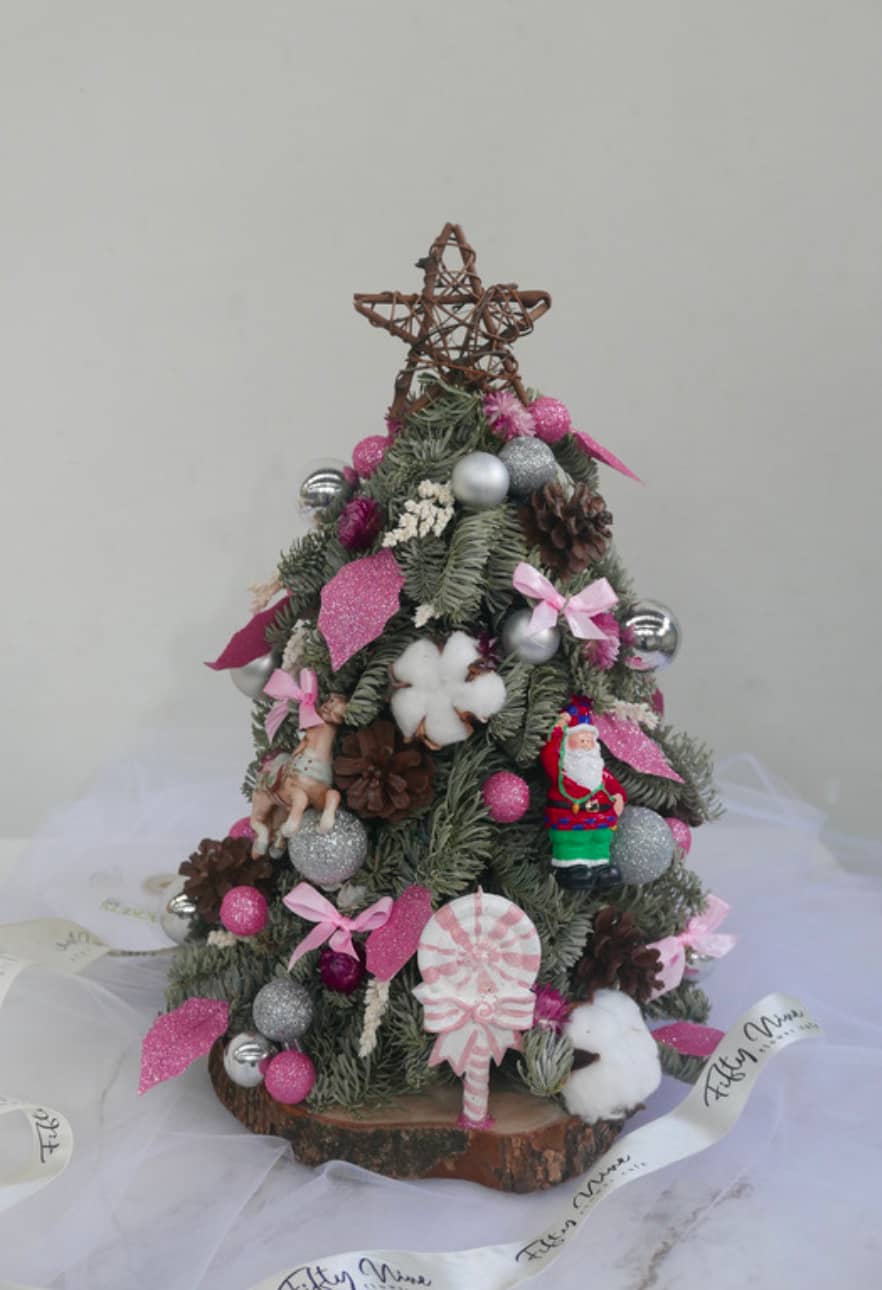 Mini Christmas Trees: Prancer
Prancer mini tree looks a lot like Rudolf, but when you look closely you'll notice a touch of red strawflowers and a little bit more red holies in contrast to the silver ones. They also added ornaments of Santa, a snowman, and a horse which adds to that nostalgic Christmas feel.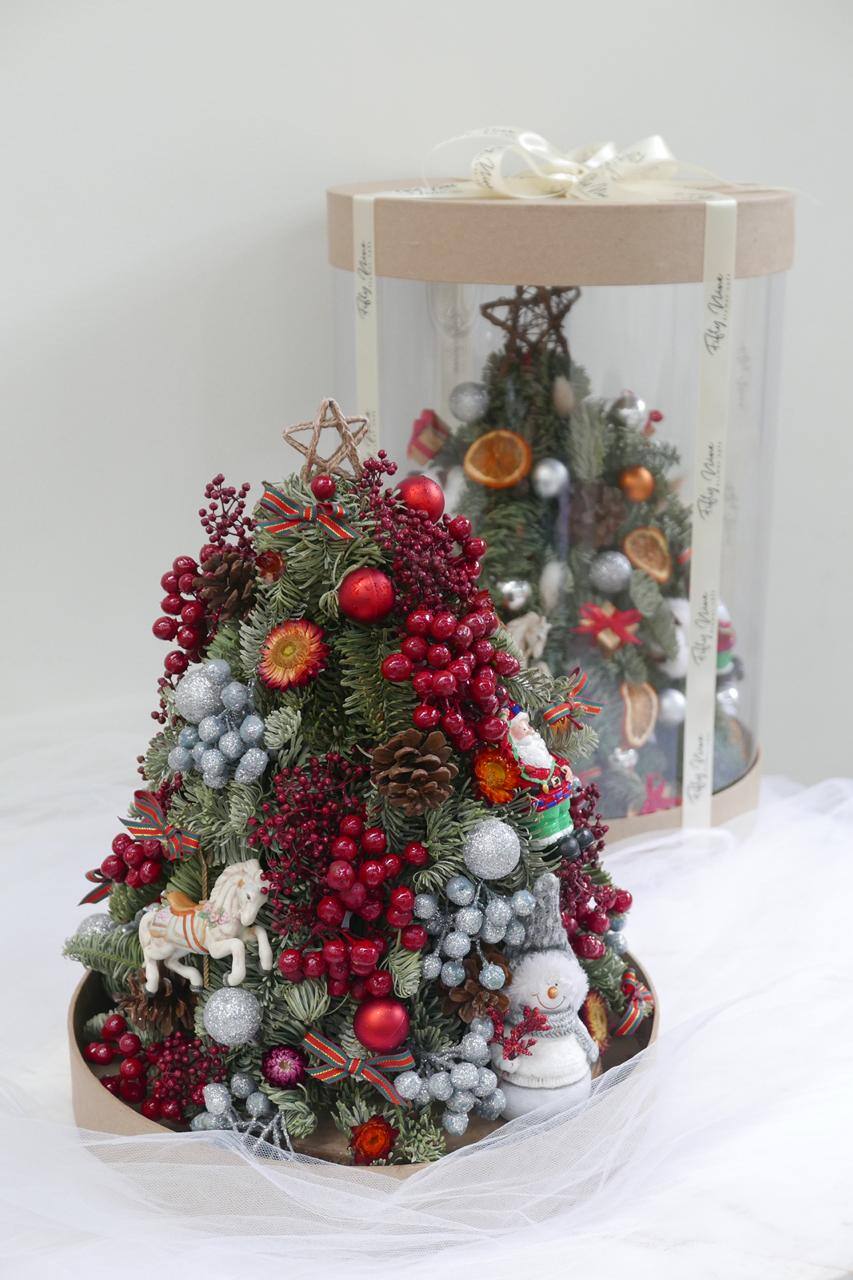 Holiday Wreaths: Clara
Also in their holiday collection are these stylish wreaths. First on the list is Clara which has dried eucalyptus, statice, and orange bunny tails. The two white roses placed on the center surely adds the finishing touch of both simplicity and elegance.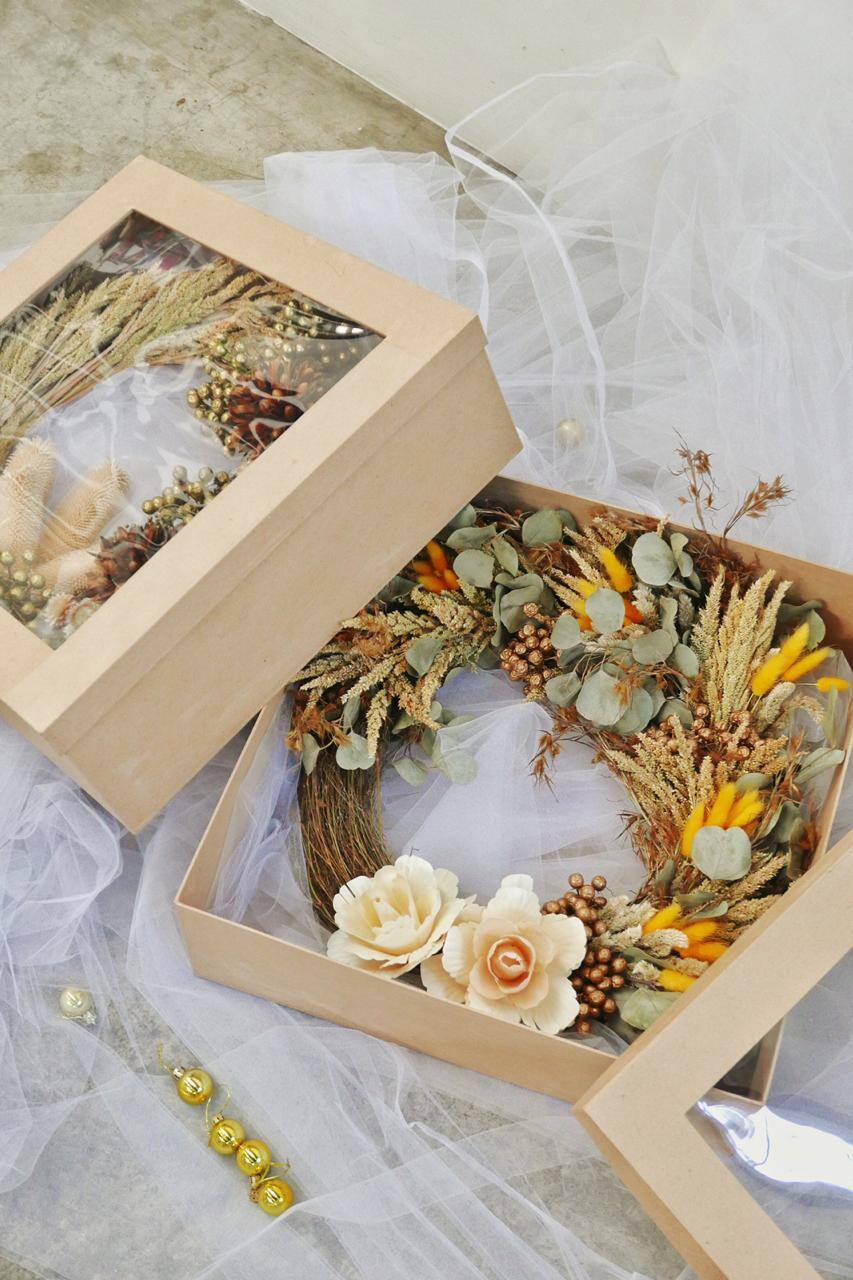 Holiday Wreaths: Holly
Holly shines like a golden garland of dried statice, golden hollies, white strawflowers, and four pieces of white banksia. Perfect gift for loved ones you haven't seen in a while.
Holiday Wreaths: Felicity
It is the season to be merry and with this colorful Felicity wreath, your friends and family will feel the bright Christmas spirit we look forward to every year. Felicity has predominantly crimson and silver holies, dried citrus, pine cones, and an orange ribbon which compliments the entire design.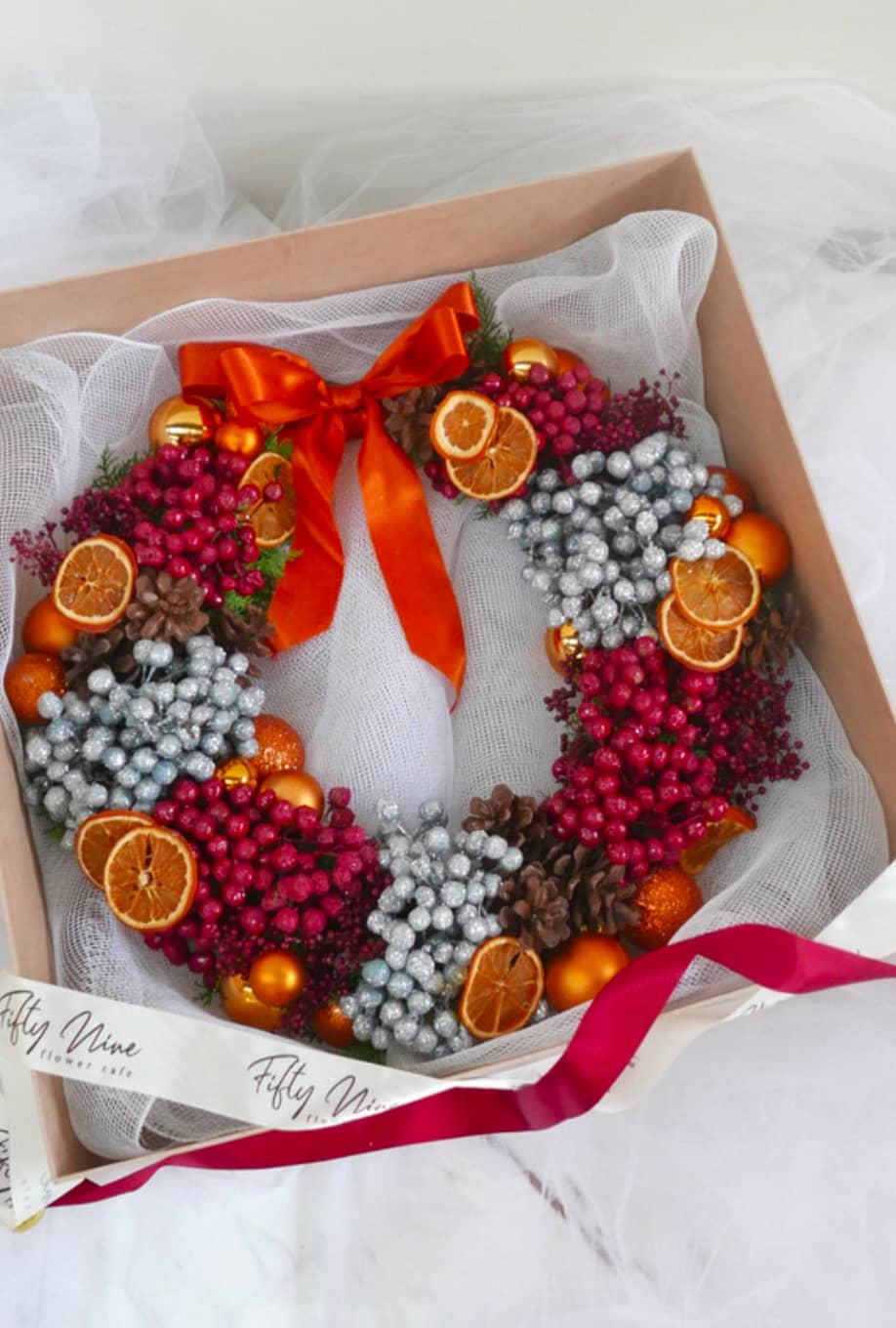 Holiday Wreaths: Noelle
This holiday wrath gives a subtle touch of rustic feel from the generous amount of brown tansy placed on the side of the wreath, which is perfectly balanced off with mainly white and silver ornaments along with minimal touches of pink Christmas balls. To make it even more appealing, they added a pastel ribbon which is delicately placed on the middle.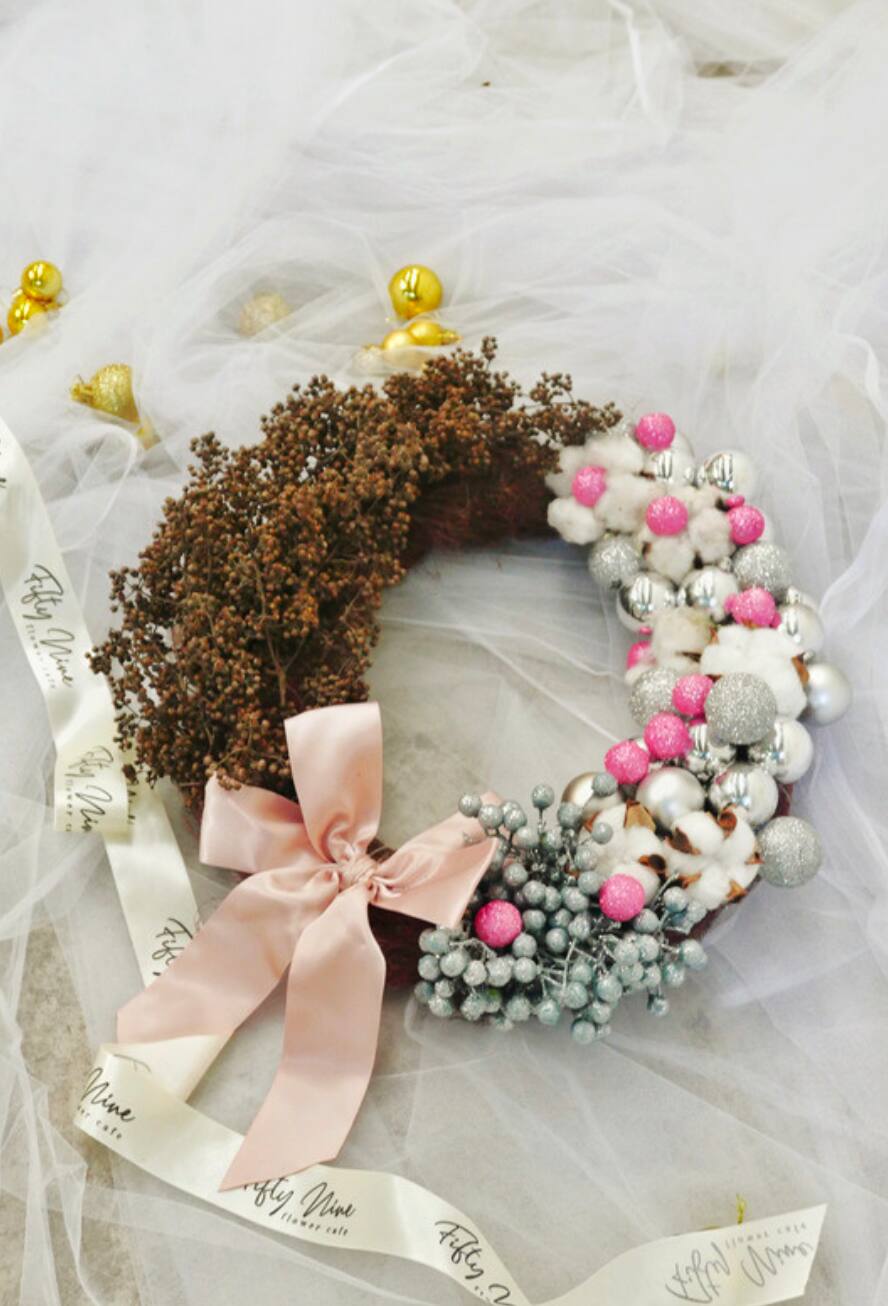 Spread love this Christmas and check out more designs at their Instagram page @fiftynineflowercafe to see more of their designs. Visit their shop at Urdaneta, Makati City, 9am - 6pm from Tuesdays to Sundays. For inquiries, contact them at 09171930059 or 8421 4554 or email fiftynineflowercafe@gmail.com.